At the Blackjack Ball, Card Counter Dr. Edward Thorp Is King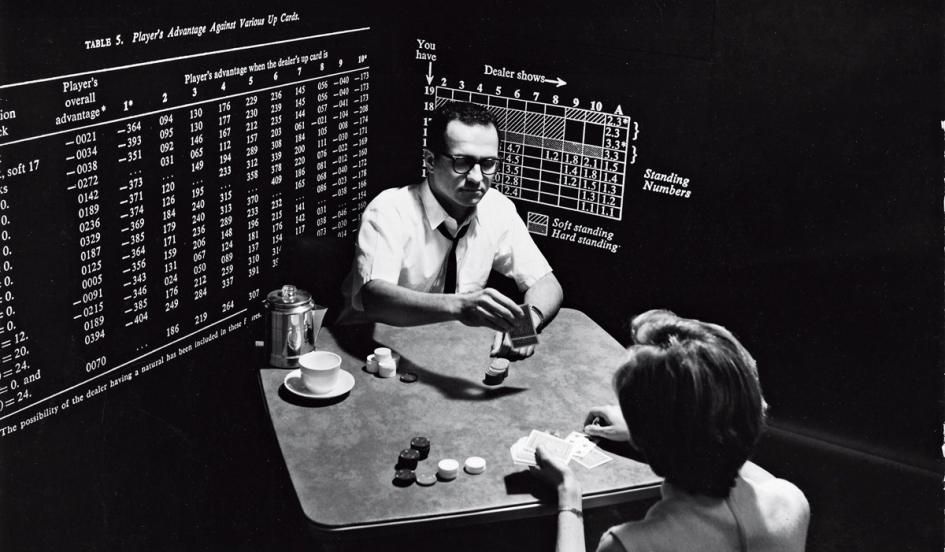 Dr. Edward Thorp doesn't look like one of the world's most notorious gamblers. At 79 years old, he sports braces and large, wire-rimmed glasses.
But on a recent Saturday night in suburban Las Vegas, 70 of the world's best card counters—people who memorize cards on the blackjack table to determine the probability of a good hand—nervously fluttered around Thorp inside a banquet hall. There were real-estate investors, television producers, even a group of evangelical Christians. Some donned swishy track pants and fake names like "Diamond Mike." Others wore suits and arrived with beautiful women. Surprisingly, not all were good at math.
Known as the Blackjack Ball, the event began 16 years ago when Max Rubin, a Las Vegas–based card counter, threw a party to share some insider secrets. Today, it's sponsored by the Barona Resort & Casino. Those in attendance have agreed never to play there, but everywhere else is just fine, so a burly bouncer guards the guest list. They're competing for the title of the world's best blackjack player. Yet Thorp, whom several in attendance described as the "Godfather" of card counting, is the big draw.
Fifty years after Thorp's bestselling book, Beat the Dealer, was released, blackjack has transformed from an obscure game offered only in Nevada into one of the most popular attractions at casinos worldwide. Today blackjack can be played at roughly 2,000 gambling houses, including some 700 in at least 34 states, according to casinocity.com. It has received the Hollywood treatment—from Dustin Hoffman in Rain Man, the 1988 Oscar-winning film, to 21, Kevin Spacey's 2008 movie based on a card-counting team from MIT.
All this extra attention has convinced casinos to employ a host of strategies—from extra decks to facial-recognition software—to identify card-counting wizards with fake IDs and absurd disguises. Yet because card counting is not illegal, most casinos can only ask players to leave. And with more venues likely to open, card counters will still be able to find some easy scores.
There are many ways to count cards, none of which a novice attending the Blackjack Ball could pick up right away. But in its simplest form, the theory is this: when there are a lot of low-numbered cards in the deck, you bet small; when most of the low cards have been played, and there are a lot of high cards left in the deck, you bet high. The result will net you a statistical advantage over time.
Thorp first got the idea that blackjack could be beaten in 1958 when he stumbled across an article about basic strategy, a blackjack theory developed in 1953 by four men in the Army. One of the men, Wilbert Cantey, was black, and because his friends couldn't go out with him to bars in Maryland—the state was still segregated—the four played blackjack in the barracks. In the process, they figured the odds of every combination of hand using adding machines.
A math Ph.D. at the time, Thorp wrote to one of the authors of the article and asked to see his original math. Using an IBM computer that he programmed himself, Thorp developed the first-ever card-counting strategy. The next hurdle was getting someone to pay attention.
In 1961, he presented his findings to the American Mathematical Society. Many in the gambling world scoffed at his theory, but his claims attracted, among others, a young reporter named Tom Wolfe, who wrote about his strategy in an article for The Washington Post. Soon, a notorious bookie named Emmanuel Kimmel caught wind of Thorp's theory and gave him $10,000 with which to try it out. The only condition: Kimmel and his business partner wanted 90 percent of the cut.
The strategy worked well, and in 1962, Thorp published a book based on his experiences. "The game exploded overnight," says Rubin, the Blackjack Ball founder, and Thorp became a threat. At least one casino reportedly tried drugging him. Other card counters were allegedly threatened or beaten. Then, on April 1, 1964, casino owners colluded to change the game's rules in their favor.
It didn't work. Word quickly got out. Players had lost their edge, and blackjack tables across Nevada were abandoned. Within weeks, the owners changed the rules back; however, they began using multiple decks and dealing from a card shoe, allowing the dealers to reshuffle often. Yet by 1966, Thorp reportedly had won $25,000. "For me, it was never about the money," he says. "But rather about the science and the ideas. Though the money…was a welcome supplement to a professor's salary."
By the late 1960s, Thorp moved on to Wall Street, where he employed the statistical knowledge he gleaned from blackjack. But the card-counting revolution did not end with his retirement. In the 1970s, players found a new way to crack open the casino vaults: teamwork. One player would count the cards and place small bets, while another would wager wildly, all the while reading his partner's signals.
During the 1990s, at least one MIT card-counting team used the same tactics, even trading on stereotypes.
"They didn't think an Asian woman could be a threat," says Laurie Tsao, a former member of an MIT team who attended this year's ball. "I would sit looking like I was…fresh off the boat, betting five dollars a hand but really all the play was controlled by me."
At this year's gathering, the first challenge was a series of obscure questions that tested knowledge of the game. Few scored higher than 12 out of 21. Thorp did not qualify for the next round, but as Rubin began announcing the top scores, one name stood out. It was Andy Y, an alias for James Grosjean, a Harvard math graduate and three-time champion at the Blackjack Ball. In 2008, Rubin asked him not to play anymore; he was too good. Now the event's trophy is named in his honor.
A half hour later, as a husky computer programmer squared off against a sinewy former wrestler in the final round, Grosjean stood at a nearby table, chatting with a friend.
"Twenty years ago, where could you gamble? Vegas and Atlantic City," he says. "If you got heated, you were done. Now there are thousands of casinos out there, and maybe just one is vulnerable, but once you find it, you pound it."
Sometimes that means going outside of the U.S. Rubin, for instance, said that Panama, France, and South Africa all have some very exploitable games. "We still have an edge," Grosjean says.
Moments later the room erupts in cheers—the computer programmer has won the tournament. He did not bet on himself, so his prize is pride. But an individual who did bet on him went home with close to $6,000.
As congratulations are shared, Thorp walks by and Grosjean darts over, beaming like an excited teenager.
"Would you sign my book?" he asks.
Of course, Thorp says.