'The Blacklist' Ending Explained: What Happened at the End of Season 8?
The Blacklist season 8 has had fans gripped since it began airing in November 2020. Now, after 22 episodes, The Blacklist has come to an end with a finale episode—"Konets" — that did not disappoint.
The eighth outing of the James Spader series saw Red reveal the critical fugitives on his blacklist.
Number one on the list turned out to be Elizabeth 'Liz' Keen (played by Megan Boone), a former FBI agent turned criminal.
The eighth series wrestled with their complicated relationship. For example, Liz has been fully aware Red was the man who killed her mother Katarina (Lotte Verbeek) and that he was not the real Red Reddington.
In season eight, Red revealed he was actually N-13, the spy Liz had been searching for throughout her FBI career.
In part one of the finale, titled "Nachalo," Red took Liz to the base of his spy operation in Latvia, intending to give her answers about her past.
However, the duo were followed by Neville Townsend (Reg Rogers) after he placed a tracker on Liz's car.
Despite Liz being hit by a bullet, Red and Dembe (Hisham Tawfiq) were able to successfully fight off Neville and his crew, killing them all in a massive gas explosion.
Liz recovered from her injuries and the trio focused their energies on who would replace Neville as Russia's biggest crime and drug lord following his death.
Elsewhere, in a meeting with Harold (Harry Lenix), Red revealed was suffering from a terminal illness and would like to install his daughter, Liz, as his heir.
As part of the plan to ensure Liz would be his heir, Red explained she would have to kill him—something which she initially rejected.
However, Red had the plan all arranged. Liz would shoot him outside his restaurant and the entire execution would be captured by CCTV for the world—and their enemies—to see.
Despite Red's impending death, he still refused to tell Liz the full truth about her past and his connection to it.
He insisted on keeping the truth a secret, stating: "If you knew who I am you would never agree to kill me."
Instead, Red promised he would leave her a letter for Liz to read after her death that would explain "Who I am and why I came into your life."
However, things took a dramatic turn in episode 22, titled "Konets," which turned Red's plans on their head.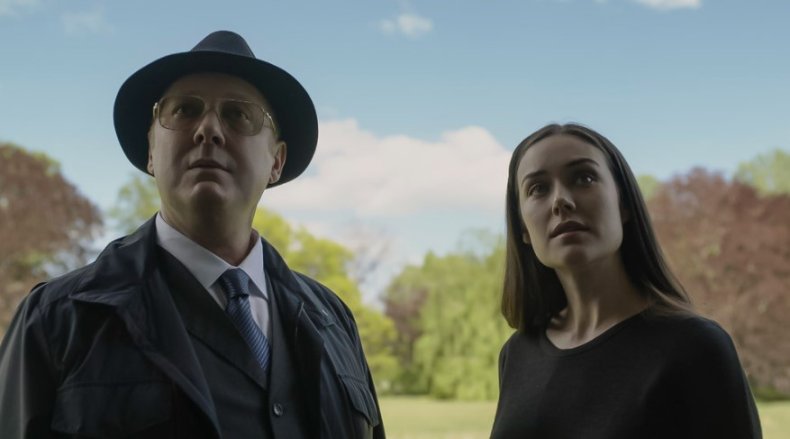 On the night of the planned shooting, Liz got cold feet. Aiming the gun at Red, she exclaimed: "I can't do it. And I don't want to."
Lurking in the shadows, watching Liz and Red's altercation, was Neville's henchman Vandyke (Lukas Hassel), who had no qualms about pulling the trigger on Liz.
The shooting ultimately fulfilled Neville's plan to make Red suffer internally by watching the person he loved most die right in front of his eyes.
Unfortunately, Liz's death meant she never found out the truth about why Red entered her life eight years ago, much to the audience's frustration.
Season 9 of The Blacklist has already been given the greenlight and Liz's death and the contents of Red's letter are likely to play a major role. The ninth installment will also most likely see Red seek revenge for Liz's death.
Sadly for fans of The Blacklist, season 8 marked Megan Boone's last appearance as Elizabeth Keen.
According to Deadline, Boone's decision to leave the series was a mutual decision between her and the show's creator Jon Bokenkamp, allowing the show's writers to craft the right arc for her final season on the show.
After the finale aired, Boone took to social media to address her exit from the show.
Posting a lengthy, emotional statement on Instagram alongside a photograph of her and James Spader, Boone shared how "grateful" she was to be a part of The Blacklist family.
She wrote: "Spoiler..
"This experience, for me, has been an entire life inside of my own life. These eight years playing Liz Keen have helped me better define the world and myself, as she set out to do the same. Liz sought incorruptible familial bonds and collided with powerful forces to reveal the boundaries where a cruel, indifferent world ended and she began.
"As her story ends I am grateful, most of all for the people I shared this time with: my fellow cast members present and past, our incredible crew who carried every single day for all involved, and those of you we entertained.
"The dreams inside this little life are the memories I still have of the guest stars passing through, however briefly— of their faces, their voices, their idiosyncrasies and talents. There have been such an astounding abundance of you over my 150+ episodes that, ironically, I could not list you all here, but... What a list. What a dream. Thank you all."
The Blacklist season 8 is streaming on NBC.com now.