'The Blacklist' Season 9: Will There Be Another Season of the NBC Show?
The Blacklist's current season has been a dramatic one, with Liz Keen (played by Megan Boone) turning against her former mentor Red (James Spader). That season, however is coming to an end on NBC, with an episode that reportedly is set to be the last for Megan Boone.
Here's what we know about whether the show will continue for Season 9 without her.
Will there be another season of The Blacklist?
The show will continue on without its female lead. In January 2021, NBC announced the show was coming back for its ninth season in fall 2021.
Though there are some changes in the case of The Blacklist, and one thing is going back to normal. After moving to Wednesdays in the back half of its current season, the show will return to Friday nights this fall, when episodes will air at 8 p.m. ET / 7 p.m. CT on NBC.
The release date for Season 8 has not been confirmed by NBC yet, but based on previous seasons it will return in either September or October.
This season, the show has been consistent in the ratings, with average viewers of 3.3 million per episode. Though that puts it 10th out of the 19 scripted shows on NBC this season (per TV Series Finale), per Deadline the show is a big performer among catch-up audiences and on streaming services.
In June, it was announced by Deadline that Megan Boone was leaving at the end of the Season 8 finale on June 23. This means that Spader, Diego Klattenhoff and Harry Lennix will be the only original cast members when the show returns for Season 9.
This news came as the show revealed that Liz was number one on the titular Blacklist, while Red revealed that he was N-13, the spy she has been hunting for.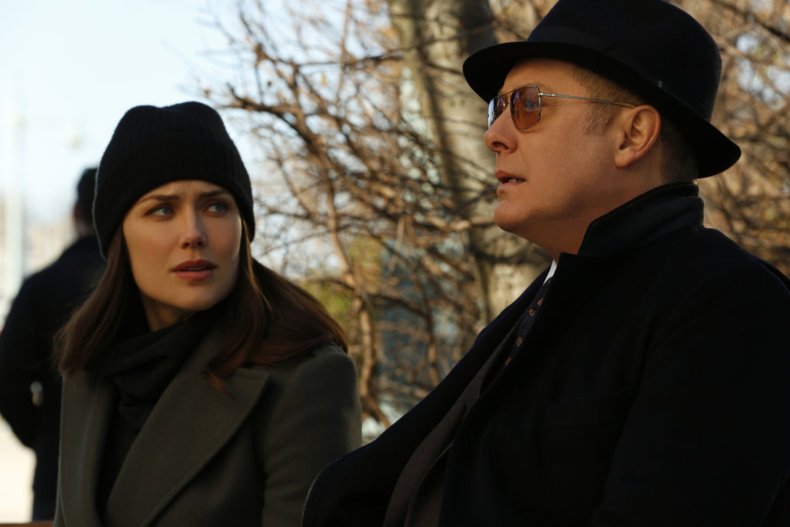 The Deadline article said the Season 8 finale was Boone's last as a series regular, though this does not rule out that she will return at some point in the future.
Boone hinted at this when she told TV Insider, "she has an abiding loyalty to Cooper [Harry Lennix], Ressler [Diego Klattenhoff], and Aram [Amir Arison]. Her friendship with them is something she will never walk away from, no matter what path her life takes."
Speaking of the current season finale, meanwhile she teased, "Red asks something of Liz that she isn't prepared to fully take on, despite a lot of pressure. She's trying to come to terms with her moral compass."
The Blacklist Season 8 finale airs Wednesday, June 23 at 10 p.m.ET /9 p.m. CT on NBC. Seasons 1 to 7 is streaming on Netflix, Season 8 streams on Peacock.