Blackpink Comeback Confirmed by YG Entertainment As K-Pop Girl Group to Release New Album in June
Blackpink, the four-piece K-pop girl group, has reportedly finished recording its next album, which is slated for release around early to mid-June. The band is expected to film a music video in May.
"Blackpink is scheduled to come back in June. We plan to officially make an announcement to fans first as soon as we have an exact release date," a spokesperson for YG Entertainment, the group's management company, said in a statement to South Korea's Xsports News.
The upcoming album would mark the band's first new music release since April 2019, when their EP Kill This Love was released. The band previously released a handful of singles, EPs and region-exclusive albums featuring a compilation of previously released songs.
Last month, Lady Gaga announced a collaboration with Blackpink on her latest album Chromatica. The group will be featured on the track "Sour Candy," joining Elton John and Ariana Grande on the singer's upcoming album.
The record-breaking group has bagged several accolades since debuting in 2016. Blackpink is the first female K-pop group to have four number one songs on the Billboard World Digital Song Sales chart and the first and only K-pop girl band to make Billboard's Emerging Artists chart. As of 2019, Blackpink is the highest-charting female K-pop act on the Billboard Hot 100 and Billboard 200 charts, peaking at number 41 and number 24, respectively.
Last year, the music video for their song "뚜두뚜두 (DDU-DU DDU-DU)" became YouTube's most-viewed video by a K-pop group, reaching a billion views.
Last year, the band ranked first in Forbes Korea's list of the "Most Powerful Celebrities" and third in the list for 2020.
Frustration among fans (collectively known as "Blink") over Blackpink's comeback has been building in recent months following previous announcements made by YG Entertainment on new music releases and the solo debuts of band members.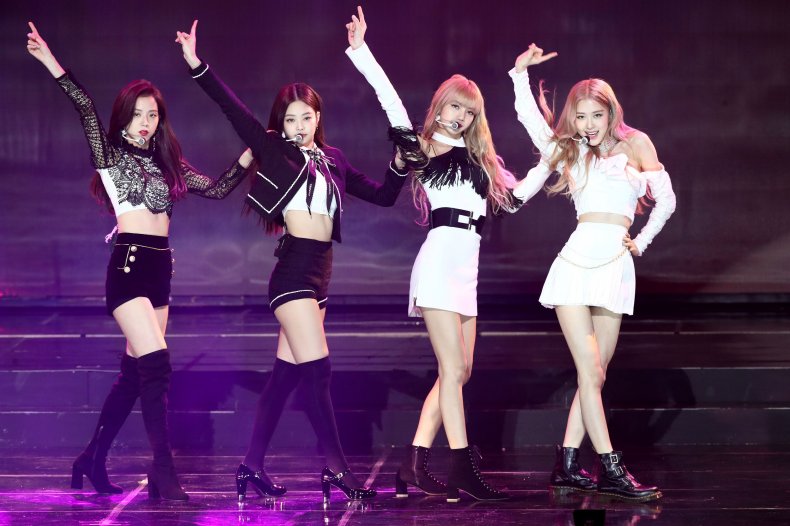 "Within the year 2019, it is my goal and desire that BLACKPINK makes 2 comebacks while the three remaining members release solo tracks in the order of Rosé, Lisa, and Jisoo," Yang Hyun-suk, the founder of YG Entertainment, wrote on the company's blog in February 2019.
Last December, fans of the group launched a campaign urging YG Entertainment to fulfill promises they allegedly had yet to fulfill regarding Blackpink's comeback. A truck blasting Blackpink's music was reported to have been driven around the neighborhood in Seoul where YG Entertainment's office is located, while a video was played outlining fans' demands from the label.
An administrator of the Twitter account of Blackpink Radio, the group that led the truck protest, told Billboard last year: "YGE [YG Entertainment] have been feeding us with lies and false promises ever since the group debuted and even though we know the company has other artists to manage, BLACKPINK's management is still underwhelming when compared to their incredible success. We, as fans, are tired and disappointed that the group's potential feels subdued due to YGE's ways. Three years of existence, 13 songs, no full album, no proper promotions and only one comeback per year is infuriating and unacceptable. That being said, we decided to take action."
YG Entertainment responded in a statement on its official Twitter account which said: "All of us at YG would like to express our deepest gratitude to the fans and would like to take this opportunity to share with you that we are doing our absolute best to give BLACKPINK and Blinks the best music YG has to offer."
Last June, Yang resigned from all his positions at the company following a string of scandals involving allegations made against some of the label's artists including Seungri (former member of the K-pop band Big Bang), who was accused of arranging sex services for clients at the Burning Sun nightclub he owns.
"I have been patiently tolerating words about the current situation that are too disgraceful and humiliating to mention as they have been told indiscriminately as though they are the truth. However, I think it's too difficult now. I think that there can no longer be a situation where YG, our agency's celebrities, and fans are experiencing harm due to me," Yang announced in a statement last year.
"However, I will step down from all of my positions and work at YG starting today. I sincerely hope that there is no further harm to the YG agency celebrities I love, and to the fans who love them, because of me."