Blackpink's Stunning Performance on 'The Late Late Show' Viewed Over 1 Million Times
Korean pop group Blackpink have gone viral once again after their show-stopping performance on The Late Late Show with James Corden on Wednesday.
The K-pop superstars previewed a version of their hit "Pretty Savage," wowing their dedicated fans.
The group's appearance on the late-night show comes ahead of their highly anticipated live concert on January 31, which has been dubbed "The Show."
Ahead of taking to the stage, members Jisoo, Jennie, Rosé and Lisa spoke to Corden about their pre-stage rituals.
"Right before we go on stage, we always get together and do a little low five," Lisa said as the group acted out their ritual.
The move's anti-climatic ending made Corden burst out laughing.
Blackpink's performance on Corden has impressed fans, with clips of the choreography widely circulating on Twitter.
One fan tweeted: "THE VISUALS. THE OUTFITS. THE STAGE. THE PERFORMANCE. BLACKPINK NEVER DISAPPOINTS."
While another added: "WOW WHAT DID I JUST SEE THE PERFORMANCE WAS AMAZING, EVERYTHING LITERALLY EVERYTHING WAS BEYOND PERFECT OMG NOW I CAN'T WAIT FOR THE SHOW."
Speaking about "The Show," Jennie said: "Since it's our first virtual concert we were very worried at the start but preparing it was so much fun for the past couple of months."
Speaking to Metro ahead of the virtual event, the band said that although they are exploring ways to incorporate new technologies into their performances, they are still focusing "more on the essential attributes and value of the live performance."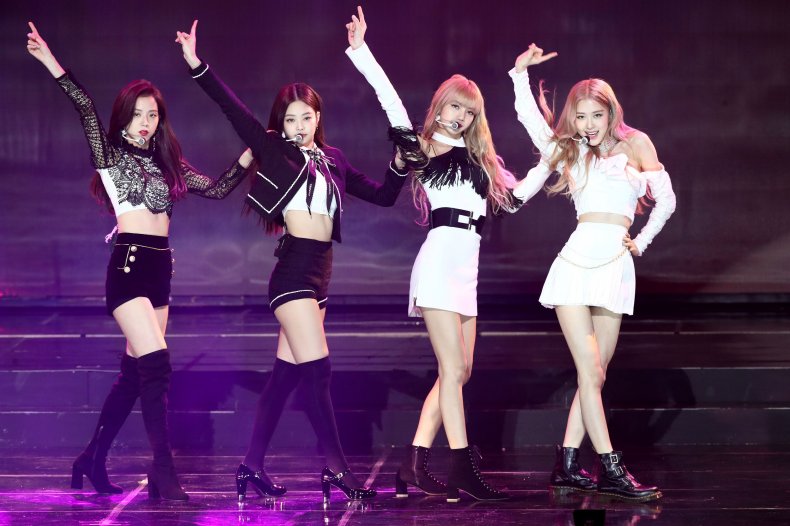 "We would like to emphasize that the ability to share our music with our fans at the same time during this difficult time is what makes virtual concert special," they said. "Through The Show we hope to cherish that special moment together."
Blackpink's debut album, "The Album," was released in October 2020 and featured collaborations with Selena Gomez and Cardi B. They also featured on Lady Gaga's 2020 album "Chromatica" on the track "Sour Candy."
In 2020, the high-charting K-pop group made history by being the first all-girl K-pop group to perform on The Tonight Show Starring Jimmy Fallon.
They also previously made appearances on The Late Show with Stephen Colbert and Good Morning America.
Late last year, Blackpink: Light Up the Sky was released on Netflix, giving the band's fans—or Blinks—a glimpse into their idols' lives.
Two years in the making, the documentary tells the story of the band from childhood through the grueling work of the K-pop training camp, to their 2019 performance at Coachella.