'Blacks for Trump'? Almost 8 in 10 African-Americans Say He's Made Race Relations Worse
Strong majorities of African-Americans and Hispanics believe race relations around the country have deteriorated under President Donald Trump, and a majority of the country feels the same way, according to a poll released Wednesday.
Seventy-nine percent, or almost eight in 10, African-American voters and 60 percent of Hispanic voters said relations have worsened since Trump assumed office, the Politico/Morning Consult poll indicated.
In contrast, a slim majority of 51 percent of white voters said relations have declined around the country as the anniversary of the racially charged Charlottesville, Virginia, protests approached this week.
Overall, 55 percent of voters said race relations have worsened under Trump, with only 16 percent stating relations have improved and 18 percent answering they have remained the same.
As with most polls involving the Republican president, the results along party affiliation lines were heavily skewed. Eighty-two percent of Democrats and only 25 percent of Republicans said relations were worse. Thirty-five percent of Republicans said relations improved under Trump.
Still, a Gallup poll conducted in November and December of last year found race and party affiliation were closely tied to the president's approval ratings. Overall, 47 percent of adult non-Hispanic whites approved of Trump compared with only 16 percent of nonwhites. But 83 percent of non-Hispanic white Republicans and 59 percent nonwhite Republicans approved of the president.
While touting the robust economy, Trump has also routinely pointed to the drop in the black and Hispanic unemployment rate, as well as a decline among women. "Blacks for Trump" signs have regularly been seen and highlighted at Trump rallies.
The Politico/Morning Consult survey was conducted between August 2 and August 6, drawing results from 1,994 registered voters around the country with a margin of error of 2 percentage points.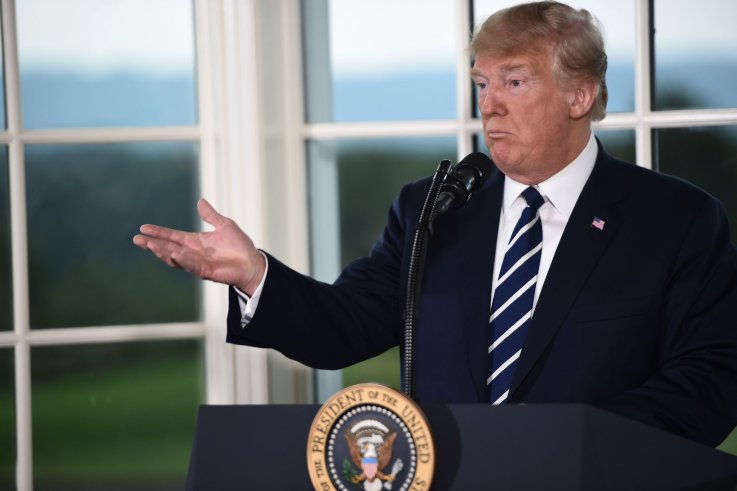 Trump has long faced claims of racism. He hit the campaign trail proclaiming Mexican immigrants to be rapists and drug dealers. After a white nationalist rally in Charlottesville, Virginia, resulted in the killing of a young woman, the president did not immediately denounce the white nationalists, white supremacists and neo-Nazis who started the protests—and later said "both sides," including the Antifa and counterprotesters, were responsible for the violence.
In the days following the president's Charlottesville remarks, his approval rating dropped to the low 30s and Trump received intense backlash from both Republican and Democratic lawmakers.
The poll followed recent cries of racism after Trump criticized CNN anchor Don Lemon and NBA star LeBron James on Friday.
"Lebron James was just interviewed by the dumbest man on television, Don Lemon. He made Lebron look smart, which isn't easy to do." Trump tweeted.
The president was referring to the re-airing of an interview with James conducted by Lemon, during which James said Trump attempts to divide the country rather than bring it together.
Trump has also been accused of racist vitriol in regard to Democratic Representative Maxine Waters of California, who he's described as "low IQ."
'Blacks for Trump'? Almost 8 in 10 African-Americans Say He's Made Race Relations Worse | U.S.