Blacktip Shark Bites Surfer's Foot Off Florida Beach, Double Red Flag Warnings Put in Place
A man received a nasty bite on his left foot while surfing on Cocoa Beach near Orlando, Florida, on Tuesday afternoon, leading lifeguards to issue double red flag warnings.
According to ClickOrlando.com, the bite is believed to be the work of a blacktip shark (Carcharhinus limbatus)—one of the most common large species found in the coasts around the Gulf of Mexico.
Witnesses told reporters the surfer swam to the shore after being bitten near the boardwalk of the Cocoa Beach pier. Beachgoers helped him out of the water and took him to the parking lot, where he was collected by an ambulance and taken to Cape Canaveral Hospital.
"His left foot doesn't look great but everything else about how this surfer is reacting to a shark biting him tells you he is going to be OK," said James Sparvero, Brevard County Reporter on News6.
The surfer, whose full name was not reported, was released from the hospital on Tuesday evening. He told reporters: "All stitched up, have some ripped tendons and a couple toes not doing too well but Cape hospital took care of me and I'll be back to surfing ASAP," ClickOrlando.com reports.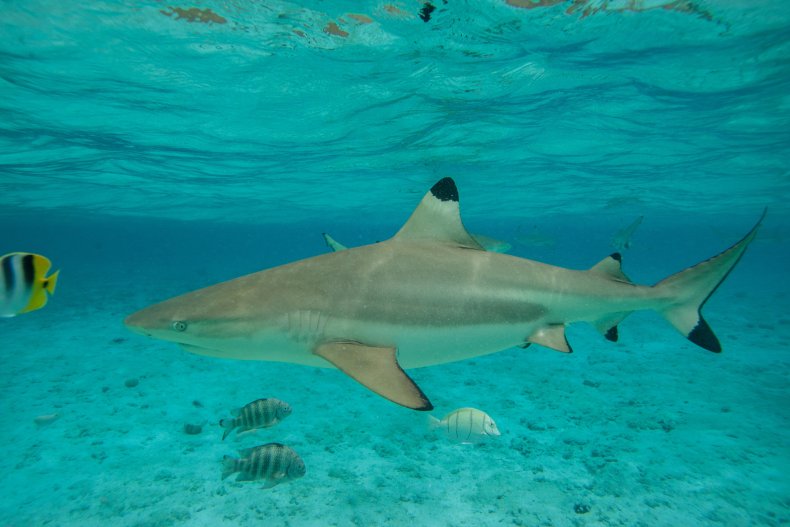 The blacktip shark resembles its cousin, the great white, with a gray top and a white underside—but is far smaller, measuring just 5 feet 5 inches tip-to-tip, compared to a great white's 11-16 feet. Unlike the great white, it also displays a distinctive black tip on each of its fins (except its anal fin).
These sharks are migratory creatures that like to congregate small single-gender groups, frequently in locations near to the coast, according to conservation nonprofit Oceana—making them a relatively frequent sight for swimmers and surfers in the area.
Despite all this, shark attacks on humans are rare. According to The International Shark Attack File (ISAF), blacktip sharks have been held culpable for 29 unprovoked attacks on humans worldwide since 1900, just one of which was fatal. The Florida Museum says that around 20 percent of attacks reported in Florida waters have been caused by blacktip sharks. Their bites usually result in minor wounds.
Humans, in contrast, prove to be more of a threat to blacktip sharks, who are frequently the target of fishers. The IUCN Red List categorizes the species as near threatened. According to the National Oceanic and Atmospheric (NOAA), they are sustainably managed under U.S. regulations.
The graph below, provided by Statista, shows the number of unprovoked shark attacks reported across the world between 1580 and 2019. The numbers suggest you are more likely to die from a firework than from a shark attack.