Blackwater Founder Erik Prince's Attorney Denies Client Evaded U.S. Sanctions on Venezuela: Report
An exclusive report from the Associated Press stated on Monday that Erik Prince, who founded the security firm Blackwater and is a big money donor for the Republican party, may have violated the U.S.'s sanctions against Venezuela when traveling to the country to meet with Venezuelan Vice President Delcy Rodríguez. It's a charge his lawyer strongly denies.
Prince was referred to the U.S. Treasury Department, but will not likely face sanctions for his actions, according to two unnamed senior officials who spoke to the Associated Press.
There was concern expressed by those officials that Prince's meeting was an unauthorized show of support for the regime of President Nicolas Maduro when the United States has announced their support for the government of President Juan Guaidó.
According to the unnamed officials, the National Security Council and Treasury Department were alerted about Prince's plans to travel to the country but did not protest his plans. They claim that Prince's trip to meet with Venezuelan officials did relate to the country's ongoing crisis, but he was not acting in an official capacity for the Trump administration. They added that Prince met with officials from the opposition side, but did not name who, and an Juan Guaidó aide declared to the Associated Press that no meeting took place.
"Before traveling to Venezuela as a private citizen, Erik Prince received clear legal guidance, which he scrupulously followed," Matthew Schwartz, attorney for Erik Prince, said in a statement to the Associated Press. "There is nothing unlawful about simply visiting Venezuela and participating in non-business discussions, which is all that Mr. Prince did. We would be better served by focusing on measures that might actually restore peace and prosperity to Venezuela rather than worrying about who paid a visit to whom."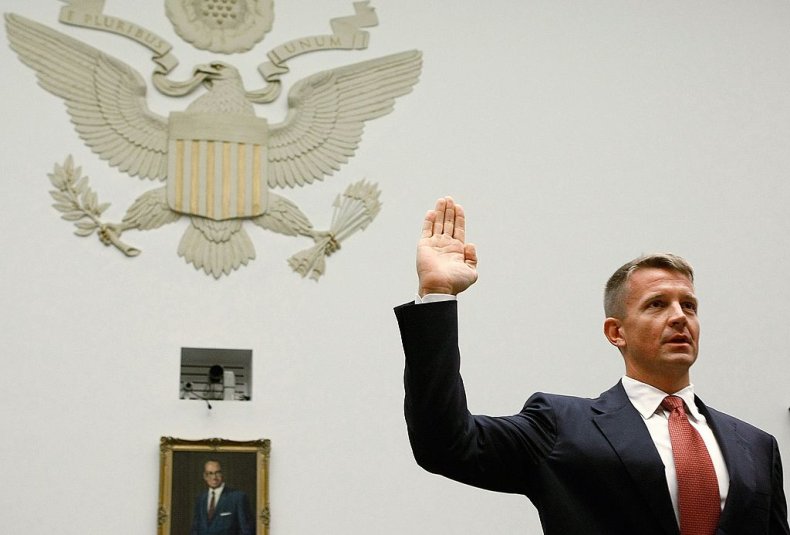 Rodríguez is among a hundred Venezuelan officials who are on the receiving end of sanctions from America.
The presidency of Venezuela has been embattled ever since a controversial January election. While Juan Guaidó had declared himself president and swore himself in on January 23, Maduro continues to run the country, and Guaidó's attempts at creating a sort of transitional government—including a failed military uprising in April which killed four—have not managed to dislodge Maduro from office.
American sanctions against Venezuela have included restrictions against the country's oil industry and a ban on any U.S.-based company or individuals doing business with the Maduro administration.
Sixty countries currently recognize Juan Guaidó as the president of Venezuela, including the United States. China, Cuba, Iran, Russia, Syria, and Turkey have recognized Maduro's presidency instead.