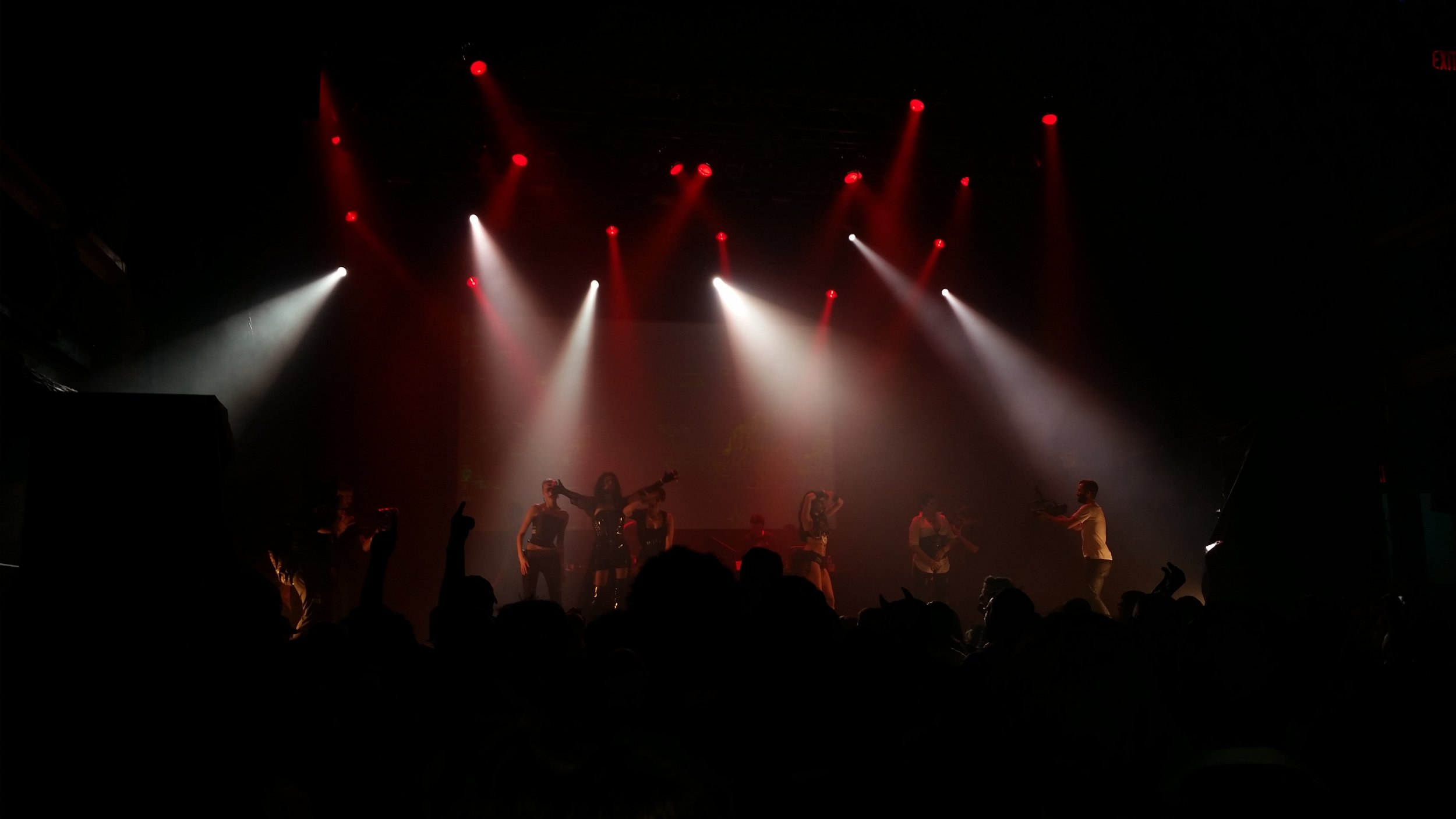 "Do you think that garlic is really going to protect you?" a young, female voice that's half-hiss, half-taunt calls from behind me.
Never being one with a witty comeback, I look annoyedly at the garlic bulb hanging from my neck and mutter something awkward about secreting silver on my person.
Bass thumping in the background, I shuffle to the bar, hoping a beer will help me make sense of the fanged hordes circulating this shadowy concert hall in Midtown Manhattan.
The crowd is replete with black clothing, much of it leather—and corsets are a popular choice for the women in attendance. Several sport milky contact lenses that, in a different context, would look more cataract than creepy-cool. Some have blood dripping down the corners of their mouths because this is a "Blade Rave," after all.
You may well ask: What exactly is a "Blade Rave"? It's pretty much what it sounds like: A rave with a Blade motif. (For the uninitiated, Blade is a 1998 action movie about a vampire hunter named Blade. Wesley Snipes, perennial badass, plays Blade. He's supposed to be half-vampire, half-human. The superhero franchise contains three movies. Blade is based on a Marvel character.)
The rave was put on by BBQ Films, an "event production company that creates immersive cinematic experiences in extraordinary locations" and whose "passionate Film Crew brings our favorite movies to life via interactive installations—whether that's Back to the Future's Enchantment Under the Sea Dance, or The Fifth Element's Fhloston Paradise."
As per the cinema part, the movie played on the roof of the venue, Terminal 5. EDM group The Crystal Method headlined the dance party. Indeed this Blade Rave, part of New York Comic Con's New York Super Week, feels like a mix of performance art and themed costume party.
Of the nearly 20 events BBQ films has organized, the Blade Rave is the first around a horror film, says Gabriel Rhoads, of BBQ Films. He explains that the BBQ Films crew isn't composed of gore-seekers, but that the rave scene is famous, and thus part of its mission.
"We try to re-create these moments that are just iconic from these stories, that make us who we are," he says.
At several points throughout the evening, portions of the film were re-created on stage, but I couldn't hear or see well enough to say anything specific about them. That said, I wasn't there for Rocky Horror-style re-enactment.
I was there for blood.
Indeed, the most awaited part of the rave came at 11 p.m. Some of the 1,500 liters of "blood" BBQ had ordered poured down onto the sweaty dance floor, dousing attendees. (Full disclosure: Dancing in blood is quite fun, and in no way did I maintain monastic distance from the subject of this report.) This blood rain re-created the rave scene at the beginning of Blade.
In that scene, dozens of vampires are grinding in an underground club (situated in some sort of meat factory, of course) when blood rains down from ceiling sprinklers. As they're rejoicing, Blade bursts into the bacchanal and starts slaying them. Thus the world is introduced to the hero's power of fantastically choreographed vampire-killing.
Some people will surely want to typecast patrons of a vampire-themed event as Twilight superfans. While there's nothing wrong with Twilight per se, that type of assumption would be incorrect. The rave drew quite the diverse crowd, and the only appropriate blanket statement is that they all seemed to be there for a good time.
Take 29-year-old Malcolm Jones. The Virginia native is Blade this evening and says he's been a "big fan ever since I saw the movie in 1998."
Jones says the Blade rave scene was a "very crazy concept for a little Virginia boy."
"So when we heard this was happening, it was a no-brainer," says Jones, accompanied by a pert vampire moll. "She dressed up like a vampire, and I dressed up like my favorite African-American superhero, Blade."
Anatomy of a Blood Rave | U.S.