Blago Found Guilty on One Count Only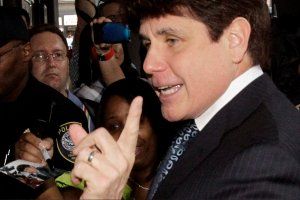 Sounds like a rather dysfunctional jury in Chicago at the trial of former Illinois governor Rod Blagojevich. After 14 days of deliberations, Blagojevich was found guilty today on one count of lying to federal agents. However, the six-man, six-woman jury was unable to reach a unanimous verdict on a whopping 23 other counts. These include racketeering, wire fraud, extortion, bribery, and conspiracy—relating most sensationally to his alleged attempt to trade an appointment to President Obama's old Senate seat from Illinois.
Judge James B. Zagel said he accepted the verdict on the false-statement count and declared a mistrial on the remaining counts, The New York Times reports. The false-statement count carries a maximum sentence of five years. However, prosecutors are signaling that they plan to retry the counts on which jury consensus was not reached.
In recent days, various signs had emerged of a troubled jury room. On the 12th day of deliberations, jurors sent a note to the judge indicating they had yet to discuss 11 counts. Earlier today, they requested advice on filling out their verdict forms and asked for a physical copy of the oath they took before deliberating.
Blagojevich, 54, had pleaded not guilty to all 24 counts. Leaving home today with his wife, Patti, before the verdict, he told onlookers: "Pray for me."