Blake Bortles Benched: Cody Kessler Named Jaguars Starting QB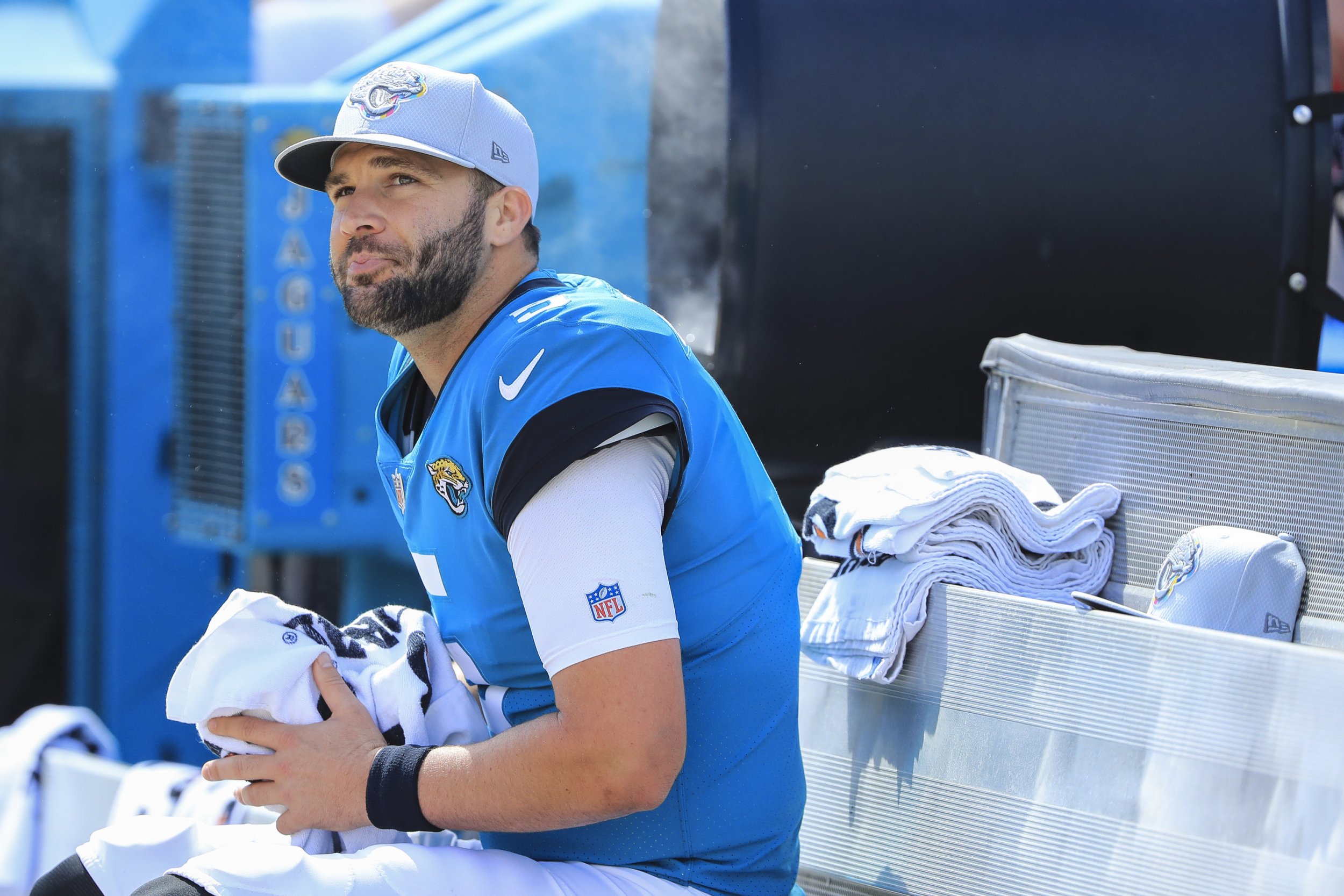 The Blake Bortles era may be over in Jacksonville, at least for the time being.
Cody Kessler will be the Jaguars' starting quarterback for the rest of the season, beginning with Sunday's game against the Indianapolis Colts, head coach Dough Marrone announced during a press conference on Monday.
The decision came hours after firing of offensive coordinator Nathaniel Hackett, as well as the team's 24-21 loss at Buffalo, which extended a seven-game losing streak.
"It's not a knee-jerk reaction," Marrone said. "I really feel like at the end of the day we've got to try to get better production out of our passing game or more consistent production in our passing game."
Bortles, a former No. 3 overall pick in 2014, owns a 24-48 career record as a starter and has struggled in 2018, despite completing a career-best 60.4 percentage of his passes. The 26-year-old has recorded less than 150 yards during four of his last six games.
Bortles has also thrown just 13 touchdown passes and 10 interceptions and has a Total QBR of 49.0, which ranks 25th among 31 passers in 2018, according to ESPN Stats & Information. Last season, he ranked 12th in Total QBR, while recording 21 touchdowns and 13 interceptions during Jacksonville's run to the AFC Championship Game.
Bortles was benched in the Jaguars' Oct. 21 loss to Houston after losing two fumbles, before being named the starter for Jacksonville's next game against the Eagles one day later.
Kessler hasn't started a game since 2016, which included going 0-8 as a starter for the Cleveland Browns. He recorded 156 yards, one touchdown and one interception on 21 of 30 during his only appearance in 2018.
"I had a chance to talk to both Blake and Cody and I told both those guys the same thing, 'I'm making this change to give us an opportunity to win a football game,'" Marrone said. "Cody knows the offense. I talked to him and told him what's expected of him."
Marrone reiterated that his decision wasn't guaranteed to be a long-term move and provided vague answers regarding whether Kessler would keep the job for the remainder of the season, although it is expected.
"My plan is for him to go in there and play," Marrone said. "He's done a good job. He appreciates the opportunity."
As for Hackett, he reportedly thought he was being brought in to Marrone's office to discuss a potential quarterback change before being fired.
"Spoke with ex-#Jags OC Nate Hackett, who thought he was being called in to discuss a QB change. Instead he was out. 'It wasn't anything negative, (Marrone) just decided to make a move. I guess he didn't think I was good enough, that's the only thing I can think of. It's a shock,'" Rapoport tweeted.
Jacksonville will host the Colts at TIAA Bank Field on Sunday.