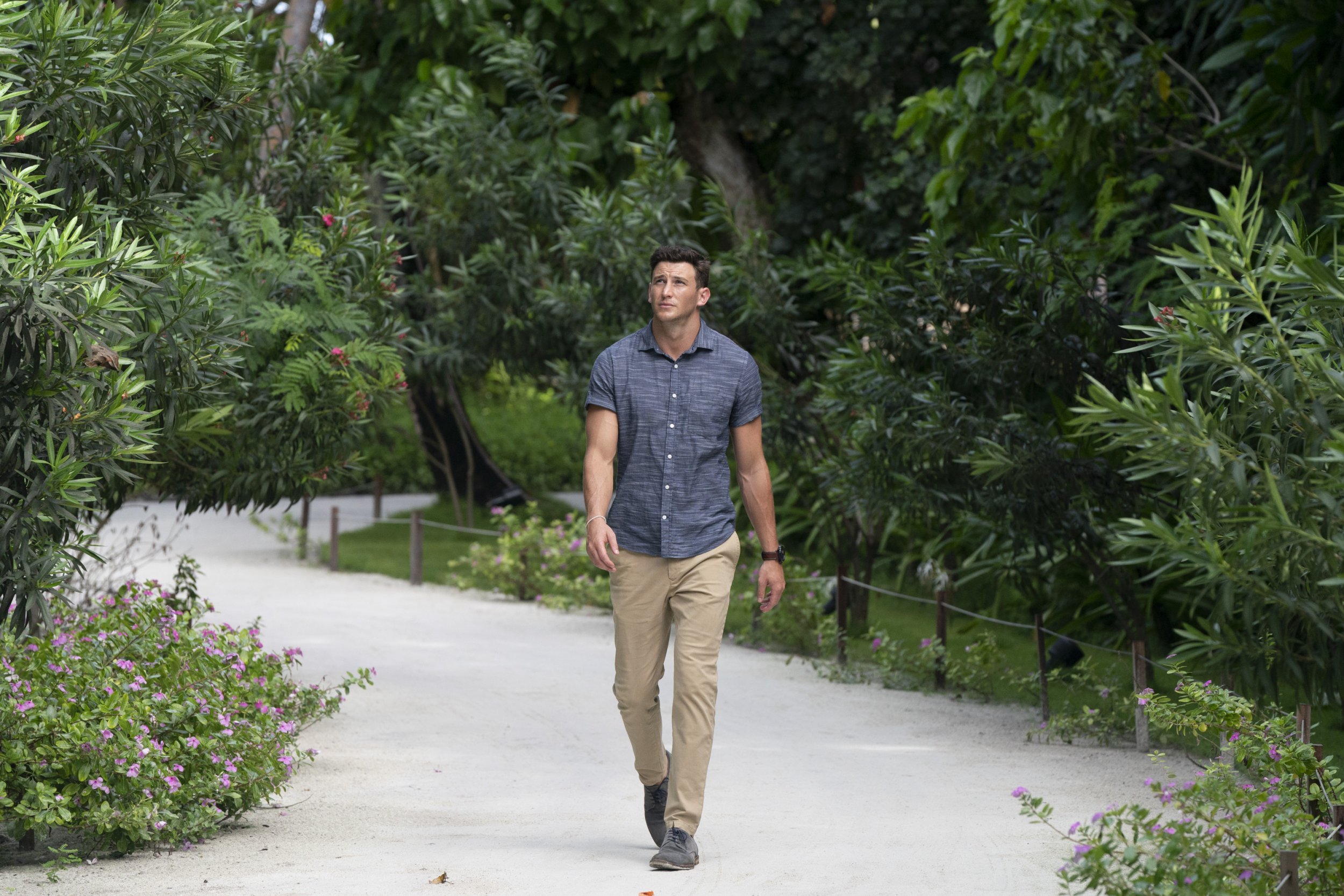 Weeks after Becca Kufrin's former suitor Blake Horstmann opened up about being a school shooting survivor on The Bachelorette, the reality star was asked about winner Garrett Yrigoyen's Instagram scandal. One of the memes Kufrin's fiancé was accused of advocating for insinuated the Parkland, Florida, school shooting was a ploy.
Horstmann told Kufrin about his Colorado school's shooting during July's hometown episode. He said he shared his story to help Kufrin "understand why I am the way I am." Horstmann, however, didn't reveal the gruesome details of the 2006 shooting in its entirety.
During the Platte Canyon High School shooting, 53-year-old Duane Morrison sexually assaulted multiple students, CNN reported at the time. He held a 16-year-old girl hostage as well. As SWAT entered the room, the student being held captive was shot in the back of the head when she attempted to break free.
"That's not the Garrett I knew in the house," Horstmann, 28, said Tuesday, according to Us Weekly. "I'm sure he will learn from all of this and I trust Becca, I trust her decision and I trust her character."
Horstmann elaborated on whether he's spoken with Yrigoyen since their time together on The Bachelorette, adding: "I have not had the chance to talk to him, no, we have not communicated, since, you know, early in the journey...Maybe there will be a time in the future, but as of now, no. I'll let them have their moment."
In addition to drawing criticism for liking problematic posts about Parkland shooting victims, Yrigoyen liked multiple offensive Instagram posts that mocked undocumented immigrants, members of the LGBTQ community and feminists, HuffPost first reported May 28. Yrigoyen took "full responsibility" for his actions via his new Instagram account on May 31. He then suggested he's "learned an extremely valuable lesson and am taking steps to grow, become more educated, and be a better version of myself."
During The Bachelorette's three-hour finale, host Chris Harrison asked Yrigoyen about the controversy. "I'm just trying to grow as a person and be a better person on a daily basis and [Becca's] helping me through everything," Yrigoyen, 29, said Monday. "We've been honest and open and transparent with each other since the beginning and when that all came out we attacked it because I feel like when I was liking things it was going against things that she stands for and that made it really hard as a couple."
Horstmann was revealed to be Kufrin's runner-up after The Bachelorette's three-hour finale aired Monday. Many fans knew Kufrin, a 28-year-old publicist from Minnesota, was slated to give the final rose to Yrigoyen after TMZ and Reality Steve leaked photos and details of the pair's engagement in May. With this knowledge, more than 10,500 Bachelor Nation fans signed a Care2 petition that urged for Kufrin to abstain from picking Yrigoyen due to his Instagram scandal.
The petition against Yrigoyen, titled "Bachelorette Becca - Don't Choose Racist, Sexist, Homophobic Garrett," first surfaced in May. The petition's creator suggested that the competition's frontrunner wasn't a good match for Kufrin since she's "a left-leaning feminist." The creator went as far as to deem Yrigoyen a "really bad guy."
"I love the show and find Becca to be one of the cutest competitors yet," Kelsey B., the petition's creator, wrote. "Her politics align with my own. She supported Hilary Clinton and The Women's March. So I want to make sure she knows who she's dealing with."