Blake Shelton and Gwen Stefani: Inside Their Love Story From Meeting To Marriage
Blake Shelton and Gwen Stefani were stars in their own right before meeting on The Voice, but together they make one of music's leading power couples. Over the July 4 weekend, they cemented their relationship in an intimate wedding ceremony.
We break down their relationship from their meeting to their marriage.
Before Gwen Stefani and Blake Shelton Met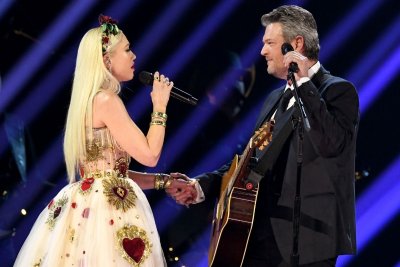 Stefani and Shelton both have previous marriages.
Stefani's first marriage was to Bush frontman Gavin Rossdale, whom she married in 2002 in London, U.K.
The couple had three sons together before Stefani filed for divorce in 2015.
As for Shelton, he has been married twice before his wedding to Stefani.
His first marriage was with Kaynette Gern, to whom he was married from 2003 to 2006.
After this, he married fellow country singer Miranda Lambert, who he met in 2005.
They married in 2011 and divorced in 2015, with the split finalized on the day they made their announcement to the public.
How Gwen Stefani and Blake Shelton Met
When the couple met while working on The Voice, they were each married to other people.
Shelton was an original coach on the NBC show, while Stefani joined for one season in 2014.
Stefani returned to the show at different times, also serving as a part-time adviser in subsequent seasons.
Each singer finalized their divorces from their partners and began their relationship in 2015.
When Gwen Stefani and Blake Shelton Performed at The Grammys
Since getting together, as well as being judges together on The Voice, Stefani and Shelton have performed together.
They have also collaborated on brand new duets, first with "Go Ahead and Break My Heart" in 2016, followed by "You Make It Feel Like Christmas" in 2017.
One of their most iconic performances together was at the Grammys in 2020, where they sang their third original collaboration, "Nobody But You."
The song was a new track for Shelton's album Fully Loaded: God's Country.
Speaking of their duet to Entertainment Tonight, Shelton said: "Gwen was crying when we even just talked about singing it together at all.
"It just seemed to fit perfectly with our story, and, musically, I think it walks the line of what I can do and what she can do.
"Everything just kind of aligned and came together, and it's one of those once-in-a-lifetime moments."
The couple received a CMT Music Award for the song.
Gwen Stefani and Blake Shelton Announce Their Engagement
In October 2020, Stefani shared an image of herself kissing Shelton, holding up her left hand.
The caption read: "yes please" and was accompanied by an engagement ring emoji, signifying their intention.
Shelton also commented on the photo, writing: "Hey @gwenstefani thanks for saving my 2020...
"And the rest of my life.. I love you. I heard a YES!"
Despite this, the pair did not share their intended wedding date.
Gwen Stefani and Blake Shelton Marry
On July 4, 2021, Page Six reported Shelton and Stefani had married in an intimate ceremony.
According to the publication, Shelton built a chapel on his Oklahoma ranch with the intention of marrying there.
They applied for a marriage license in Oklahoma earlier in the week, so their impending nuptials were expected.
The couple had an intimate ceremony on Shelton's ranch, at which Stefani's parents were seen in attendance.