Blake Shelton Slammed As 'Racist' and 'Homophobic' by Some After 'Sexiest Man Alive' Title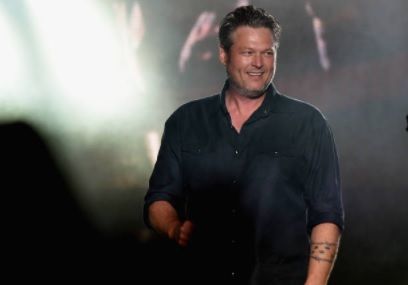 Many people were not impressed Tuesday when People magazine named God Gave Me You singer Blake Shelton as 2017's Sexiest Man Alive. While some didn't agree with their choice, others slammed Shelton as "racist" and "homophobic." They based their claims over offensive tweets the singer penned in 2011. The outrage was largely displayed on social media.
"Wish the dickhead in the next room would either shut up or learn some English so I would at least know what he's planning to bomb!!" he wrote in 2011. "Nothing says 'Happy 4th of July' like a airport shuttle bus driver that can't speak a FUCKING word of English!!! To the terminal Omar!!!"
In the same year, he seemingly advocated for violence against gay men: "Re-writing my fav Shania Twain song..Any man that tries Touching my behind He's gonna be a beaten, bleedin', heaving kind of guy…"
The NBC Voice coach, 41, apologized for his messages and deleted them. He claimed they were jokes and that "comedy" was a part of his career. "Can my humor at times be inappropriate and immature? Yes. Hateful? Never. That said I deeply apologize to anybody who may have been offended," he wrote.
While there was plenty of backlash over Shelton's new title, girlfriend Gwen Stefani couldn't agree more. "Wow, I knew I was on to something. Wow, I'm gonna look really good huh? I already had scored but now I really scored," she told Access Hollywood Tuesday.
Shelton was shocked, telling People magazine, "… y'all must be running out of people."
But he was excited to taunt fellow Voice coach Adam Levine, who was named 2013's Sexiest Man Alive.
"I can't wait to shove this up Adam's ass," he said. "As proud as I am and honored that you guys asked me, that's really the only thing I care about."
Most importantly, he was thrilled to carry his new title around with him forever. "When [people] would say to Adam, 'Mr. Sexy,' you'd always see him go, 'Well, awwww…' If you say that to me, it's going to be, 'You're damn right, I'm Mr. Sexy! I've been ugly my whole life, if I can be sexy for a year, I'm taking it," the country singer said. "I'm taking it."
One reason he's not shy about his new award is because Shelton labeled himself as "fat."
"I think to describe myself as a child, one word comes to mind. And that's fat," he said. "People say I haven't changed since before I made it. And I'm still fat today. That's proof!"
Blake Shelton Slammed As 'Racist' and 'Homophobic' by Some After 'Sexiest Man Alive' Title | Culture