Rachel Ranft steers a mud-splattered white pickup slowly along River Road, a narrow strip of asphalt a few feet above the now-placid Blanco River in Wimberley, Texas. She pulls up next to a towering bald cypress, a type of conifer native to central Texas that grows along creeks or near springs. This one measures about 100 feet high and 6 feet around. A tangle of debris wraps its trunk like a fibrous scarf, and rough bark dangles off it in long strips, the wood beneath smooth and pale. An equally large tree lies on the ground beside it, roots and all ripped out of the ground, as if it were a weed plucked by an avid gardener.
Thousands of trees along the river recently suffered similar fates, victims of not only a flash flood but also the human penchant for manicured landscapes.
The Blanco River starts in springs in Kendall County, flowing 87 miles over limestone outcroppings in Hays County, through the towns of Blanco and Wimberley and past wooded, hilly ranches. It empties its pale-green waters into the San Marcos River, which in turn flows into the Guadalupe River and, ultimately, the Gulf of Mexico. Before the flood, most of the vacation cabins and year-round homes lining the river in Wimberley sported mown lawns, typically non-native St. Augustine or Bermuda grass, interspersed with large, mature cypress trees.
This landscape was ill-suited to withstand the flood, points out Ranft, a project manager for the Nature Conservancy (TNC). Unlike native vegetation, mown grass doesn't establish the root system needed to hold soil in place. Large, solitary trees bear the brunt of floodwater and debris, while in a mix of tree sizes, smaller ones would bend rather than break, slowing the water and absorbing some of its force.
In this case, the force was considerable. Before dawn on Sunday, May 24, as much as 10 inches of rain fell in just a few hours in this river basin, onto land already saturated from weeks of steady precipitation. The river rose rapidly, cresting 27 feet above flood stage. A wall of water roared downstream, killing 13 people and destroying or damaging hundreds of homes around this tourist town about 38 miles southwest of Austin.
Wimberley residents immediately rallied, mourning those who had died, searching for the missing, feeding and clothing neighbors, digging out and cleaning up. But people here also immediately and keenly felt the loss of thousands of the river's iconic trees, an estimated 13,800 specimens of cypress, pecan, cedar elm and oak, roughly 60 to 75 percent of the trees on the riverbank. "Within days of the [flood], while everyone was still dealing with loss of homes and material possessions and people still missing, people along the Blanco were concerned about the trees," says Paul Johnson, urban and community forestry program coordinator for Texas A&M Forest Service. Apart from their aesthetic beauty and shade—precious in an area where summer temperatures routinely reach the upper 90s—healthy trees reduce erosion of the riverbank, slow down typical flood waters, clean the air and provide habitat and food for wildlife.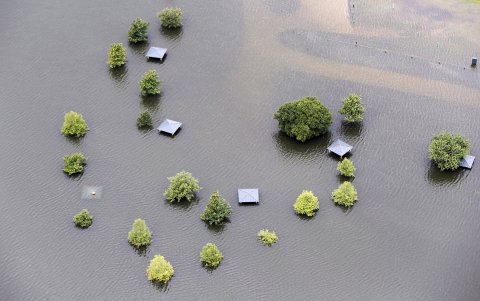 "These trees were very important to quality of life, natural habitat and the tourism industry here," says Hays County Commissioner Will Conley. In 2011, the Guadalupe–Blanco River Authority sampled tree rings from cypresses along the Blanco as part of a drought study and dated one tree back to at least 1426—nearly 100 years before Spanish explorers arrived in what is now Texas. "Just think of all these trees have seen in that time," Conley says. (The flood washed away the 1426-era tree, its whereabouts unknown.)
The volume and velocity of the water forced trees from the ground, and the debris and gravel it carried knocked off limbs and scoured bark from trunks. This bark loss can be fatal. Tubes just beneath the bark carry nutrients made by photosynthesis in a tree's leaves to its roots. Loss of bark completely around the trunk starves the roots and eventually kills a tree. It's a threat faced by many of the cypresses still standing along the Blanco.
Following disasters such as this one, public and private landowners often immediately begin to cut down dead and damaged trees and clear out fallen limbs and other debris. But that, experts say, is the worst thing to do, because it could prevent the river from ever fully recovering. The branches, sediment and downed trees provide nutrients for vegetation to regrow and, in the meantime, help hold the soil in place. Debris contains seeds and surviving roots that might naturally revegetate the bank. The tangled piles also form a natural barrier that protects young trees from being eaten by the area's abundant deer. Flooding is a natural river process, and nature has the ability to heal itself, given time.
In some places along the Blanco, it might be too late. There are areas here and there already cleared of trees and debris; in some cases, large circles of white ash suggest they were burned. And if heavy equipment was used, it might have irreparably damaged the shore, compacting soil and making it more difficult for plants to grow, or gouging the ground and contributing to erosion.
Ranft, Johnson and others are now educating landowners along the Blanco on best practices for the flood aftermath. TNC hopes to target landowners in high-profile areas who are willing to work with the organization to demonstrate to others what a natural riverbank looks like. TNC and the Texas Parks and Wildlife Department (TPWD) are planning multiple workshops this fall, providing landowners with information on the best species to plant along the river and working with area growers to create a supply of those plants at reasonable cost.
"We hope this can be a turning point for better management," Ranft says, that would create a landscape more resilient to future floods. A core tenet of that would be small areas of native grasses where people use the shore, as well as a variety of native vegetation and trees elsewhere, to replace the diversity that once naturally occurred along the river. This type of good land stewardship becomes increasingly important, says Laura Huffman, Texas state director of TNC, as the population continues to grow and as climate change makes more frequent and intense flood, drought and other disruptions the norm. "This flood was tragic on a human and an ecological scale," says Huffman. "But it is an opportunity to think differently about how we respond."
The tragedy may yield another benefit: "People are asking what to do on their land, inviting us in," says Ryan McGillicuddy, a TPWD conservation expert. Texans consider the right to do what they want on their own property sacrosanct, making such invitations hard to come by. And given that most of the land along the river is private, the potential to partner with local landholders will be key to returning the Blanco to a more natural state than it was pre-flood and, as Conley puts it, "repair properly for the next generation."