'Blank You, Putin': Ukrainian MP Says His Government Won't Surrender
As more of Ukraine falls under Russian control, a Ukrainian member of parliament says that his government and its citizens will never stop fighting against the Russian invaders.
While appearing on Newsmax Monday, host Eric Bolling asked Alexey Goncharenko what he thought of Russian President Vladimir Putin's list of demands for ending the attack, changes that include Ukraine changing its constitution, recognizing Crimea as part of Russia and recognizing the Russian-backed breakaway regions of Donetsk and Luhansk as independent states.
"I want to say some bad words," Goncharenko responded. "Blank you, Putin, you know? I don't know how to say this is—not to offend your viewers. I just want to say to Putin...what our soldiers told to his Russian military ship. I'm sorry, go f*** yourself with all this."
"In half [a] year, [Putin] will start another war and say, 'I want another part of Ukraine, then another part of Ukraine,'" Goncharenko continued. "We will never accept this. This is our territory. Crimea is Ukraine. Donbas is Ukraine, and he's the aggressor, and he cannot demand from us anything."
"We are winning the war and we are not going to surrender in any way," Goncharenko added.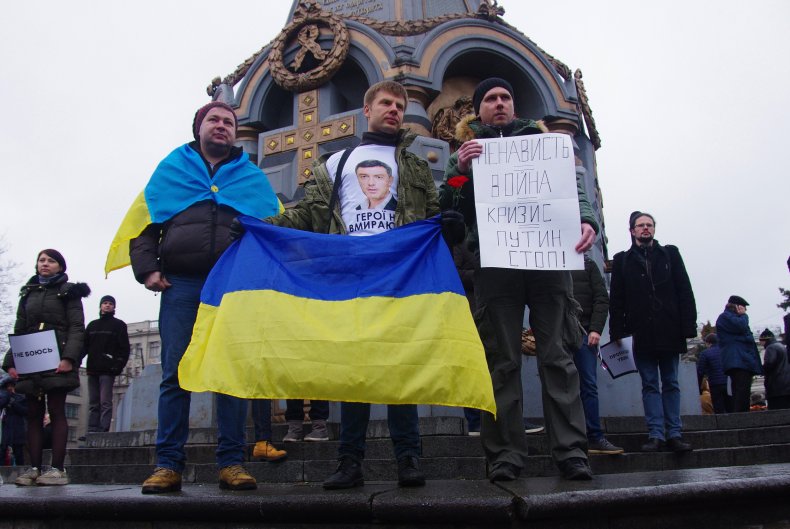 Goncharenko's comments come at a time of escalating conflict in key cities across Ukraine. The Russian military's full combat forces have reportedly been deployed into the country, their long-range attacks resulting in more civilian deaths. Yet, the Ukrainian government has remained defiant about fleeing.
On Monday, Pentagon Press Secretary John Kirby said that Russia had deployed nearly all of its combat forces into the country. Russia has also increased its long-range missile and bombing attacks, resulting in more casualties and damaged infrastructure, Kirby added.
Since the start of its invasion two weeks ago, Russia has taken control of the Ukrainian cities of Kherson and Berdiansk as well as the Zaporizhzhia Nuclear Power Plant, Europe's largest nuclear power plant.
Russian troops have focused attacks on the capital city of Kyiv and the cities of Kharkiv, Chernihiv and Mariupol. These cities remained under Ukrainian control as of Monday evening. Mariupol is especially considered of strategic importance to Russia as it provides an entry point into the Black Sea, a major east European waterway.
The resistance of the Ukrainian people and their government has been a notable feature of the ongoing conflict.
Ukrainian President Volodymyr Zelensky has repeatedly said that he has no intention of leaving the country, adding that he would rather die or be captured than abandon his fellow citizens.
Ukrainians have rallied behind him, answering his call to fend off invaders by taking up rifles, making Molotov cocktails, digging trenches and providing community services.
Although over 17,000 people have joined Ukraine's force of volunteer fighters against the Russians, Zelensky and other Ukrainian government officials have said that they will likely have to continue fighting on their own since other countries have not wanted to involve their own troops.
So far, at least 406 Ukrainian civilians have died during the Russian invasion, according to the Office of the United Nations High Commissioner for Human Rights (OHCHR).
While Russian and Ukrainian negotiators have tried to organize humanitarian corridors for civilians looking to flee the country, one such route was booby-trapped with land mines, the International Red Cross reported.
The UN estimates that the conflict will result in nearly 5 million Ukrainian refugees.
Newsweek contacted the Ukrainian embassy in Washington, D.C., for comment.