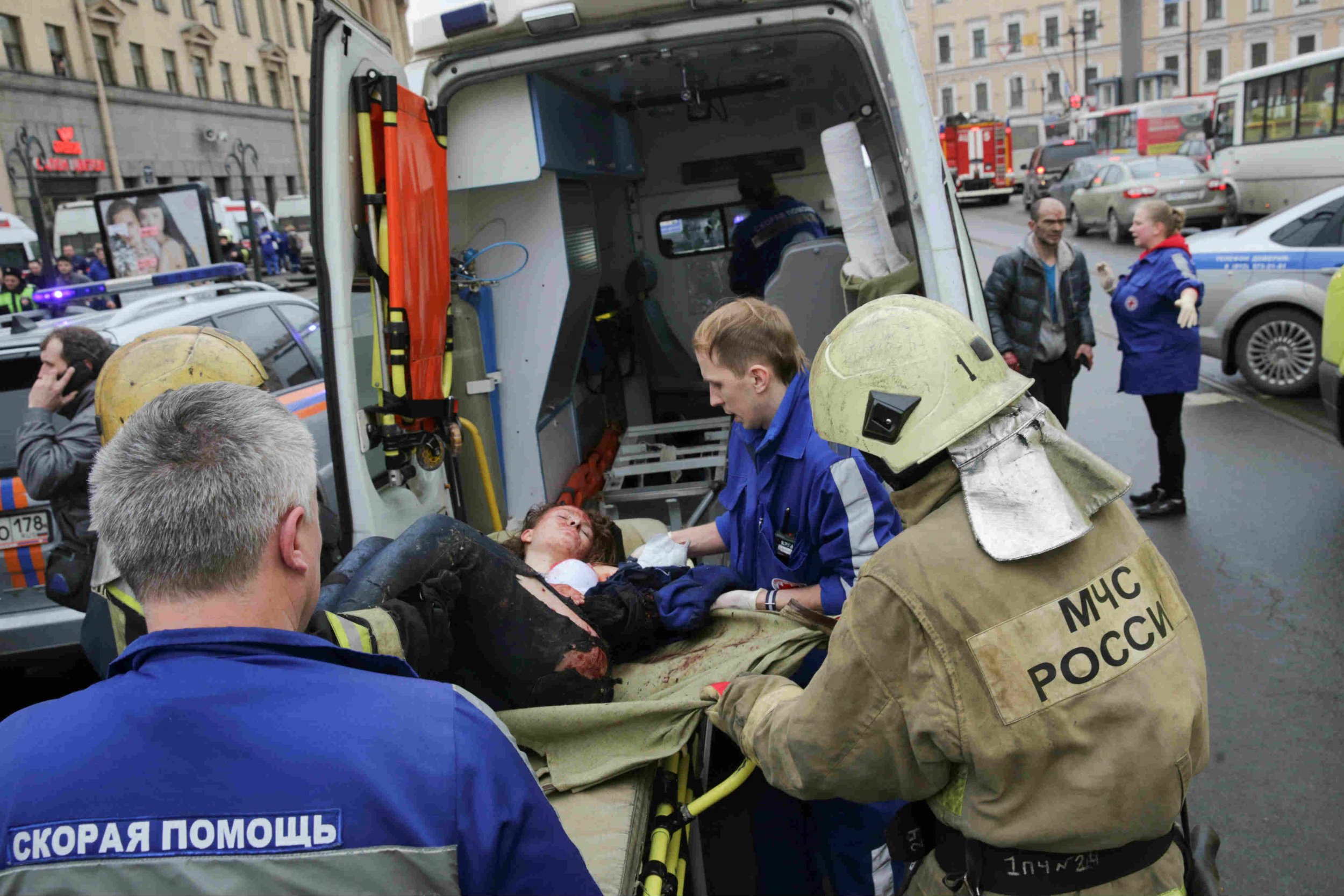 Updated | Explosions rocked at least one subway station in St. Petersburg on Monday, killing at least 10 people and injuring 50 others, according to Russian media reports.
Russia's federal investigative authority, the Investigative Committee, issued a statement on Monday evening declaring that it was opening a criminal case around the incident on suspicion of it being a "terrorist act." However, it highlighted that this was not a confirmation that the blast was an act of terrorism, rather that it was one line of investigation.
Russian President Vladimir Putin, who was on an official visit to the city at the time of the blast at a central subway station, expressed sympathy for anyone hurt or killed in the incident, although estimates of numbers fatalities and casualties have varied.
"Of course all versions [of events]—basic, criminal and above all acts of a terrorist nature—are being considered," Putin told state news agency Itar-Tass. "We'll see. The investigation will show in the near future and give answers to what happened. "
St Petersburg Governor Georgy Poltavchenko told Tass that 10 had died in the explosion. Though Russia's joint counter-terrorism committee of law enforcement agencies (NAK) initially told Interfax there were nine deaths, it later gave the number of fatalities as 10, news channel RBC reported.
Unverified photos of a seriously damaged subway carriage and wounded bodies strewn along a platform have gone viral in Russia. Early reports suggested there were two blasts at the Sennaya Ploshchad station and the Technology Institute station, but that appears to be incorrect.
However, Sennaya Ploshchad in the center of Petersburg seems to be the target of one blast and reports of casualties and fatalities vary. State news agency RIA Novosti reported multiple blasts on the city's subway, though NAK has since confirmed to media that there was only one blast, between Sennaya and the nearby Technological Institute station, which is why smoke was visible at both.
Putin's visit went ahead without changes as a result of the blast, his spokesman confirmed, Tass reports. Putin met Belarusian President Alexander Lukashenko in St. Petersburg on Monday as scheduled and expressed his condolences to any victims of the blast. The Russian leader, who is originally from Petersburg, said he has already spoken with Russia's Federal Security Services about the blast.
Moscow's subway system issued a statement to news agency Interfax that it is shoring up security at its own facilities. Interfax reports that besides Sennaya Ploshchad, seven other stations in Petersburg have been closed for entry or exit.
This is a developing story and will be updated as more information becomes available. An earlier version of this story quoted Russia's General Prosecutor declaring the explosion a terrorist attack; the piece has been updated to reflect the conflict reports around his statements.