'Blatant Lie': WH Press Sec Tells Twitter to Fact Check Video of Her Saying Obama 'Promised a Vaccine'
White House Press Secretary Kayleigh McEnany on Tuesday set the record straight on a clip that shows her saying former President Barack Obama and Democratic Presidential Nominee Joe Biden "promised a vaccine."
In a statement shared to Twitter, McEnany clarified a roughly 12-second interview clip of her comparing President Donald Trump's promise of a coronavirus vaccine to remarks made by Obama and Biden. She said her comments were in reference to the 2009 Swine Flu pandemic, not Covid-19.
"This is a blatant LIE. WATCH full clip where I clearly mention Swine Flu & the failed Obama/Biden response. Will @Twitter fact check??" the press secretary wrote.
McEnany shared a 40-second clip of her appearance on Fox & Friends on Tuesday, where she says, "President Trump has tore through bureaucratic barriers so we can get a safe, effective, and timely vaccine."
"Compare that to Obama/Biden, where they promised a vaccine, they vastly underperformed, and then you have Biden's advisor back in the Obama/Biden days saying it's a pure miracle—fortuity—that Swine Flu wasn't a mass casualty event of our time," she added in the clip.
McEnany's comments were made in response to statements issued by Biden in Pennsylvania on Monday, where he criticized Trump's handling of the coronavirus and the development of a vaccine.
"One of the problems is the way he's [Trump is] playing with politics," Biden told CBS News after meeting with labor leaders in Lancaster. "He's said so many things that aren't true, I'm worried if we do have a really good vaccine people will be reluctant to take it... He's undermining public confidence."
During a Labor Day press conference at the White House on Monday, Trump claimed that a vaccine could be available as soon as October.
"The vaccine will be very safe and very effective," he said. "And it'll be delivered very soon. Now, you could–you could have a very big surprise coming up."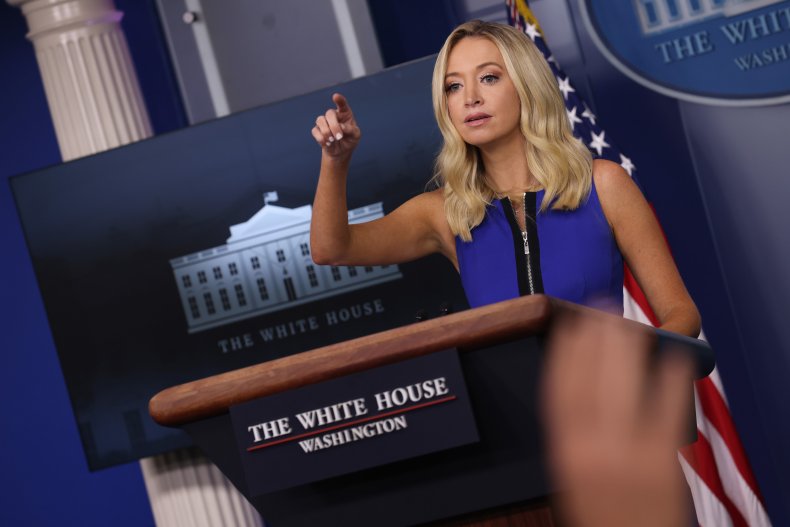 Trump also mentioned that the U.S. remains "on track" to deliver a vaccine before the end of the year and "maybe even before November 1."
The Center for Disease Control and Prevention previously urged states to prepare to distribute a coronavirus vaccine to high-risk groups as soon as the beginning of November. The deadline—about 8 weeks away—has raised concerns from health officials and Democrats who believe the president is rushing a vaccine to help his reelection at the expense of public safety.
However, McEnany told reporters on Thursday that "no one is pressuring the FDA to do anything."
"He [President Trump] will not, in any way, sacrifice safety in making sure that this is 100% airtight before the American people receive it, McEnany said. "The priority here is saving lives, safety, and that there will be a safe and effective vaccine in the works."
Newsweek reached out to the White House for further comment. This story will be updated with any response.