'Bleach' Creator Tite Kubo Marks Manga's 20th Anniversary With New Chapter
Bleach creator Tite Kubo is celebrating the manga's upcoming 20th anniversary by creating a special one-off chapter.
It originally ran in Shonen Jump from August 7, 2001, to August 22, 2016, ending with 74 volumes in total.
Bleach's anime adaptation originally ran from 2004 until 2012, while there are also four films: Memories of Nobody, The DiamondDust Rebellion, Fade to Black, and Hell Verse.
The manga was also adapted into one live-action adaptation, which stars Sota Fukushi in the lead role of Kurosaki.
The film, which also features Hana Sugisaki as female protagonist Rukia Kuchiki and rock star Miyavi as her brother Byakuya, was released globally on Netflix on September 14, 2018.
Newsweek has everything you need to know about the forthcoming special.
What is the plot for Bleach's special 20th anniversary chapter?
In the special, main character Ichigo Kurosaki is invited to a "certain ceremony" by the Soul Society but something unexpected happens.
The plot was teased o Twitter by Shonen Jump with the tagline: "Ichigo was invited to Soul Society for a certain ceremony but!?"
Kubo also took to Twitter to share a first-look image at Kurosaki in the special chapter, with the character sporting a short, spikey hairdo.
In his tweet, Kubo revealed that the special chapter will be set after the manga ended, and admitted that he hadn't originally intended to write the one-off instalment.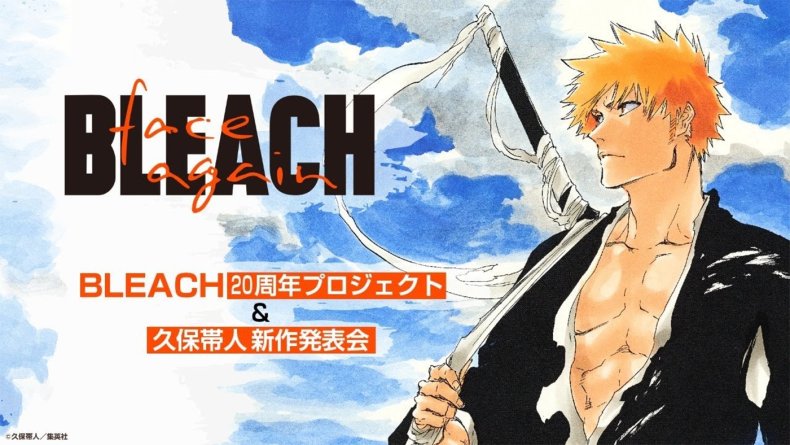 When will Bleach's special 20th anniversary chapter be out?
The one-off chapter will consist of 73-pages in total, and will also include a full colour page for fans to enjoy.
It will be published in Weekly Shōnen Jump in a combined edition of the magazine, putting issue 36 and 37 together, and will be released on August 10, 2021.
In March 2020, it was revealed during the Bleach 20th Anniversary Project & Tite Kubo New Project Presentation that the manga's anime adaptation would return.
When will Bleach's final manga arc be adapted into an anime series?
During the event, it was announced that the anime would adapt the manga's final story arc, "Thousand-Year Blood War," for the small screen.
The anime series will focus on the story set out in the manga from chapter 480, until it's end in chapter 686.
It was initially reported that the anime would return in 2021, though it is now unclear if it will do so as there has been no news as to when it will be air.
The adaptation will focus on the events in the aforementioned "Thousand-Year Blood War", which saw the Soul Society go up against the Quincy society.
The manga also featured one final battle against Yhwach, before ending with a 10-year time skip that sees Kurosaki marrying Orihime Inoue.
Meanwhile, Rukia married Renji Abarai, Urya became a doctor, and Yasutora 'Chad' Sado went on to become a professional boxer.