Anna Shay Net Worth: How Much Does the 'Bling Empire' Star Make?
Bling Empire on Netflix is the latest reality show about the lives and drama of the super-rich. Of the series' many hyper-wealthy Asian Americans, Anna Shay has become a fan favorite, despite her family's involvement in the arms trade—in fact, she has joined Tony Stark in the tiny list of people related to arms business that the public has taken to its heart.
Her lavish lifestyle, however, has left Bling Empire viewers wondering exactly how much money she actually has. Her net worth comes in part from her wealthy family. She is the daughter of billionaire Edward Shay, who in 1955 founded Pacific Architects and Engineers (PAE), an American defense and government services contractor worth over $2 billion.
Or, as Bling Empire star Kane Lim said of her in the Netflix show, "Anna Shay's half Japanese and half Russian and super, super-wealthy. Her money comes from weapons. Her father sells bombs, guns, defense technology. And it's worth like a few billion." This, however, is only partly correct.
Edward Shay was CEO of this company until his death in 1995. He had two children with his wife Ai Shay—Anna and Allen. After Edward's death, Anna and Allen received his shares in the company, with Allen taking control of the company. In 2006, the pair sold the business to Lockheed Martin for $1.2 billion in an all-cash deal. Both siblings took half of this sale, making Shay's net worth at the time $600 million.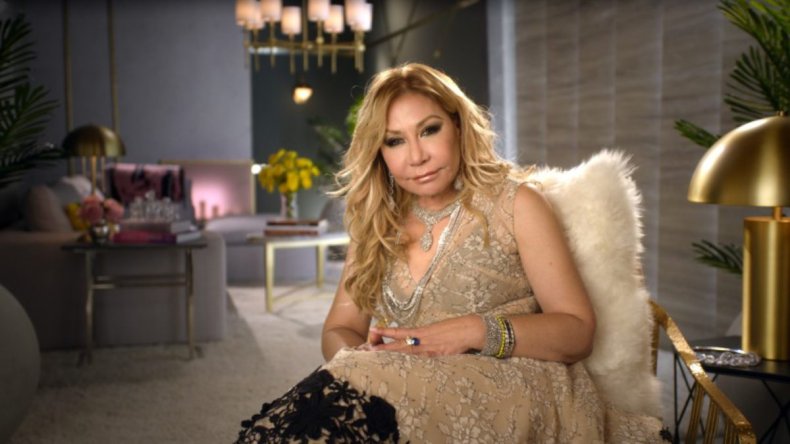 Among her assets is a five-bedroom house in California's Beverly Hills region. This house is said to have once been the home of child star Shirley Temple and was then the home of an Italian mafia boss. This property was then re-listed in December 2020, it had a $16 million price tag. Shay also has a Beverly Hills estate of her own.
In March 2020, she also bought a Beverly Hills mansion for her son Kenny Kemp, who keeps a $500,000 collection of designer bongs on the property (per Buzzfeed News' profile of him). This property was purchased from talk show host Dr. Phil, who had bought it for his own son Jordan.
Speaking of her privileged upbringing to Oprah Mag, Shay said: "I didn't do anything except be born. It's my parents. My dad is from the South Side of Chicago. My mother is from aristocracy. Those two are amazing. They're not here, but they're here. My mother said, 'You were born in a crystal ball with a silver spoon.'"
Anna's aristocratic mother Ai Shay was the granddaughter of Alexander Stephanovich Yahovich a Russian count who was Czar Nicholas II's ambassador to China. As well as running PAE, Edward also owned one of the most extensive Japanese art collections in the world.
Bling Empire is streaming now on Netflix.