'Bling Empire' Star Kevin Kreider Says Netflix Show Is About 'Real Asian-American Stories'
It wouldn't be wrong to assume that Netflix's newest reality series Bling Empire has something to do with, well, bling. Luxury mansions, designer bags, Mellerio diamonds and whatnot—there's plenty of that on the show since many of the cast members come from of wealth and have more money than they know what to do with. They spend it frivolously, of course, on Christian Dior and children's birthday parties that cost more than some people's houses.
However, Bling Empire is not just a reality show play on Crazy Rich Asians. These people may be floating on dollar bills, but they are drowning in real-life problems just like the rest of us.
The show has the usual reality TV elements that make the format hard to turn away from: bickering among castmates, catty drama over seating charts at fancy dinners and forbidden romances. But there's a lot of heavier, emotional stuff mixed in too, like Christine Chiu's struggle with surrogacy and Kim Lee's search for her father. And there is the Asian representation that Bling Empire offers. The cast is composed of people who come from Chinese, Vietnamese and Korean backgrounds, and each of them share traditions and customs that are native to their culture—something that's not often seen on reality television.
Then there's Kevin Kreider.
He's unlike any of the trust-fund kids he hangs out with. For starters, he's not rich, and he's not remotely familiar with his Korean heritage. Kreider is a model, and he was raised in Pennsylvania by the white parents who adopted him. He's essentially the string that ties the show together in a way that makes it less about the bling and more about the beings involved.
"I really hope people give this show a chance and look beyond the fancy stuff, the bling, because underneath all of that are real Asian-American stories. It's not just about making money and spending it," Kreider told Newsweek during a recent phone interview. "These are real human stories—people trying to find their identity and connect with others, getting over insecurities and abandonment, finding their past and their family, and finding their place in the world."
That's a notion Kreider thinks people of all backgrounds and classes can relate to.
See Newsweek's full interview with Kreider below. Bling Empire released on Netflix on Friday.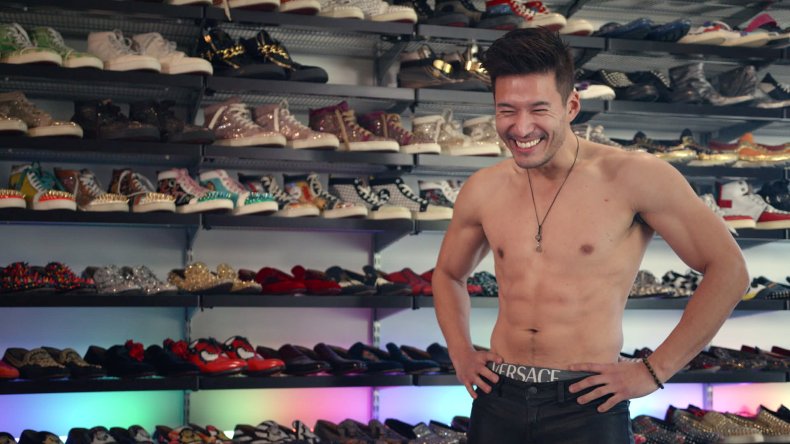 How did you get involved in the show?
This came to my doorstep. One of the producers saw a video I did on Asian masculinity. It was a Huffington Post video called, "The Disappointing Reality of Online Dating as an Asian-American Man." I just shared how I was a model and how I didn't feel attractive enough at times growing up, how I just got off online dating, and they were like, "I want that guy but he lives in Philadelphia." But I was actually planning on moving to L.A. when my lease was up. And everything came together from there.
Was reality TV something you've always wanted to be a part of?
I never thought I'd do reality TV because I didn't think Asians could do reality TV. But what made me really interested in this show was that I didn't need to be rich. They told me the premise of the show, and my whole life I've always wanted to reshape the image of an Asian guy because most of the time he's emasculated or he's a stereotype on TV. In the movie world it is changing, but in the reality space it's not available. So I thought it was a great opportunity.
So you made friends with all the rest of the cast when you arrived in L.A.?
Yea, I met Kane as soon as I arrived. He was the first guy I met in L.A. He's pretty much the only person you really need to know [laughs].
What was interesting about your addition to the friend group was that it seemed like you were the only one who didn't really know a lot about Asian culture, even though you too are Asian. It seemed like you learned a lot about being Asian from hanging out with them.
Yea I didn't know a lot about all of that stuff before I got there. It was really cool learning about the different ceremonies and the different cultures within being Asian. There's Chinese culture and they have their way of how they do things like the 100-day birthday celebration [Cherie and Jesse Lee threw for their son]. I don't know if they do it in Vietnamese culture because Kim doesn't have a baby but I'm sure they have something. I was amazed that these types of big events even existed.
Did learning about your castmates' heritage and culture make you want to learn more about Korean culture?
Definitely. I now shop at H-Mart, and I wasn't doing that before. I've been eating a lot of Korean food and learning how to make different dishes. It's weird being in the pandemic because I feel my Americanized side coming out more again. Pre-pandemic I felt more Asian hanging out with all my castmates and and friends, but I'm still doing some things, cooking different foods and practicing Buddhism.
A big part of your role on the show was based on your adoption story and your trying to find out more about your birth parents. What did you learn about yourself going through that whole process while being filmed every day?
Even just getting my hands on the adoption papers made me realize how un-Korean I am. Reading some of the language—I had no idea what any of it was saying. And going through the regression therapy, it really made me realize I'm not as confident as I thought I was. I always saw myself as somebody who was really insecure growing up. I had to find confidence and find a place for myself in the world back then. But going through the regression therapy it was like, "Oh no no no. You still have a lot to discover and learn."
There's a lot of stuff that got brought up that I did not expect at all. I really thought regression therapy was going to be bulls**t. I thought I was going to have to fake it so it didn't seem like I was wasting [the therapist's] time. But then the moments hit like when I remembered who and where I was before I was 3 years old. It just overwhelmed me, realizing my birth mother's fear of having a child. It made me really empathize with her, but it also made me feel really insecure. I waned to know why somebody would give their kid up. And even worse, my grandfather—why would my grandfather give me up too? I wasn't just abandoned once—it was twice. And after all of that, I realized how my insecurities come up in relationships even now.
What made you want to open up and share that journey of your life on television?
I was resistant to share this part of me at first. I remember telling one of the producers that I didn't really want to do this adoption stuff. I thought it was going to be cliché. I'm one of those Korean adoptees that's happy with my adoptive parents. But when we started getting into it more, I was like, Wow, this might actually mean something more to me than I thought.
It's like this deflection that I've lived my whole life, this denial of the missing piece. My whole life I was trying fill that missing piece with alcohol or parties or girls or shopping, but then it became clear that maybe this is the piece that I need to go and discover and find for myself. And if sharing that can help some other adoptee go out and do the same, all the better.
Why was it important for you to help Kim Lee find her father when you were already going through so much with learning your own birth story?
Because I saw the same denial that I was in. In the beginning I was always like, No I don't need to do this. But after the regression therapy I was like: No, I know I want to do this.
Kim didn't have the regression therapy so she didn't see what I saw, but I knew that there was something I could do for her. She didn't really want anyone to go find her dad but I was like, I'm going to go do this for you, and you can do whatever you want with this information.
I wanted to do it for her because I saw so many of the same things that I saw in myself—the fear, keeping people at arm's distances in friendships and relationships. I know that feeling of abandonment and insecurity, and I saw that in her. I'm glad I did it because after that she really opened up to me. We still have our own s**t. We still argue. She still picks on me. She still won't follow me on Instagram, but I still love her for it.
Your romance with Kelly [Mi Li] was short-lived on the show, but are you dating now?
I was trying to date but I got my heart broken just recently by somebody I met during the pandemic. It wasn't very long. But I did realize I have a lot of work to do, because a lot of the things that were going on [in that situation] brought out a lot of triggers, and I didn't really know how to react. Sometimes I feel like there's this little hurt boy inside of me still. So I need to heal that guy. It's been tough trying to date through all of this.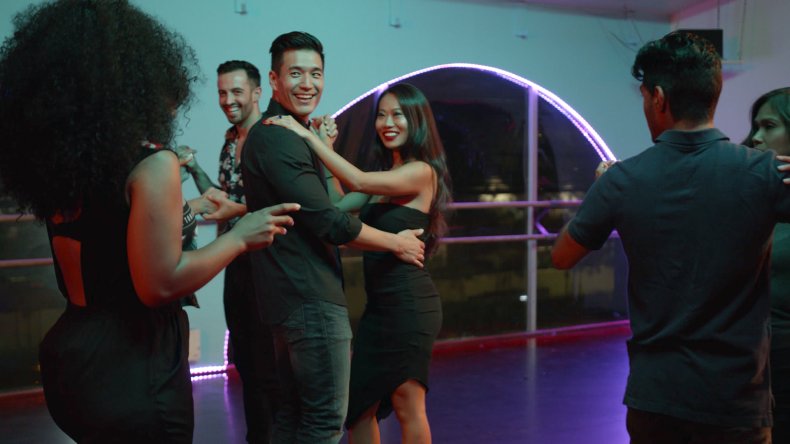 So you're over your Kelly crush? Are you guys still friends?
Yea. She's like a sister to me now. I don't want anything with her in that kind of way. We're still friends. We still talk and chat. I understand her dating is her dating and she just wasn't into me, and that's fine. I don't see a future with her in a romantic way.
There seemed to be some chemistry between you and Kim despite the rocky start to your friendship.
I know! I felt that too. It's weird because what was going on in my head [while helping find her father] was that I felt this connection, but we almost hated each other before.
How have you guys been holding up during the pandemic?
I personally have not experienced anything. I know a couple friends who got [COVID-19], but they didn't really have it that bad. I've just been staying in. I don't really go out that much anyway. I know it looks like I go out all the time in the show I'm sure, but I actually don't go out as much especially during the pandemic.