Antony Blinken Signals Biden Administration Will Take on China Over Hong Kong Crackdown
The incoming administration of President-elect Joe Biden and Vice President-elect Kamala Harris will stand up against China for its "crackdown on democracy" in Hong Kong, said Biden's pick for secretary of state.
Antony Blinken tweeted in support of pro-democracy former legislators and activists as Hong Kong officials confirmed the arrest of 53 individuals following dawn raids on Wednesday.
The ongoing mass arrest is the most dramatic police operation in the name of the city's sweeping national security law since it was introduced by Beijing in June 2020.
"The sweeping arrests of pro-democracy demonstrators are an assault on those bravely advocating for universal rights," Blinken wrote. "The Biden-Harris administration will stand with the people of Hong Kong and against Beijing's crackdown on democracy."
Among those detained is American citizen and local lawyer John Clancey, with the firm Ho Tse Wai & Partners.
Clancey may be the first foreign national without a Hong Kong passport to be arrested under the national security law, which outlaws acts of secession, subversion, terrorism, and collusion with foreign powers. It carries a maximum sentence of life imprisonment.
His arrest could trigger a fresh diplomatic crisis between the U.S. and China, with bilateral ties already strained by constant clashes between President Donald Trump and the Chinese government.
John Lee, Hong Kong's security secretary, told local media outlets that the arrests, which occurred as the U.S. was watching the Senate special elections unfold in Georgia, were done in response to unofficial pan-democrat primary elections held last July.
The independently-organized event sought to find suitable candidates to run in the September 2020 Hong Kong Legislative Council elections, with the view of winning an unlikely majority in the city's 70-seat legislature.
American lawyer Clancey assisted in the elections, which saw voter turnout of 600,000, said reports at the time.
The Hong Kong government later postponed the September elections by a year, citing public health concerns during the COVID-19 pandemic, before also invalidating 12 pro-democracy lawmakers for holding political views opposing the governments of Hong Kong and China.
Their disqualification from the elections triggered a mass resignation of the city's remaining democratic lawmakers.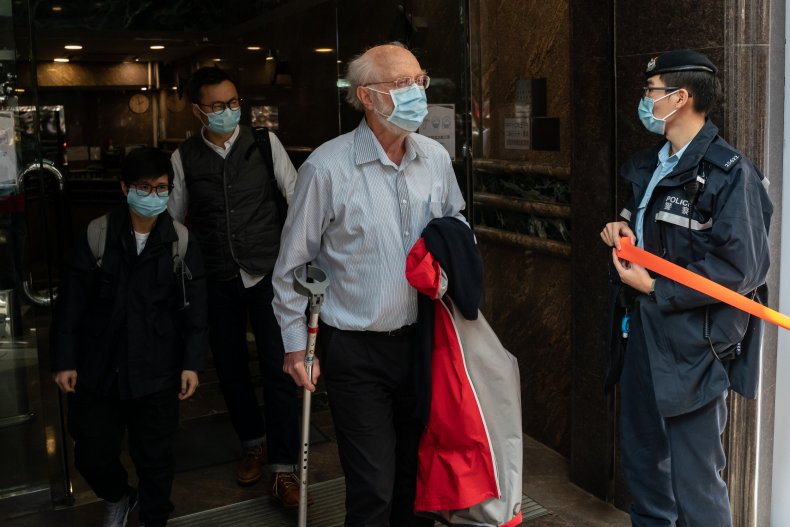 Secretary of Security Lee called the morning's raid "necessary," saying those involved in the primaries sought to "paralyze Hong Kong" by "overthrowing" the government, including ousting its Beijing-appointed leader Carrie Lam.
Only "active elements" were being targeted, said Lee, adding that voters would not be arrested.
More than 1,000 police officers took part in the operation, visiting offices, private residences, law firms and pro-democracy media outlets, including Apple Daily, owned by Jimmy Lai, who was already being held under national security law charges.
Of the 53 detained, six were arrested for organizing the unofficial elections, while 47 were held for participating in them, Hong Kong's newly established national security department said.
The string of arrests played out on social media as Hong Kong's Democratic Party tweeted updates and some activists put up live streams as they were accosted by police.
"I lost count already. But believe all who participated in the pro-democracy primary in Hong Kong last yr will be arrested, organizers included. Very likely over 40 or even 50," tweeted Democratic Party Chairman Lo Kin-hei.
The U.S. Consulate in Hong Kong and Macau did not have any comments on the morning's developments, a spokesperson told Newsweek.
'Red Terror'
The Chinese government on Wednesday said it supported the actions of Hong Kong authorities.
At a regular press briefing, foreign ministry spokesperson Hua Chunying repeated the Hong Kong government's statement about the arrests, saying the individuals had violated the national security law by planning to "subvert the state administration."
Meanwhile, in an online statement, Taiwan's ruling Democratic Progressive Party described the latest crackdown in Hong Kong as a "cloud of red terror."
"The DPP is deeply worried about the future of Hong Kong," it said. "We feel great anger at the Chinese Communist Party's latest actions."
The party chaired by Taiwan President Tsai Ing-wen said that being suspected of "subverting the state" after holding primary elections was "unimaginable" in most parts of the world.
The Mainland Affairs Council, which handles matters related to Beijing, told Newsweek it was "shocked" by the mass arrest of pro-democracy activists in Hong Kong.
The national security law was turning Hong Kong from the "Pearl of the Orient" to the "Purgatory of the Orient," the office said, adding that the continued loss of democracy and freedom in the city would negatively impact its status as a global financial hub.
Similar views were shared by Hong Kong's Swedish Chamber of Commerce Chairman Kristian Odebjer, who tweeted: "Just to be clear, #HK political crackdown is having a significant negative impact on business."
"Legitimate questions about rule of law raised + as #HK image deteriorates, it becomes more and more difficult to defend why you should maintain costly operations here," he added.