U.S. Secretary of State Antony Blinken is defending the Biden administration's drawdown of troops from Afghanistan—ending America's longest war nearly 20 years after the September 11 terrorist attacks that prompted it.
"We inherited a deadline; we didn't inherit a plan," Blinken told members of Congress while appearing remotely during a hearing at the U.S. Capitol Monday.
President Joe Biden ordered that troops leave Afghanistan last month, with a chaotic rush to evacuate U.S. citizens and Afghan allies from the country after the Taliban toppled the official Afghan government.
Biden has repeatedly defended the decision to leave Afghanistan but argued that the formal government wasn't expected to fall so quickly.
Then-President Donald Trump had negotiated an agreement to end the war by May 1, but Biden extended the deadline shortly after taking office in an attempt to make it more organized.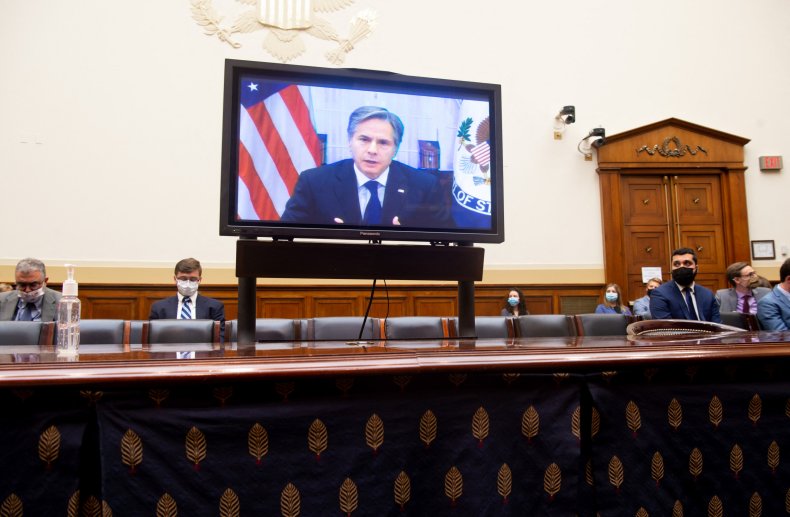 Still, thirteen American service members and many more Afghans were killed when ISIS-K, an Islamic State-affiliated militant group that operates in Afghanistan and Pakistan, attacked the airport in Kabul during the airlift operation.
U.S. military leaders have vowed to study the withdrawal and what errors may have occurred.
"There's never been a single operation that I've been involved in where we didn't discover that there's something that we could have done better or more efficiently or more effectively," Defense Secretary Lloyd Austin told reporters during a briefing at the Pentagon.
Biden also defended the decision to pull troops out of Afghanistan during a public address.
"If you're 20 years old today, you've never known an America at peace," he said. "As we close 20 years of war and strife and pain and sacrifice, it's time to look to the future and not the past."
U.S. Representative Adam Kinzinger, an Illinois Republican who served as a member of the U.S. Air Force in Iraq, said during the hearing Monday that he was disappointed in both the Trump administration and the Biden administration's handling of the war's end.
"Yes, the Trump administration failed in the setup, and I think the Biden administration absolutely failed in the execution of this," said Kinzinger, who has defied the GOP leadership in being an outspoken critic of Trump.
The House Armed Services panel is one of several reviewing the end to the war in Afghanistan.
A group of Republican senators has requested sworn testimony from Austin, Joint Chiefs of Staff Chairman General Mark Milley and other top leaders of the mission.
Meanwhile, several Democrats in Congress have pressed for a more comprehensive review of the entire 20-year war, rather than a strict focus on its end.