Blinken Restores LGBTQ Protections, Abortion Rights Support With Removal of Trump-Era Policies
U.S. Secretary of State Antony Blinken disavowed some foreign policy positions established by Donald Trump's administration on Tuesday. During remarks to present the State Department's latest human rights report, an annual review of human rights conditions as they exist globally, Blinken reaffirmed current leaders' commitment to restoring protections for LGBTQ communities and prioritizing women's reproductive rights abroad.
"President Biden is committed to putting human rights back at the center of American foreign policy, and that's a commitment that I, and the entire Department of State, take very seriously," Blinken said. "We will bring to bear all the tools of our diplomacy to defend human rights and hold accountable perpetrators of abuse. The reports we're releasing today are just one way to do that."
The federal official, who succeeded former Secretary of State Mike Pompeo when President Joe Biden took office earlier this year, noted the new administration's belief in "universal" and "co-equal" human rights practices, as well as its intent to acknowledge them as such.
"All people are entitled to these rights, no matter where they're born, what they believe, whom they love or any other characteristic," he continued. "There is no hierarchy that make some rights more important than others. Past unbalanced statements that suggest such a hierarchy, including those offered by a recently disbanded State Department advisory committee, do not represent a guiding document for this administration."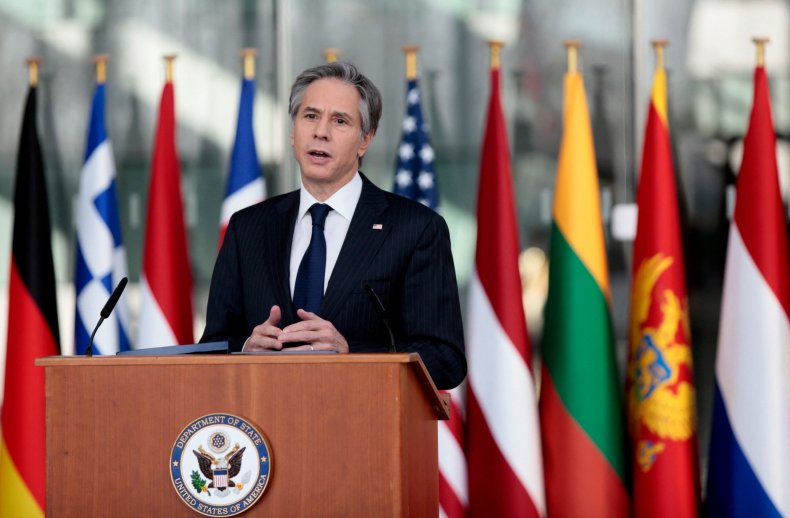 For additional reporting from the Associated Press, see below:
Blinken said a report prepared for former Secretary of State Mike Pompeo that sought to pare down the number of freedoms prioritized in U.S. foreign policy was "unbalanced," did not reflect Biden administration policies and would not guide them. The report from Pompeo's Commission on Unalienable Rights had been harshly criticized by human rights groups.
Blinken also reversed a Trump administration decision to remove sections on reproductive rights from the State Department's annual human rights reports on foreign countries. "Women's rights—including sexual and reproductive rights—are human rights," he said.
Blinken made the announcement repudiating the commission's report as he rolled out the annual human rights reports. The reports, covering last year, highlighted a declining trend in human rights around the world and the impact that the coronavirus pandemic had on rights practices. It noted that some governments had "used the crisis as a pretext to restrict rights and consolidate authoritarian rule."
Human rights advocates condemned the report from Pompeo's Commission on Unalienable Rights when he unveiled it last year to great fanfare from religious and social conservatives. The report was part of a broader Trump administration effort to restore the primacy of what officials considered the values of America's Founding Fathers.
The Biden administration has already repealed several Trump-era human rights decisions. Those have included reengaging with the U.N. Human Rights Council, abandoning the so-called Geneva Consensus and Mexico City rule that oppose abortion rights and restoring LGBTQ protections as a matter of administration policy.