Who Is Blippi? YouTube Toddler Star 'Regrets' Making Video of Himself Defecating on a Naked Friend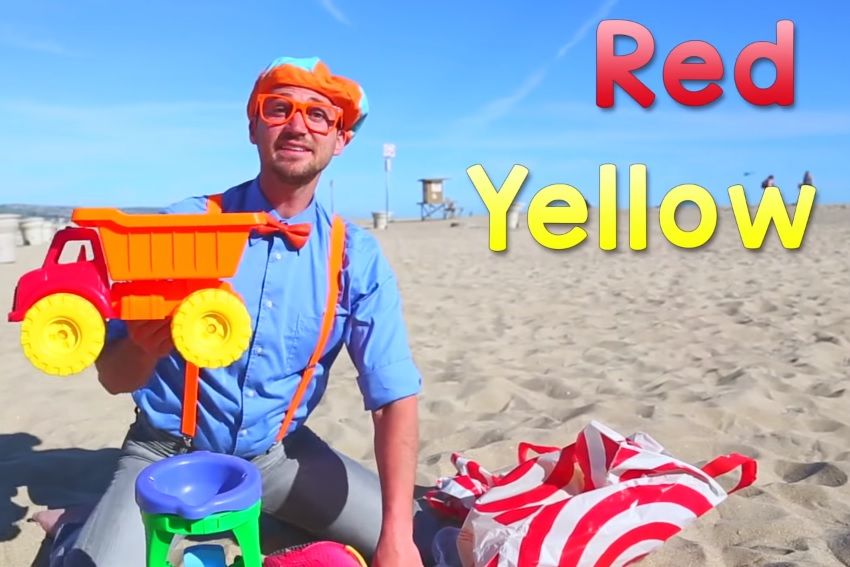 A YouTube star whose educational videos are hugely popular with young children once achieved viral fame by filming himself defecating on a friend.
According to an explosive report by Buzzfeed News, Stevin John, the man behind the children's presenter Blippi—who currently has more than 3.5 million subscribers on YouTube and whose videos frequently achieve tens of millions of views—had a previous incarnation as a gross-out comedian named Steezy Grossman.
The report reveals how John's Grossman character featured in a number of adult-themed comedy skits and videos with names such as "Turdboy" and "Underwear Man."
One video in particular, entitled, "Harlem Shake Poop," shows Grossman taking part in a particularly nasty version of the popular internet meme from several years ago.
The online challenge from 2013 consisted of one person dancing alone to song "Harlem Shake" by Baauer, until the beat drops and the video cuts to several more people, usually wearing costumes or props, wildly dancing along too. Much like previous popular trends the Ice Bucket Challenge or the Mannequin Challenge, thousands of versions of the Harlem Shake were posted online, including ones carried out by celebrities and sports teams.
As reported by Buzzfeed News, the 2013 video from Grossman culminates with him standing on a toilet seat and consensually defecating all over his friend, who is lying naked on the floor with his legs in the air.
"Yes, I did make a gross-out comedy video when I was in my early twenties, long before I started Blippi," John told BuzzFeed News.
"At the time, I thought this sort of thing was funny, but really it was stupid and tasteless, and I regret having ever done it.
"I've grown up a lot since then, and I trust people will see me as the person I am now, not the idiot I was back then," John added.
While the clip is no longer available to watch, as both the Steezy Grossman and Harlem Shake Poop's websites have been taken offline, there is still a whole genre of YouTube reaction videos showing people's disgust at watching it, similar to the reaction vids of the archetypical gross-out video of the internet age, "2 Girls 1 Cup."
According to Mashable, John came up with the idea for Blippi in 2013 after seeing the type of low-budget YouTube videos his 2-year-old nephew was hooked on, and deciding he could do better.
Since then, the character with an orange and blue hat, orange glasses, bowtie and suspenders, and a blue shirt, has achieved great success with his videos, which range from him visiting museums, teaching children how to brush their teeth or helping them learn about dinosaurs.
As well as the videos, Blippi also has an extensive range of toys, merchandise and clothing, including a collaboration with shoemaker K-Swiss.
According to BuzzFeed News, Blippi regularly racks up around 400 million views for his Blippi and Blippi Toys YouTube channels.
John is reported to have spent two years in the United States Air Force before working in video production for commercials between 2009 to 2014.
"I just loved seeing the process of how something is made from the beginning to the end," he told Mashable in December 2018. "It's something I try to tie into my videos. I love trying to get [kids] excited that they're actually learning something."
"I wouldn't consider myself a full-blown expert at anything, but I know a heck of a lot about a lot of stuff," he adds. "If I can give children positive emotions on getting excited to learn about stuff, then from there I've done my job."