Blizzard Closes East Coast Vaccine Sites Through Wednesday at Earliest
Almost all of New York and New Jersey's statewide vaccination sites have closed down until Wednesday due to heavy snowstorms that have covered the states in strong winds and deep inches of snow. The storms are expected to continue until Wednesday.
Both states' vaccination sites will contact people to reschedule appointments. Each state's vaccination call centers will remain open to answer questions and provide site contact information, according to WPVI-TV.
The six vaccination mega-sites shutdowns in New Jersey and their estimated reopening dates are as follows: Hackensack Meridian Health in Bergen and Virtua Memorial Hospital in Burlington have both rescheduled to open during extended hours throughout the week. The County Health Department in Gloucester is rescheduled to reopen on Wednesday and the Atlantic Health Care System in Morris is rescheduled to reopen on Thursday. RWJBarnabas Health in Middlesex and AtlantiCare in Atlantic City have both rescheduled to open during extended hours throughout the week as well.
In New York, the downstate state-run mass vaccination sites at SUNY Stony Brook, Jones Beach, Aqueduct Racetrack, the Javits Center and the Westchester County Center will be closed Tuesday, February 2nd with all appointments rescheduled. The upstate state-run mass vaccination sites in Binghamton, Albany, Plattsburgh, Potsdam, Utica, Syracuse and Rochester sites will open with a delayed start 10 a.m. on Tuesday.
Any New York appointments that were rescheduled before then will be rescheduled for later in the day, according to New York's Democratic Governor Andrew Cuomo.
"This winter storm is already producing large amounts of snow and creating dangerous travel conditions," Cuomo said. "To be clear—no one is losing an appointment—they will all be rescheduled when conditions are safer."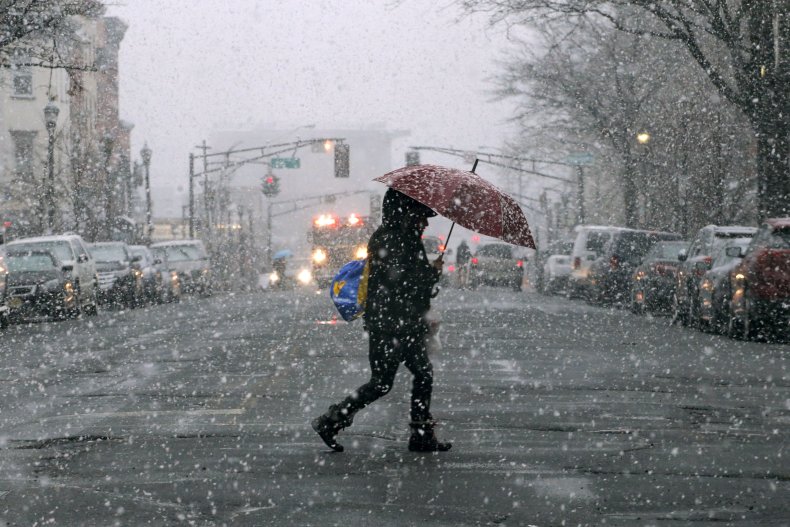 Adverse weather conditions have made travel through the region difficult, leading both states' Democratic governors to tell residents to stay off the roads and avoid unnecessary travel.
Democratic New Jersey Phil Murphy issued an executive order declaring a state of emergency across all of the state's 21 counties and deploying resources to help throughout the storm's duration. Cuomo issued a similar declaration across 44 of New York's 62 counties.
In New Jersey, state employees were allowed to stay home on Monday, except for those needed to assist with weather matters. Murphy also said that private companies and businesses should decide whether to retain their employees.
In New York City, Mayor Bill de Blasio has instructed all residents to stay off of the roads, except for people seeking medical treatment or essential workers. New York City's Metropolitan Transit Authority has also shut down as regional snowfall is expected to worsen.
Newsweek contacted Cuomo and Murphy's office for comment.