Blizzard Shows Off Summer Games 2018 'Overwatch' Legendary Skins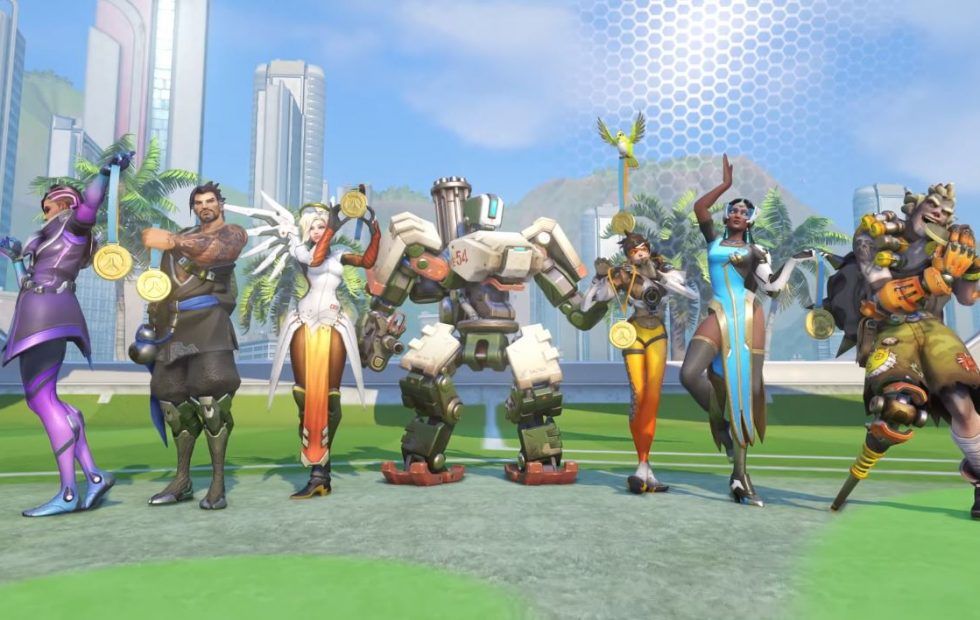 Blizzard has been doling out sneak peeks at the new legendary skins for Overwatch 's Summer Games 2018 on the official Overwatch Twitter. Which one is your fave? Check out the new legendary skins for Winston, Ana and more below.
Gridironhardt Reinhardt
I know this is Reinhardt, but at a careless glance I seriously thought this was Winston. The "Gryphons Champions" detailing on his axe is actually pretty amazing, but I don't like skins where you can't really see the character's face. Could be anyone behind that visor, you know? Could be Winston.
Catcher Winston
Are you pitching what he's catching? (If you get that, I'm sorry and I won't do it anymore.) Catcher Winston is ready to play hard (sorry) in this sporty ensemble featuring balls on his chest (it's just one ball, it's a baseball, sorry, can't help myself). The best part of this skin may be the hip and happenin' sunglasses and their glorious, purple-to-teal gradient. Looks like this great ape has got your back.
Waveracer D.va
Did you grow up with a Nintendo 64? If so, you may know the beauty of Waverace 64, a game where you race around on jet skis, do tricks with dolphins and enjoy the scenic surroundings as you make your way to the finish line. This retro, summery skin features a cute little dolphin on D.Va's mech, some cute blue detailing and D.Va in the cutest blue heart-shaped sunglasses you ever did see. It's cute on cute on cute this summer 2018 as it looks like D.Va's … making a splash.
Cabana Ana
Don't bother Mama Cabana Ana — she's busy catching some rays in between healing your ungrateful butts and carrying your whole team, ya heard? Cabana Ana's got a flower in her hair, a ribbon in her hat and more flair than your suspenders as she tosses a beach ball about in her endearing clip above. (Are all these clips going to be available poses? I sure hope so.) For the sheer "rich bitch on vacation" vibes she's emitting, this might be one of my favorite of this slew of Legendary skins.
Lacrosse Roadhog
Beautiful Lacrosse Roadhog features an incredible belly guard that stretches over a broad tummy well worth protecting, gear emblazoned with "HOGZ" and a full-face protector shaped like the ol' hog, making it clear that this is the one, the only, the glorious Roadhog. Jiggle when you wiggle with Legendary Lacrosse Roadhog!
The Summer Games was one of Overwatch's very first seasonal events, paying tribute to the 2016 Olympic games. It's since returned every summer with a more generic fun-in-the-sun theme. Along with the expected slew of new cosmetics, players who missed previous skins will have the opportunity to either purchase old skins with credits or obtain them through loot boxes.
The ever-popular Lúcioball also returns in the Summer Games. Lúcioball is a 3v3 game mode in which everyone is Lúcio and nothing hurts. Also, you have to knock a huge ball into the opposite team's goal, but hey, we all know this team's gonna do great, right?
The Overwatch Summer Games 2018 run from August 9 through August 30. Are you ready? Which legendary skin is your fave? Feel free to let us know in the comments section below.