Blizzard Weather Warning: Colorado Braces for 'Major' Winter Snowstorm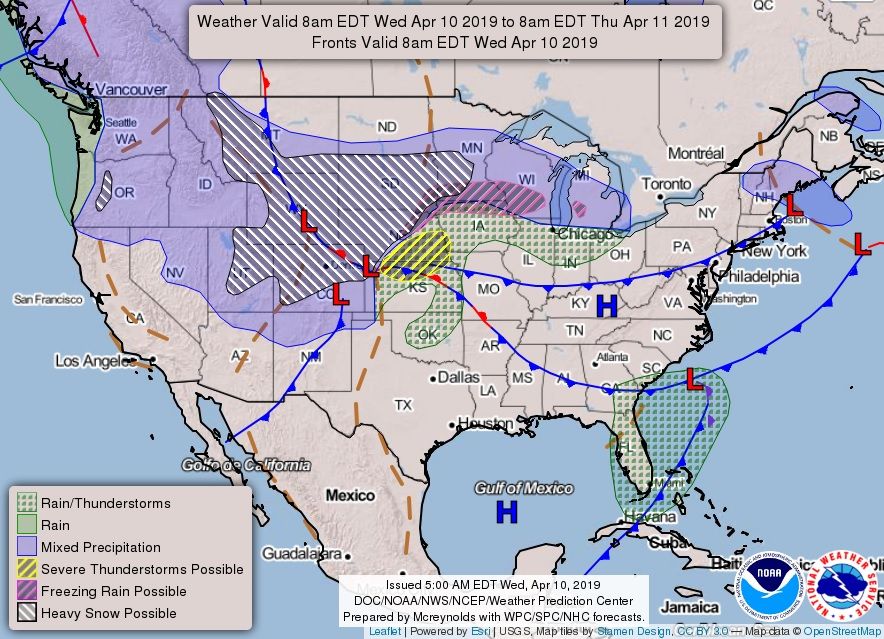 The National Weather Service warned that a "powerful winter storm" will emerge over northeastern Colorado on Wednesday.
There are blizzard warnings in place over parts of Colorado, the Dakotas, Wyoming, Minnesota and Wisconsin as the storm forms. It will bring with it heavy snow, freezing rain and, in some areas, impossible travel conditions.
The Weather Prediction Center described the sprawling late-season winter snowstorm as "potentially historic" and warned that its severe impacts would be felt from Wednesday all the way through to Friday. The center urged those in the storm's crosshairs to prepare now.
"A powerful winter storm will bring heavy snow and blizzard conditions to north-central and northeast Colorado today through Thursday morning," the National Weather Service said in a forecast issued this morning.
"Rain and snow showers will increase this morning with widespread rain expected by noon across the Front Range. As temperatures fall, rain will change to snow early to mid-afternoon along the I-25 corridor. Conditions will deteriorate very quickly when the rain changes to snow.
"Roads will become snow and slush covered leading to slippery conditions this afternoon and evening. Blowing snow will reduce visibilities to near zero this afternoon and tonight. The evening commute will be very difficult if not impossible. Road closures will be likely."
Denver International Airport said its crews were ready for the snow but warned travelers to check the status of their flights in case of any disruption.
Snowfall is set to be heaviest in South Dakota. Over the coming days, the National Weather Service forecasts South Dakotans could expect as much as 24 inches of snow accumulation in the hardest-hit places. Winds will also gust at 45 miles per hour.
"Travel could be very difficult to impossible. Blowing snow could significantly reduce visibility. The hazardous conditions could impact the morning or evening commute. Gusty winds could bring down tree branches," the forecast said.
The Weather Prediction Center also warned that, farther south behind the snowstorm, there was an "extreme" risk of fire.
"Behind the storm and an associated dryline, conditions will be favorable for fire weather throughout the Southwest and Southern/Central Plains as high sustained winds and even higher gusts combine with very dry humidities," the Center said on Wednesday.
"An Extreme Risk of fire danger is in place in the Storm Prediction Center's Fire Weather Outlook for the Southern High Plains. Red Flag Warnings are widespread throughout these areas. More broadly, high winds are a threat from California through the Southwest, Intermountain West, Rockies and Plains for the next couple of days."
Correction (04/10/2019, 2:50 p.m. ET): The original version of this article incorrectly stated that the snowstorm could be Denver's worst since 1882.