Blizzard Warning in Place as Videos Show Rare Las Vegas Snowfall
The National Weather Service (NWS) said that central U.S. should brace for two rounds of strong storms this week, with videos showing snowfall in Las Vegas.
A blizzard warning by the NWS on Wednesday morning read: "Heavy snow and blizzard conditions for portions of the northern Plains and upper expected into Wednesday.
"A new storm crossing the Four-Corners region will bring snow for areas of the Plains, Midwest and Great Lakes through Thursday. Strong to severe thunderstorms with heavy rain to impact Ark-La-Tex, Mississippi Valley, Ohio Valley and Mid-South Wednesday and Thursday."
It said there would be ongoing blizzards over portions of the northern Plains and the upper Mississippi Valley later on Wednesday as a strong low-pressure system exits into eastern Canada.
The NWS added that there will also be blizzard conditions experienced over parts of eastern North Dakota and into western Minnesota early on Wednesday, before it moves across Lake Superior and exiting into eastern Canada.
A swath of snow is forecast to stretch from the Four Corners to the lower Great Lakes today until early on Friday, the NWS added.
Strong to severe thunderstorms and heavy rainfall are projected to impact areas from the Ark-La-Tex/lower Mississippi Valley across the Mid-South and into the Ohio Valley from Tuesday night through early Friday.
Snow and blustery north to northwesterly winds could spread brief periods of blizzard or near-blizzard conditions across parts of the upper Midwest before tapering off to light snow this afternoon, the NWS added.
The NWS said that there would be wind gusts above 40 mph in the Southern High Plains.
It urged drivers to plan on considerable blowing and drifting of snow and "very low visibility" and "near impossible travel". The agency said that infrastructure would be impacted by the extreme weather.
The snow even made it as far as Las Vegas, Nevada, which very rarely gets snow.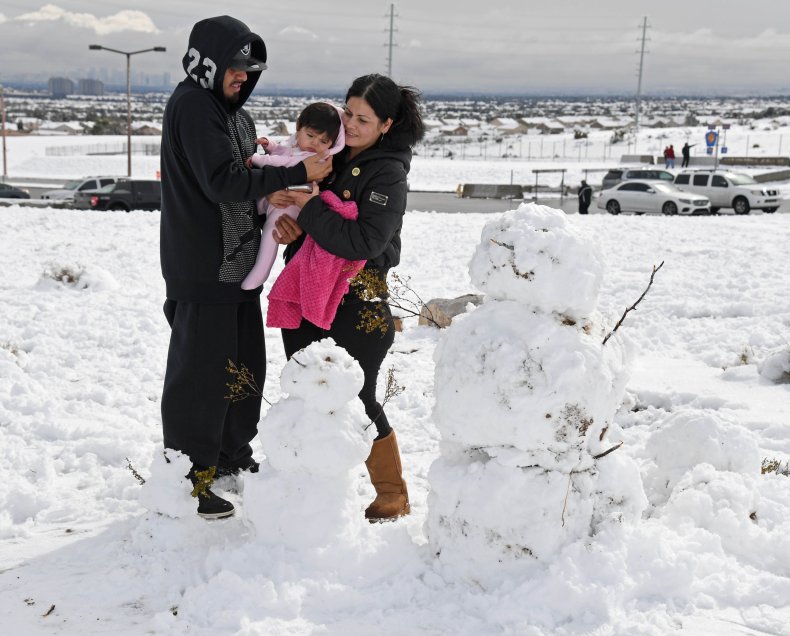 Multiple social media videos showing people in the city enjoying the white Valentine's Day. Videos included a couple on their way to their wedding and others being caught in traffic marveling at the atypical weather.
The weather was caused after a cold and windy front dropped rain and snow in higher elevations across Nevada and Arizona.
It last snowed in Vegas in 2019. A big storm hit the valley in February that year and some parts of the city had up to eight inches of snow. The last major snowstorm in the city before that was back in 2008.
The NWS also said on Wednesday morning that mild air had been surging across the eastern U.S. toward the Great Lakes ahead of the low-pressure system with some record high temperatures likely, especially across the Ohio Valley.