Two Arrests After Black Lives Matter Mural Vandalized
Police in Santa Cruz, California, arrested two white men in connection with the vandalism of a Black Lives Matter mural.
Officers arrived at 800 Center Street on Saturday morning to find the mural painted on the ground had been defaced with vehicle tread marks, the Santa Cruz Police Department said.
Investigators reviewed surveillance footage, which showed a vehicle intentionally "burning out" across the length of the mural, police said.
Later on Saturday, police confirmed that two men—19-year-old Hagan Warner and 20-year-old Brandon Bochat—had been arrested in connection with the vandalism. Both were booked into the Santa Cruz jail on charges of felony vandalism and conspiracy to commit a felony.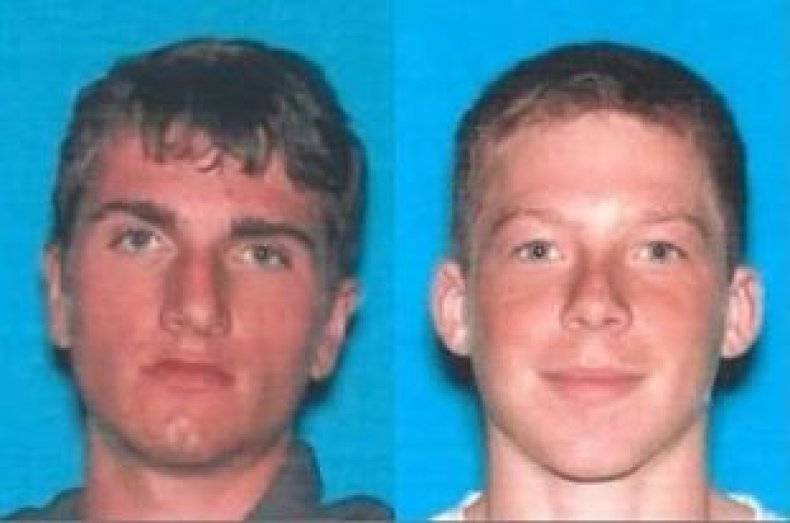 Bochat, of Santa Cruz, and Hagan, of Boulder Creek, were released on bail and will be arraigned this week, Santa Cruz police chief Andrew Mills said during a news conference on Sunday.
Mills also said that other suspects were involved in the vandalism, and urged them to come forward voluntarily. He noted that police are continuing to investigate the incident and reviewing social media posts.
The police department will seek hate crime charges if they are warranted, Mills said. "We're still working to collect information and data, what I don't want to do is bring forward a weak case," he said.
But he added: "We can see what what took place here. This wasn't just a couple of kids fooling around doing a burnout on the street. This was an intentional act of vandalism."
The mural in question is considered a public art installation and was painted in the wake of the murder of George Floyd last year, Mayor Donna Meyers said.
It was guided and funded by community members "who desired a reminder of the struggles Black members of our community endure locally and across the nation," Meyers said.
She described the vandalism of the mural as "heartbreaking," but said it would be repaired soon.
"I can assure you that all of my city council colleagues will work closely with our community to repair this damage as soon as possible and more importantly, to combat the roots of why such an act was committed," she added.
Santa Cruz Vice Mayor Sonja Brunner told the news conference that the incident shows how much more work is needed to combat racism in the community.
Warning Not to Minimize the Vandalism
"As much progress as has been made, there is still so much that needs to happen," she said. "As a community member, as a woman of color, this is very, very hard. I'm holding back some feelings."
During the press conference, Mills also took the opportunity to condemn anyone seeking to minimize the vandalism.
"For those who seek to minimize the events that took place, to negate the responsibility, [and say] 'Oh, they're just kids fooling around'... shame on you," he said. "This was meaningful to this community and we will do everything within our power to make sure that those who did this are brought to justice."
"This is a substantial wound to members of our community and as a police department, we will invest the resources necessary to protect all of our community members, including the Black community."
Brenda Griffin, the president of NAACP Santa Cruz County, said in a statement: "This crime saddens me greatly. The NAACP is glad the police have placed a high priority on this investigation. It's extraordinarily frustrating as some people still don't get Black Lives Matter too. This mural is a symbol of hope. We want our youth to know we have their backs."
Anyone with information about this case is urged to contact the Santa Cruz Police Department Investigations Unit on (831) 420-5820.