BLM Cleveland Calls the County's Restocking of Riot Gear 'Irresponsible'
Advocacy group Black Lives Matter (BLM) criticized a Monday decision by the Cuyahoga County, Ohio Board of Control to replenish the county sheriff's department stock of riot gear.
Members of the sheriff's department exhausted their supply of less than lethal weapons after a May protest over the death of George Floyd in downtown Cleveland became difficult to control. On Monday, the Board of Control authorized the purchase of $24,466 worth of the offensive weapons including tear gas and pepper balls. The Board also approved a purchase of $16,595 worth of equipment including riot shields and launchers for less than lethal projectiles.
BLM called the Board of Control's decision "absolutely reckless and irresponsible" in a Twitter post on Wednesday.
"Approving such resources to further increase the use of force on residents of Cleveland, in this moment in history, when so many other states are making positive strides to ensure police accountability; is definitely a step backwards in the wrong direction for Cleveland and Cuyahoga County as a whole," the BLM Twitter account said.
"This is the time, and we have the opportunity to create real sustainable change by defunding their budget, and reallocating those funds back into communities of color by investing in social services, jobs programs, and resources for communities," BLM continued.
Newsweek reached out to the Cuyahoga County Board of Control for comment.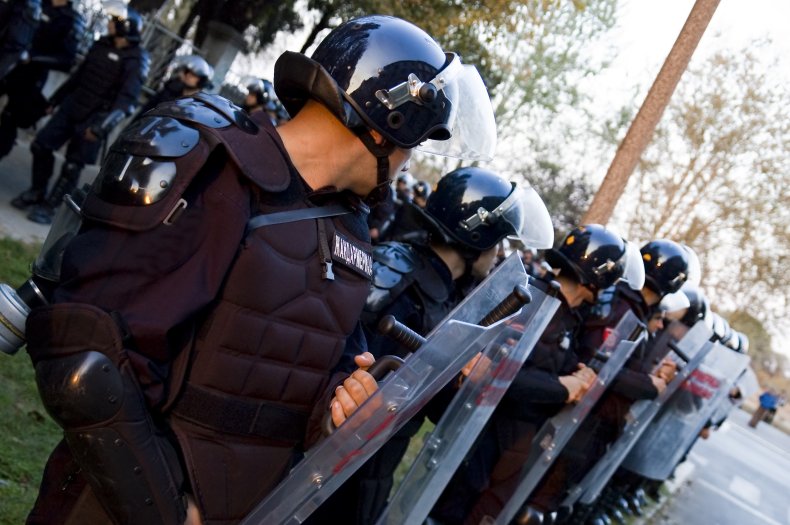 During the May protests, demonstrators attempted to force their way into the Cleveland Justice Center. According to a statement from the Cleveland Division of the FBI, "Numerous businesses and properties in downtown Cleveland suffered significant property damage and looting, among other criminal violations."
As law enforcement officers attempted to contain the protests, John Sanders was hit in the face with a bean bag, which exploded on impact. Pellets were sent into Sanders' left eye. Surgeons were unable to repair the damage, leaving Sanders permanently blinded in the impacted eye. An investigation into the incident has been launched.
At a June meeting of the Cleveland Council's Safety Committee, Cuyahoga County Sheriff David Schilling said he was not expecting a high number of protesters. Estimates place the number of demonstrators at the May protest between 3,000-4,000. Schilling said his department had planned for approximately 300 individuals.
"Unfortunately, and I hate to say this," Schilling said, "I think that initially we under planned."
During a June report to the Public Safety and Justice Affairs Committee, Schilling said if the riot gear had not been used against demonstrators, officers would have been required to "go hands-on with many of these people and become physically engaged with them" while protecting the Justice Center from potential damage.
Some of the demonstrators set fires to Cleveland Police Department vehicles during the protest. Individuals threw projectiles at law enforcement authorities, including mounted officers.
In a joint statement released at the time, Cleveland Mayor Frank G. Jackson and Police Chief Calvin Williams said they were "disheartened by the turn of events from a peaceful expression of First Amendment rights to outright lawlessness and attacks on Cleveland Police officers and Firefighters."