The leaders of Black Lives Matter's Louisville, Kentucky, chapter revived calls for Louisville Mayor Greg Fischer to resign on Wednesday after Kentucky Attorney General Daniel Cameron announced the latest developments in the Breonna Taylor investigation.
BLM Louisville held a virtual panel on Wednesday to discuss their suggested next steps for activists to take. Two of the participants, including the Louisville chapter's co-founder Chanelle Helm, addressed the panel while wearing T-shirts that read, "Greg Fischer Doesn't Care About Black People."
"Greg Fischer must resign today, or we'll make sure he gets up out of office," Helm said. According to Helm, Fisher has done "a sh**** job at representing what humanity can look like, a sh**** job at protecting Black women—not just Black people, Black women. And we will not continue to keep being stepped on in this city."
Last week, the Louisville Metro Council passed a vote of no confidence in Fischer but provided him with a list of ways in which he could improve the council members' support for his actions as mayor, according to the Louisville Courier-Journal. Helm said on Wednesday that Fischer needed to do more than the council asked.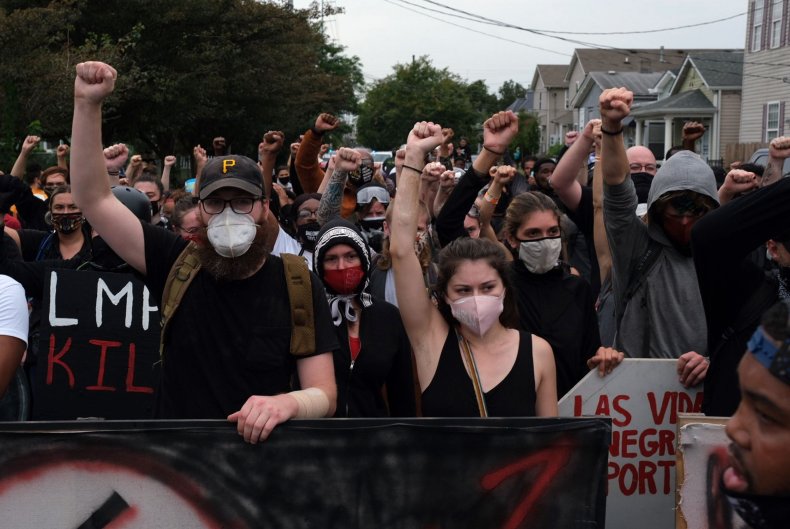 "We're not here asking for Greg Fischer to do what the city council says and, you know, maybe you can do better. I don't trust white men to do great at all," Helm said. "What we do need is for him to step out of office and resign."
The request for Fischer's resignation was included on the list of six demands that BLM Louisville shared during its Wednesday panel. Also included on the list was firing the other officers involved in Taylor's case, divesting from the Louisville Metro Police Department (LMPD) and investing in community building, putting a stop to use of force by the LMPD (and the classification of officer-involved shootings as gun violence), the creation of a civilian police accountability commission that operates independently from the city and police department, and the launch of a transparent investigation policy.
In addition to the Louisville Metro Council's vote last week, Fischer has faced increasing pressure from protesters over the summer as the investigation into Taylor's death dragged on. Many have called for his resignation, including BLM Louisville, which alleged in July that Fischer was "protecting a murderous and violent regime who seeks at nothing but to destroy our communities" and said his "p*** poor leadership" predated the Taylor investigation.
Newsweek reached out to Fischer's office for comment but did not receive a response in time for publication.
On Wednesday, prior to the grand jury ruling, Fischer announced a curfew in anticipation of protests that were expected to begin after Cameron shared the latest developments in the case. Earlier this week, the LMPD also issued a state of emergency and canceled all scheduled vacation and time-off days for department personnel in anticipation of the grand jury's decision.
On Wednesday afternoon, Cameron said a grand jury indicted one former LMPD officer on three counts of wanton endangerment for firing shots into Taylor's neighbor's home but did not charge any of the officers involved in Taylor's death. Cameron said the Federal Bureau of Investigation was continuing its investigation into potential violations of federal laws.
In posts on social media, protesters were seen marching through the streets in the hours immediately following the grand jury announcement, and National Guard troops were also on hand to assist local police efforts to monitor the protests, according to the Louisville Courier-Journal.
In a statement, the Black Lives Matter Global Network Foundation said it was "disgusted and outraged" by the grand jury's decision, and the National Association for the Advancement of Colored People released a statement saying, "the justice system failed Breonna Taylor." Ben Crump, the attorney for Taylor's family, called the decision "outrageous and offensive."
"We will no longer be silent or complicit to the injustices perpetuated in the name of white supremacy," BLM Louisville said in a news release about its demands for Fischer and other local authorities. "Today, and for all the days to come, we will continue to demand justice, seek accountability, and fight for real change."