Two men recently vandalized a Black Lives Matter (BLM) mural in Pittsburgh, by shooting it with a paintball gun and one of the men was seen wearing a Confederate flag sweatshirt.
In a public safety report published on Tuesday, the Pittsburgh Police Department asked for the public's help in identifying the two men who "apparently shot paintballs at the Black Lives Matter mural Downtown."
"Video on social media shows the two men walking past the mural on the river walk approaching Point State Park and shooting multiple paintballs at the wall. The men are pictured here on the North Shore," the report added.
In a video of the incident, shared by KDKA News in Pittsburgh, the person filming can be heard saying "they are paintballing the mural. They're literally paintballing them," while the sound of a paintball gun shooting can be heard in the background.
As the video continues, the one man, can be seen walking towards the person filming, while wearing a Confederate flag sweatshirt, while the other continues to shoot paintballs at the mural.
Toward the end of the video, the two men can be seen walking away from the person filming, as the person says, "Yep, and we're gonna find out who you are too."
Sarafina James of WPXI News in Pittsburgh, posted a photo of the damage caused by the two men, and paintball splatters can be seen across a number of BLM paintings, including a picture of George Floyd, a Black man who died in police custody after being held down by several Minneapolis police officers. According to KDKA News, the other images vandalized feature images of Antwon Rose, Ahmaud Arbery and Breonna Taylor.
The Pittsburgh Police Department also posted a photo to Twitter, showing a photo of the two men, who can be seen carrying paintball guns. The tweet also urges the public to contact the department if they know the identities of either of the two men.
Newsweek was directed to the public safety report issued by the Pittsburgh Police Department after reaching out for comment.
A similar situation recently occurred in Springfield, Massachusetts, as a Black Lives Matter mural painted on the street near city hall, two separate times in one week.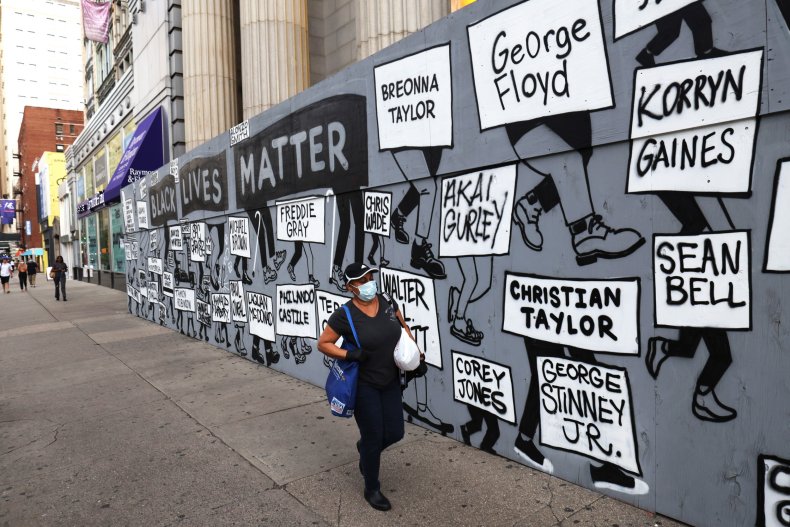 While speaking during his weekly update on the coronavirus pandemic, Springfield Mayor Domenic Sarno, discussed the recent vandalism noting that someone burned a tire mark on the mural with their car.
"To the individuals looking to desecrate monuments or murals, smile because you're going to be on Candid Camera," Sarno said. "We're going to get you and make an example of you."
"We do have video [and] a complaint will be issued," he added.