BLM Posters Among Those Relocated at School, Prompting Protests and 3 Days of E-Learning
Students at a high school in Indiana participated in e-learning for three days this week after student-made signs addressing social issues were moved from a school hallway to a teacher's classroom.
The posters' move sparked a protest on Monday that an estimated 300 students at Muncie Central High School participated in, according to the Indianapolis-based WISH-TV.
District officials said in a Monday statement the controversy stemmed from a class project that was assigned last week. Students in the class created posters "regarding social issues" as part of the project, district officials said. Those posters were then placed in a hallway at the high school.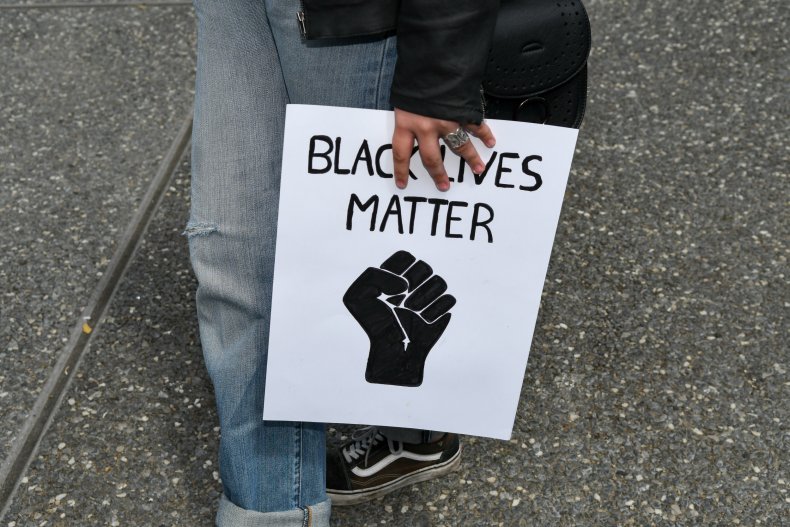 The posters' placement "created a disruptive discussion between a student and School Resource Officers" over the weekend, Muncie Community Schools said. The district identified those officers as "police officers from various departments outside of Muncie" whom the district employs.
The student and other people who viewed the discussion found it "offensive," the district said.
The teacher who assigned the project was instructed to move the signs out of the hallway and into their classroom "where she could invite visitors to view them," the district said.
A video showing the interaction was shared with WISH-TV by one of the students who was present. In the video, several of the posters that were at the time in the school hallway were visible. The posters appeared to explore a wide range of social issues, with some emblazoned with large lettering that read, "Black Lives Matter," "LGBTQ+," "My Body My Choice," "Mental Health" and more.
After the weekend dispute, students organized what district officials described as a "peaceful protest" that began Monday morning.
Muncie Community Schools said district and school officials were present as students "voiced their concerns and engaged in civil discussion," but said no other agency was involved in the event.
The district said it is investigating the incident that prompted the protest and planned to share its findings with members of the district community. In the meantime, the district said all students at the high school would be e-learning the following day.
That initial day of e-learning extended into Wednesday. A third straight day of e-learning was then added, though district officials said in a Wednesday tweet that they anticipated students would return to the school on Friday.
No other protests will be allowed to take place in school moving forward, Muncie Community Schools said in a letter the high school sent to members of its school community that was obtained by WISH-TV.
"With regard to our return to in-person instruction, in order to ensure school safety for all and to permit the educational process to move forward, there will be no more in-school protests allowed."
The letter noted a protest will be held after school hours on November 23. That protest will be organized by the Muncie Human Rights Commission, school officials said.
"Once we return to in-person schooling, if students decide to protest in a disruptive manner when they should be in class, they will face appropriate disciplinary action," the letter added.
Newsweek reached out to Muncie Community Schools for further comment and will update this article with any response.