Thousands of people have arrived at London's Hyde Park as part of worldwide protests against the death of George Floyd in the U.S. last week.
Floyd was shown in a video on May 25, gasping for breath and pleading for his life while a white Minneapolis police officer pushed his knee on his neck as he lay face down. He eventually fell unconscious and died.
The officer involved, Derek Chauvin, has been charged with third-degree murder and second-degree manslaughter, and will appear in court. Three other police officers have been fired.
The incident has sparked protests in the U.S. and across the world. In London's Hyde Park protests have been peaceful, with stewards urging people to stay two meters apart.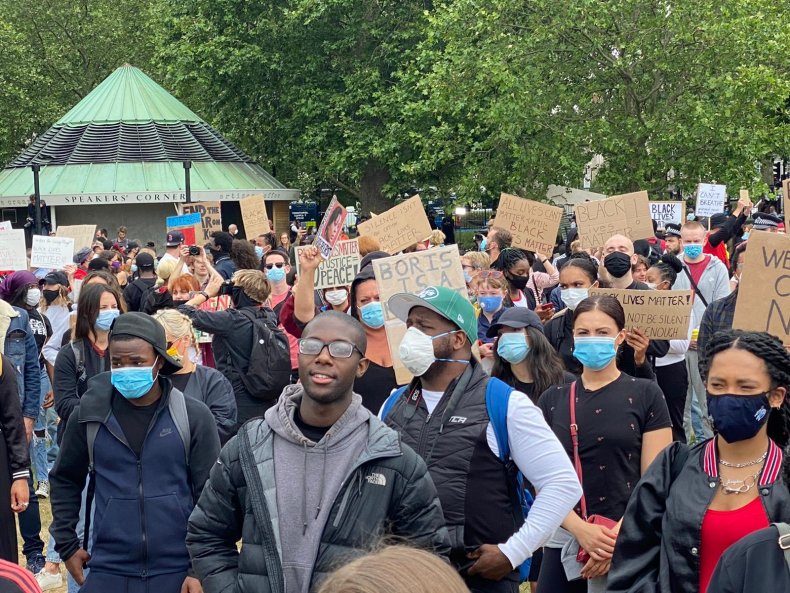 One of the speakers at the event said on a megaphone: "There's poverty, you have 30 million unemployed in the United States of America, you have tens of millions of people with no food to eat in the United States of America and of all this and at the same time, they're killing us on the streets because of the color of our skin."
Protesters chanted George Floyd's name.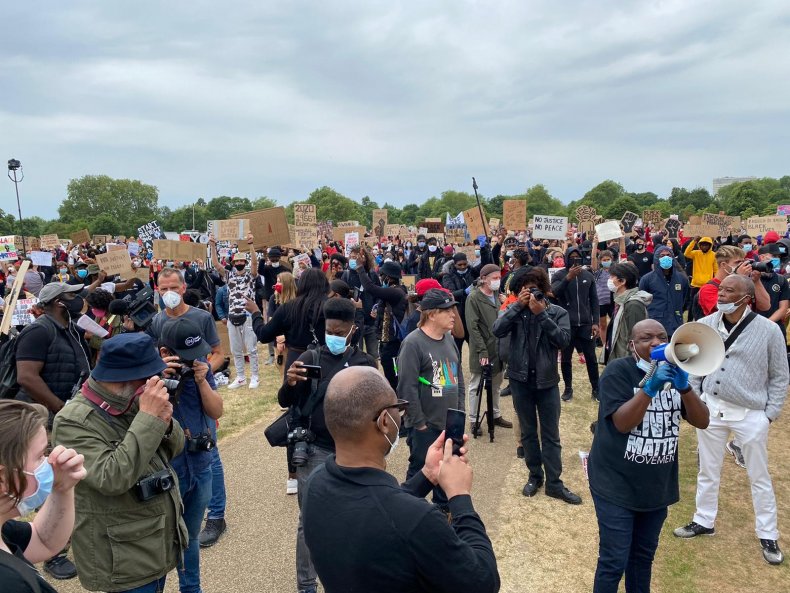 The family of Belly Mujinga, who died of coronavirus after being spat at while at work in Victoria station in London, are also due to speak at the event.
Police say they have carried out "extensive inquiries" and concluded that the attack did not lead to her death.
One of the protesters said he came to the protest because of the fight for equality.
Nathan said: "This is probably a really uncomfortable conversation for someone who's white right, it's really uncomfortable to be around.
"But trust me, being like me, black, at 6ft 5, with long hair, it's uncomfortable every f****** day, when I walk into a restaurant and everybody turns around, it makes no difference, I have to show my ID card sometimes when I walk into my penthouse building in New York.
"It's al the f****** same, it's purely because of one thing, you can ignore it and make up other things, it's always because of one thing, it's because of my race.
"Like, this whole idea of white privilege, you have to understand I have to google search how racist a country is before I go there.
"When I'm in America, I drive with my driver's license and passport on the seat next to me, before I can put my hands on the wheel.
"None of my white counterparts have to do that. None of them."
Nathan also said the uncomfortable conversations many were trying to avoid had to take place, to promote understanding.
He said he also hoped the protest would help build progress towards greater racial equality in the U.K.
Nathan said racism in America was a lot more "aggressive", but was equally a problem in the U.K., where it's more "passive".
He said: "I worked in a building where I was the only black guy on my floor.
"I'll give you a perfect example, I walked in after being pulled over the day before, laughing about it.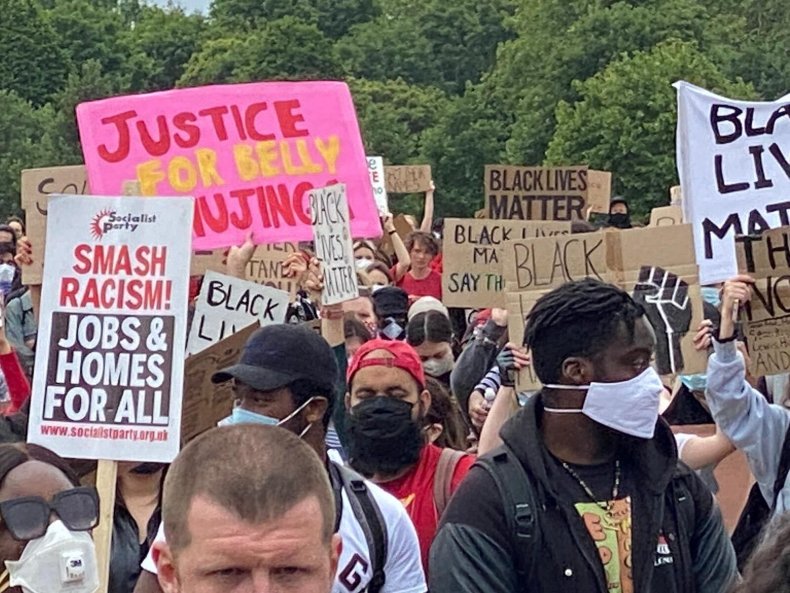 "I was like I got pulled over yesterday. In front of all of my white colleagues I was like "yo have you ever been pulled over?" they were like "no" and that was a shock for me because I was like you guys have never been pulled over? Not once?
"No. You ever been stopped and searched? Some of them didn't even know what it was."
Jamie said: "I agree with protests like this, but I agree with radical approaches as well, because ultimately peaceful protests they get ignored, they fall on deaf ears.
"I'm not trying to say I advocate violence or none of that, but I understand it. I feel as if I'm exhausted seeing the same thing over and over again, George Floyd that's not the first time.
"There's tonnes of white people here today, but black people have been saying this all of our lives and we're exhausted, we're tired.
"So we need to explore as many avenues to try and get change as possible."
Commenting on those who posted black squares yesterday on Instagram as a show of solidarity, he said "for some people this is a publicity stunt, but for black people it isn't, this is everyday life, so something needs to be done to make serious change."
He added that he had many white friends as children, when people were a lot "more innocent in their views" but who subsequently changed their views as they grew older and weren't his friends anymore.
He said: "Then you get sentences like, "I don't like Black people, but Jamie you're alright."
Lydia said: "People think we have a chip on our shoulder and they think that they need to sympathize.
"But they don't need to sympathize, that's not going to be possible, they can't sympathize, obviously they're not going to be able to empathize, but they need to educate themselves.
"Don't ask us loads of questions about it, don't make us bring up all these horrible memories and things we have to deal with every single day.
"There's so much information online, in history books, that also so many children, from a young age, from primary school, you learn history, of this country, of England, but you don't learn the history of all the people, you only learn the history of white people."
Cammy Turvey said she was at the protests to show solidarity with the outrage at events in America.
She said: "Atrocities against black people are not taken seriously, I don't feel like our voices are heard, so I've come to show solidarity, to make a stand and hopefully to keep the movement going on from this point on."
Cammy also said people often have a tendency to forget moments like this, but it was important to keep the message and momentum going.
She said: "We can't pick up and put down our color, we can't pick up and put down the discrimination that we have, our children have, they're born with discrimination, since they come out of the womb they're discriminated against, that's not their fault, it's not our fault, so the message should be continued all the way through."