BLM Protesters Accost Black Civil Rights Activist Vernon Jones: 'You're a F****** Disgrace'
Georgia State Rep. and civil rights activist Vernon Jones was accosted by Black Lives Matter protesters on Thursday, in Washington, D.C., while walking to his hotel after attending the Republican National Convention at the White House.
As Jones walked through the protest he was accompanied by a woman and surrounded by police, who were escorting him through the protesters.
In one video, posted to YouTube by Breitbart News, one man can be seen approaching Jones and asked him if he was a Black man that supported President Donald Trump.
Another protester yelled at Jones, "You're a f****** disgrace."
One protester walked up to Jones and said that he had watched him speak at the convention and wanted to ask him some questions, but Jones denied the request and told the protester he just wanted to get his guests back to his hotel.
Several protesters shouted the name of Breonna Taylor, who was fatally shot by police in Louisville, Kentucky, while some others repeatedly said, "say her name."
As Jones went to speak with police officers about where he needed to be escorted to, protesters can be heard chanting, "Whose streets? Our streets!"
Police were then able to escort Jones and his guests to their hotel, as they formed a circle between him and the protesters, as they continued to shout and yell at him.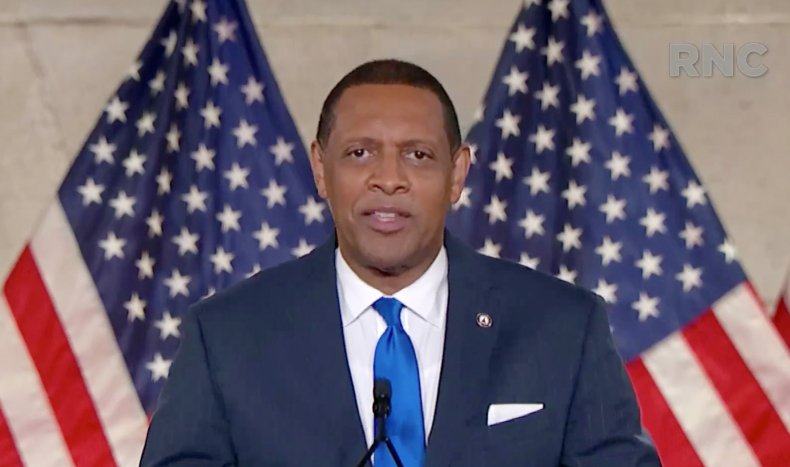 The protests in D.C. were part of several ongoing rallies, following the police shooting of Jacob Blake, a 29-year-old Black man, who was shot in the back seven times by a Kenosha, Wisconsin police officer.
The video showing protesters accost Jones, comes shortly after he spoke at the convention on Monday, criticizing the Democratic party, despite being a Democrat himself.
"As you can see, I'm a man of color, and I'm a lifelong Democrat, too. You may be wondering, why is a lifelong Democrat speaking at the Republican National Convention? And that's a fair question. And here's your answer," Jones said during his speech on Monday. "The Democratic Party does not want Black people to leave their mental plantation. We've been forced to be there for decades and generations, but I have news for Joe Biden. We are free. We are free people with free minds. And I'm part of a large and growing segment of the Black community who are independent thinkers, and we believe that Donald Trump is the president that America needs to lead us forward."
Jones also wrote an op-ed published by CNN, following his speech, explaining why he "walked away from the Democrats to support President Trump."
"The purpose of my speech was to serve as a culture shock, helping others break free of the groupthink-shackles placed on us by White liberals. Black Americans like me are free people with free minds," Jones wrote.
In April, Jones first announced that he was supporting Trump's re-election campaign. Shortly after endorsing the Republican president, Jones faced backlash from many, prompting him to announce his resignation from the Georgia House of Representatives.
One day later, he announced a reversal in his decision, writing on Twitter, "Yesterday, I announced my intentions to resign from my office. But shortly thereafter, the outpour of support I received was too great for me to ignore."
"I will not allow the Democrats to bully me into submission. I will not let them win," he wrote. "I will NOT resign."
Newsweek reached out to Jones for comment but did not receive a response in time for publication.