BLM Protesters Allege Cost of Protection Against Police Aggression Priced Them Out of Civil Rights: Lawsuit
Black Lives Matter protesters filed a lawsuit on Monday against the Seattle Police Department (SPD) alleging that they have been priced out of their civil rights due to the costs of protective equipment to defend themselves from police aggression.
The five plaintiffs—Jessica Benton, Shelby Bryant, Anne Marie Cavanaugh, Alyssa Garrison, and Clare Thomas—allege that they have been forced to purchase helmets, gas masks, protective clothing, goggles, gloves, boots, shields and other equipment in order to protect themselves from tear gas and other crowd-control measures Seattle police have used against protesters.
The protesters said they were subject to an"indiscriminate use of weapons by SPD" on July 25 on Capitol Hill.
"Only those who have the means to purchase extensive protective gear can engage in 1st Amendment speech in the streets of Seattle, where its police force is not a source of protection but of antagonism for protestors," the complaint reads.
The lawsuit said that "because the Seattle Police Department has acted above and outside the law in dispensing its unbridled force," the city has created a protest tax by making the purchase of expensive protective gear "a condition to exercising their right to free speech and peaceable assembly."
Talitha Hazelton, attorney of the plaintiffs, told Newsweek that the necessity of this gear means protesters can only exercise their right to free speech if they have some type of income—an issue that has only been exacerbated by the millions of unemployed Americans who have lost their jobs amid the coronavirus pandemic.
"It's cost prohibitive at a time when people don't really have discretionary income like that. Folks who don't have means, who are likely the most brutalized by police, who are the most targeted and negatively impacted by the institution of policing are less able to get into the streets to object the same," said Hazelton.
She noted that the bigger issue is that restrictions to access protests are in place. Hazelton said it is problematic that police are blocking off large zones to prevent people from speaking in public forums while the government fails to intervene.
The complaint alleges that the use of excessive force from the SPD violates the First Amendment, the Fourth Amendment and Equal Protection.
The plaintiffs are seeking a temporary restraining order preventing the SPD from using force or crowd-dispersal munitions.
The order would join a current injunction from a separate lawsuit filed by Black Lives Matter Seattle-King County last month. U.S. District Judge Richard Jones found that police had violated the civil rights of thousands of Seattle protesters.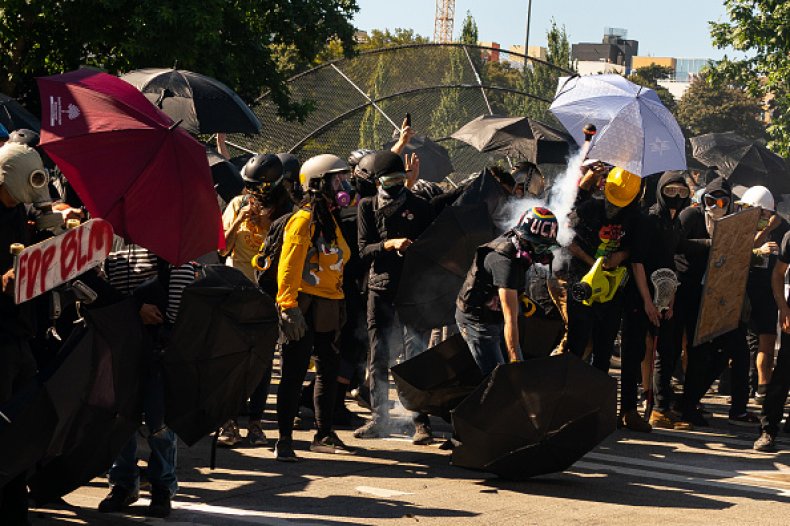 Two weeks ago, U.S. District Judge James Robart granted a request from the federal government to block a new law passed by the Seattle City Council that bans police from using tear gas, blast balls and similar weapons against protesters.
The temporary restraining order on the law will expire on Saturday.
Seattle was the site of mass anti-police brutality and anti-racism protests the weekend of July 25 after protesters took to the streets in solidarity with Portland protesters policed under the tactics of federal agents deployed to the city through most of July.
Federal officers were also sent to Seattle in preparation for that weekend but the tactical team left following the July 25 weekend protests after Mayor Jenny Durkan requested their removal.
Newsweek reached out to the SPD for comment but did not hear back before publication.
Update 04/08/20 12:33p.m. EDT This story was updated with comments from Hazelton.