BLM Protesters Chant 'F*** Garcetti' Amid Rumors L.A. Mayor May Join Biden Administration
Black Lives Matter protesters gathered outside Los Angeles Mayor Eric Garcetti's residence on Thanksgiving morning in protest of rumors that President-elect Joe Biden's transition team may be considering nominating Garcetti to his incoming administration.
Though Garcetti has previously denied that he is contemplating a political move, the Los Angeles chapter of Black Lives Matter (BLM) said in posts on social media that they will continue protesting until the Biden transition team confirms that Garcetti is not among the politicians being considered for a cabinet position. Thursday marked the third straight day of the protests.
"Hundreds showed up in front of @MayorOfLA's to tell @JoeBiden we don't want the worst mayor in the nation setting national policy," BLM's Los Angeles chapter tweeted following Thursday's demonstration. "DON'T APPOINT GARCETTI TO ANYTHING!"
KCRW-FM reporter Cerise Castle shared videos taken during Thursday's protest on Twitter. The videos showed people wearing masks while gathered outside of Getty House, the mayor's official residence, as protest organizers delivered speeches.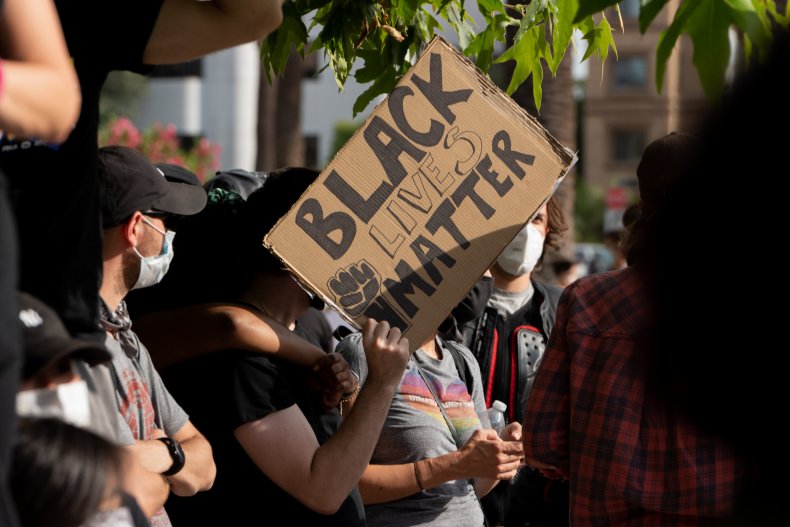 BLM Los Angeles' action plan for "#BlockGarcetti" takes issue with the city's rising population of homeless residents and accuses Garcetti of "disappearing on the city in pursuit of personal gains." The chapter's protest strategy includes encouraging participants to use hashtags like "#BlockGarcetti," #Garcettiville" and "F***Garcetti" while sharing photos and videos from the protests online.
Melina Abdullah, the co-founder of BLM Los Angeles, led protesters in a "F*** Garcetti" chant that was captured in videos shared on social media while she addressed those gathered outside Getty House on Thursday morning.
"As we're here, we're saying that we will not allow the kind of white supremacist capital interests that he represents to set national policy for this country," Abdullah said. "We're not going to be at home eating turkey, cooking turkey this morning. We're doing something that really is about giving thanks to the freedom fighters who walked before us."
Garcetti served as a co-chair of Biden's presidential campaign, and his name has been on a list of potential nominees for Biden's incoming administration, according to the Los Angeles Times.
When a reporter asked Garcetti during a news conference earlier this week about his political future, Garcetti said he was focused solely on responding to the coronavirus pandemic as daily case counts continued rising in Los Angeles. According to County of Los Angeles Public Health, more than 359,000 COVID-19 cases have been reported in Los Angeles County since the pandemic began earlier this year.
"I have been focused 110 percent on these numbers and on COVID and on saving lives," Garcetti said on Monday. "My job right now, my job number one, is to make sure I protect the lives of Angelenos, and everything else recedes in comparison."
Newsweek reached out to Garcetti's office and Biden's transition team for comment but did not receive a response in time for publication.