BLM Protesters Sing 'This Is What Community Looks Like' During Peaceful Breonna Taylor Protest
As thousands protested Wednesday's decision not to indict Kentucky police officers Brett Hankison, Jonathan Mattingly or Myles Cosgrove on criminal charges related to Breonna Taylor's death, a social media video showed demonstrators in New York City chanting: "This is what community looks like."
The video, shared to Twitter on Wednesday evening, sees a group of people wearing Black Lives Matter apparel while taking part in a call-and-response that elicited cheers from surrounding protesters.
"Show me what community looks like!" one protester shouts into a microphone, prompting a chorus of replies from others nearby. Music can be heard in the background of the brief recording, which surfaced online during a night of peaceful rallies that drew participation from New York City residents across multiple boroughs.
New York was one of many U.S. cities where protests erupted on Wednesday, after the grand jury in Louisville, Kentucky, released its verdict regarding criminal charges for police who fatally shot Taylor in March. None of the three Louisville Metro Police Department (LMPD) officers involved in the shooting were indicted on charges related to Taylor's death, and only Hankison was fired from the department last June.
On Wednesday afternoon, the Jefferson County grand jury formally indicted Hankison on three counts of wanton endangerment for putting Taylor's neighbors at risk during the midnight raid that preceded her passing.
Investigations conducted by the Kentucky attorney general's office and FBI concluded that Hankison fired 10 bullets into Taylor's apartment, some of which pierced through an interior wall and landed in the neighbors' residence. Attorney General Daniel Cameron subsequently said his office was prepared to prosecute Hankison on charges brought by the grand jury.
Although Cosgrove and Mattingly collectively shot into Taylor's apartment more than 20 times, and FBI analysis suggested the fatal shot came from Cosgrove's weapon, neither officer faces criminal charges. Cameron said investigations determined their conduct was "justified" because Taylor's partner, Kenneth Walker, initially shot Mattingly in the leg upon officers' forced entry. Walker previously explained the raid's timing and circumstances led him to believe a break-in was taking place.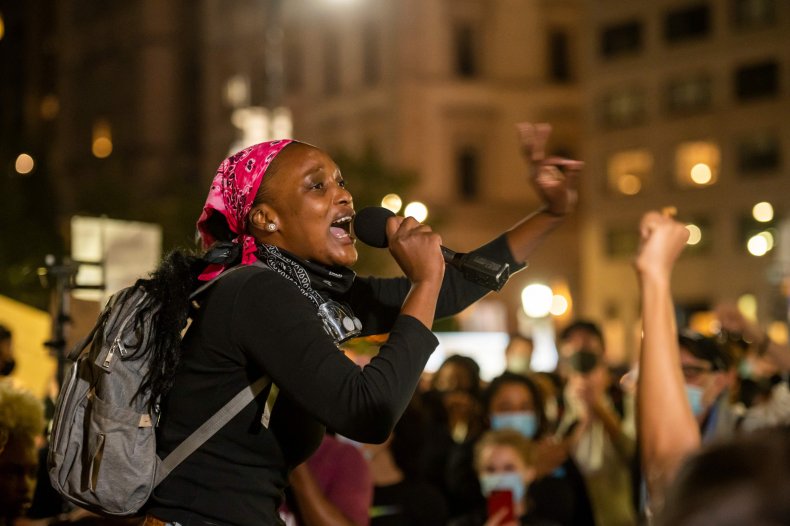 Wednesday's decision sparked outrage across the country, even as numerous protesters told reporters they were not surprised about the absence of justice served. Black Lives Matter responded to the indictment in a statement issued shortly after the grand jury and attorney general's announcements.
"We are completely disgusted and outraged by the indescribable decision that has been rendered in the murder of our beloved, Breonna Taylor," the statement read. "Here we are, yet again, a Black life that has been dehumanized at the hands of the police in cold-blooded murder; has no value in a criminal legal system that is supposed to protect it."
Patrisse Cullors, executive director at Black Lives Matter and one of the organization's co-founders, said the national movement against police violence and systemic racism will continue after Wednesday's decision. In an additional statement sent to Newsweek on Thursday, Cullors referenced Black Lives Matter's ongoing efforts to pass The Breathe Act, which proposes reallocating resources from police departments and prisons to various community initiatives.
"We are devastated all across this country that our criminal legal system has failed Breonna Taylor, her family, community, and frankly, it has failed our country. As a result, we are not giving up. We are going to keep marching, protesting and saying Breonna Taylor's name. Our movement is steadfast," Cullors said in the statement.
"We are going to wholeheartedly work to pass the BREATHE Act and #DefundthePolice by providing care for our communities, adequately holding our political leaders accountable, and effectively allocating resources to our communities," her statement continued. "This remains the premise of our work and we owe it to our communities to ensure justice and peace for all Black lives."
This story was updated at 3:16 p.m. ET to include Cullors' statement.