'I Thought I Was Bloated, Then Doctors Made a Shocking Discovery'
In my late teenage years, I struggled with bloating. No matter what workouts I did, no matter what clothing I wore, I was always hyper-aware of the fact that my stomach stuck out. I also eventually started struggling with feeling full all the time. I couldn't lay on my stomach because it would hurt too much.
Early on in 2017, when I was 23, I visited my doctor in New Jersey for an annual checkup. I explained that my stomach was extremely bloated, but he said to me that the problem was occurring because he thought I was overweight. He also prescribed me Lexapro because he thought the problem was that I was suffering from anxiety.
I assumed that since he was a doctor, he must have been right. He seemed to be sure that my problem was cognitive, and that I was in fact just struggling to deal with, and accept the fact that I was overweight. But deep down, I still felt like something was wrong with my body. I took the medication for a few months but my stomach was still hurting. I felt that something else may be wrong. I remember often walking around and feeling like something was almost stabbing me in the lower right side of my stomach. But, over time, I began to get used to it.
In September of 2017, I had my annual OB/GYN appointment which included a breast exam, an abdominal exam, and a pelvic exam. Again, I brought up the fact that my stomach was extremely bloated and that I was getting sharp stabbing pains in my right side. I was dieting and exercising, and had therefore lost a lot of weight because people around me were insisting that it was the cause of my bloating. As a result, every part of my body was defined, except for my stomach. But I still felt that my gynecologist was reluctant to listen to me, and after much hesitation, I did not do an ultrasound as I was told that it would have been a waste of time.
At the time, I had just landed a job as a producer, and I had gotten health insurance for the first time. But I also didn't want to spend money unnecessarily, and given that my doctor had told me that it would have been a waste of money for me, I listened.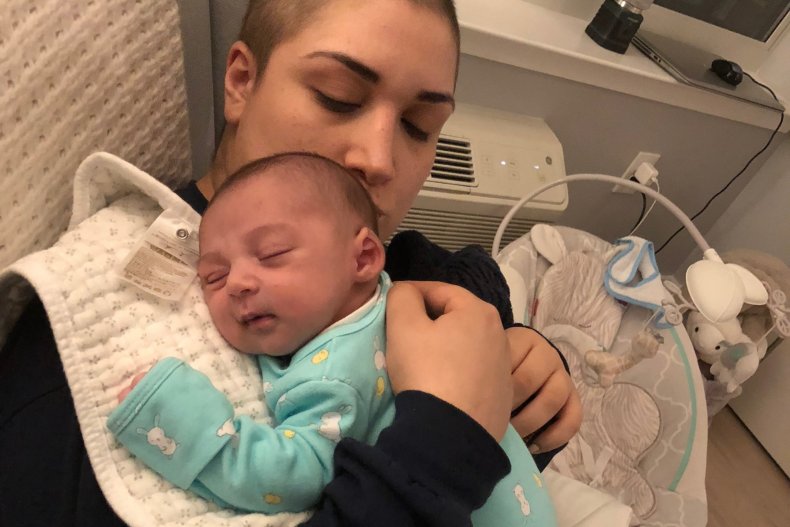 Towards the middle of October that year, a few weeks after my gynecologist appointment, I became very sick and dehydrated. Usually, I am not the kind of person who goes to the hospital, at least I wasn't up until that point. Eventually, I called my mom and she advised me to get help.
So, I went to the emergency department, and the doctors did an ultrasound on me again. But this time, the doctor also did a pelvic and a transvaginal ultrasound. I had never had either, but they didn't feel normal. I remember crying and her asking me why I was upset. My response was that I wanted to know what was wrong with me.
A few hours later, a doctor told me that I had a cyst in my stomach and that most women don't feel these. He also said that sometimes, they could be quite painful, but I likely had nothing to be worried about. He then gave me a prescription for some ultra-strength ibuprofen and told me that my problem would probably resolve itself.
The next day, on October 24 2017, the same doctor called me. He said that he had misread my scan and that the three-centimeter cyst was actually more like 10 centimeters. He then explained that the size was alarming and brought up the possibility that it may be cancerous. I was shocked. I had never seriously been sick before. It felt like in that instant, I was losing control of my life. Everything felt unreal.
But my gynecologist was still insisting that I had a dermoid cyst. She did not seem to understand why I was becoming emotional and upset, but from my perspective, even a dermoid cyst would have still been a bad thing to have. She explained that she was going on vacation for a week and that she could take it out when she came back.
I expressed that I did not want to wait over a week for her to operate on me, so she transferred me to another doctor, named Dr. Graebe, who really helped me on my journey. I credit Dr. Graebe for believing in me and taking the time to find out what was really wrong with me. It's upsetting that it was a man who believed me and not a woman, considering where my cancer was discovered.
I saw Dr. Graebe on October 28, 2017. After I explained my symptoms to him, he told me that he believed me. He then did several blood tests, one of which was called alphofetoprotein (AFP), which would detect ovarian cancer. At the time, there was a small chance of having this. But I still felt numb and scared at the same time because I had no real idea what the problem was.
On October 30, I went in to have the surgery that my gynecologist had planned. I have had multiple surgeries in my life, but that day was different. I walked in, and the man on the surgical floor told me not to change because the doctor needed to speak to me. I remember sitting on the hospital bed, staring at the gown I was told not to wear. I felt extremely anxious. Sometime later, I got on the phone with the doctor. All I remember is him telling me that I could not be operated on because what I had was in fact cancer.
All I can remember thinking is: This can't be real. My mom ran to the nurse's station to see if I was okay. The nurse told her that she could not enter the ward, but my mom wanted to know what was happening to me. When she got to me, I remember trying to spew back the information to her but nothing seemed to make sense.
My dad, my friend's mom, and my boyfriend at the time were also all in the waiting room and, because they didn't know what had happened, they didn't understand why I was apparently done with the operation so quickly. So, I told them that the doctors could not operate on me because I had cancer. No one could believe it.
My dad is usually not very emotional, but that day was different. I remember seeing him become visibly overwhelmed. My friend's mom, Helen, is a nurse and she immediately insisted that we went to a cancer hospital. She pulled some strings, and we luckily managed to get into Memorial Sloan Kettering Cancer Center days later.
I remembered that when I went into the hospital on November 1 that year, many of the professionals seemed to think my mom was a cancer patient. I had to clarify to them that it was in fact me. At the age of 24, I believe I was the youngest person on that floor.
Within 10 minutes of the appointment, the doctors were able to identify that I had an ovarian germ cancer cell tumor. They explained that the feeling of bloating and sharp pains I had been experiencing was from my ovaries twisting due to the cells growing very large.
The doctor was very kind and considerate and explained that the center was at 110 percent capacity, but that she would operate on me the next day, before she left for a conference. It was good to know that she valued my health.
The following day, I remember sitting in the waiting room with the doctor's personal assistant sat with me. She asked me if I was OK, and I replied by saying that I had been pulled around what felt like 18,000 different times.
I specifically remember her saying, "You're going to get through this. You're going to be stronger. And if you do need chemo, you're going to rock that bald cap, and you're gonna be amazing." That was the first time it truly occurred to me that I actually had cancer. It was a surreal, shocking moment. I am grateful for her saying that because it allowed the process to feel real for me.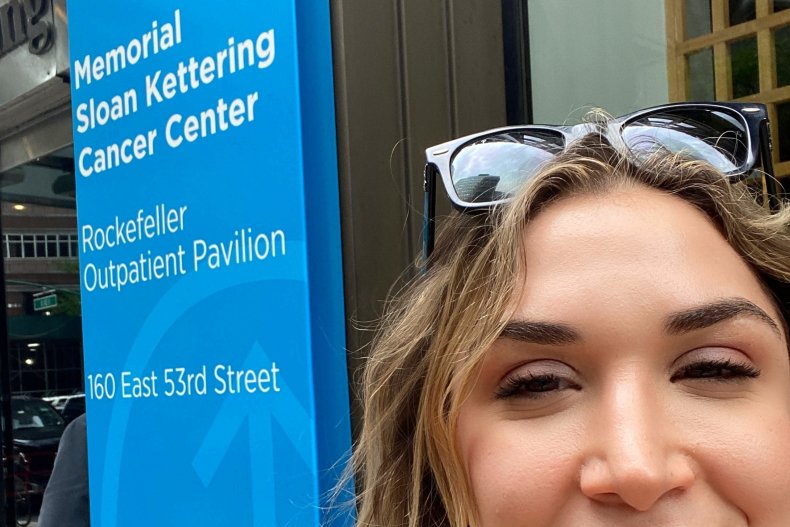 I was in the hospital for five days and completed 10 weeks of chemo after the cancerous tumor, which was over 13cm long, was removed.
I had been a powerlifter and the fact that I had this massive incision in my stomach and very little strength at first was really hard. And, I went from all of these different nurses taking care of me, to more or less being on my own. There was also the pressure of going back to work and adjusting to the changes that took place whilst I was away.
I began to feel better in 2020. Life has changed in a lot of drastic ways. I'm single, I have grown in my career, gotten closer to my friends, I'm now trying to truly live my life. I am looking forward to my thirties because my twenties were spent on this diagnosis and the pandemic. Although I had already physically healed, it took me a few years to heal mentally from all the trauma.
I feel like I'm finally moving forward, but I still do get anxious. Anytime I or anyone close to me becomes sick, I assume the worst. For example, when I see a rash on one of my nephews, I immediately begin to think the worst. But overall I feel like I'm definitely improving.
I say this to everybody: We all need to be our own advocates. You know how you feel better than anybody else. Doctors are trained to see things objectively, but you can't expect them to be the experts when it comes to your body and know everything. It's okay to challenge things.
What I went through was horrible and traumatic, but I wouldn't say I wish it hadn't happened because it definitely gave me a new perspective. The way I look at it now is that you have your health and you have your life. At the end of the day, what matters to you the most?
Amanda Kabbabe is a cancer survivor of nearly five years after completing treatment for a rare form of ovarian cancer. In addition to being an advocate for patients' rights, Amanda is the executive producer of TV and video development at Hearst Magazines. You can find her on Instagram at @amandakabbabe.
All views expressed in this article are the author's own.
As told to Carine Harb.