Block 5 Falcon 9: When Is SpaceX Launching Its Advanced New Rocket?
Elon Musk's SpaceX is ready to launch the latest version of its reusable Falcon 9 rocket for the first time on Thursday.
The "Block 9" will take off from the iconic Launch Pad 39A at NASA's Kennedy Space Center in Florida, carrying the 7,700-pound spacecraft Bangabandhu-1—Bangladesh's first geostationary communications satellite.
"Targeting Falcon 9 Block 5 launch of Bangabandhu Satellite-1 on May 10 from Pad 39A in Florida," the company wrote on its official Twitter account, following a successful static fire test on May 4.
Musk has said that the Block 5 is the final upgrade to its Falcon 9 rocket system. It features a number of incremental improvements over its predecessor, the Block 4, that are designed to make the rocket more reusable, as well as providing increased engine thrust and enhanced landing control.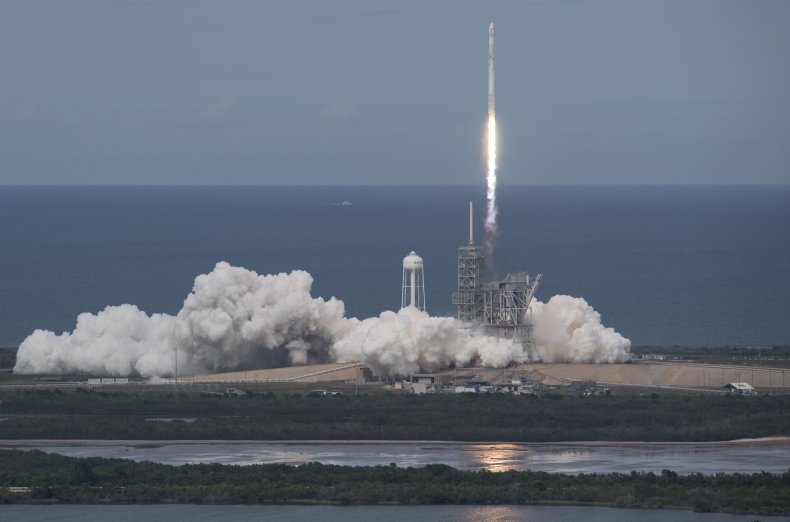 While the Falcon 9 is designed to be reusable, none of the previous rockets have been launched more than twice so far. The Block 5, however, is designed to fly up to 100 times, although this will involve some refurbishment and inspections after every 10 flights.
Among the reusability upgrades are an improved heat shield, extra thermal protection coating to limit re-entry heating damage and a set of retractable landing legs for rapid recovery and shipping, which will help cut the turnaround time for launches.
The latest changes to the Falcon 9 have been mainly driven by the need to meet NASA's requirements for its Commercial Crew Program. In 2014, both SpaceX and British aerospace company Boeing were awarded a shared $6.8 billion contract by NASA to ferry astronauts to the International Space Station. Both un-crewed and crewed demonstration missions are scheduled for the end of this year, according to the space agency.
The Block 5's launch window opens at 4:12 p.m. EDT on Thursday, although adverse weather or technical problems could see takeoff delayed to another day.