As Blockbuster Hangs on by One Store, Family Video Keeps 700 Stores Open Thanks to a 40-year-old Decision
As technology steadily marches forward, DVDs are quietly becoming relics reserved for boxes in the attic or a future exhibit in an American history museum. The fall of Blockbuster was largely regarded as the end of the video business, but the curtain hasn't closed on Family Video. While Keith Hoogland, the company's president, knows that one day the business he's known his whole life will fade out, for now, the decision to buy and not lease store spaces that was made decades earlier is keeping Family Video's doors open.
Hoogland's father, Charlie, may have been the one who started Family Video, but technically speaking, Hoogland considers the story's beginning to lie with his grandfather, who started the original company.
"My dad had two great ideas, and I don't know which one was the greater," Hoogland told Newsweek. He explained that entering the video business was "smart"—but deciding to purchase real estate is the "strength of the company."
Instead of renting space in someone else's building—which is what Blockbuster did—Family Video bought and developed buildings in anticipation that video stores would "literally go out of business almost overnight." When that day came, the company knew they would be able to lease or sell the stores.
Forty years later, people are still walking into their local Family Video, perusing the aisles and bringing their favorite DVD home for a few nights. While their competitors have all but gone extinct, being the owner of their stores has enabled Family Video to maintain over 700 locations in 2018.
As Blockbuster faced diminishing revenue and increased rent, Highland Venture, the parent company of Family Video, implemented "right-sizing," a unique method of adjusting the store size to accommodate the revenue stream. A 7,000-square foot store became 5,500 square feet when a Marco's Pizza was put in on one side. Adding an H&R Block to the other side shrank the space further, to 4,000 square feet.
"We can cut our rent in half. We can cut our property taxes in half. We can cut our common maintenance in half. All our electric and gas, all those fixed costs we can actually cut while still staying in business, and not changing locations," Hoogland explained to Newsweek.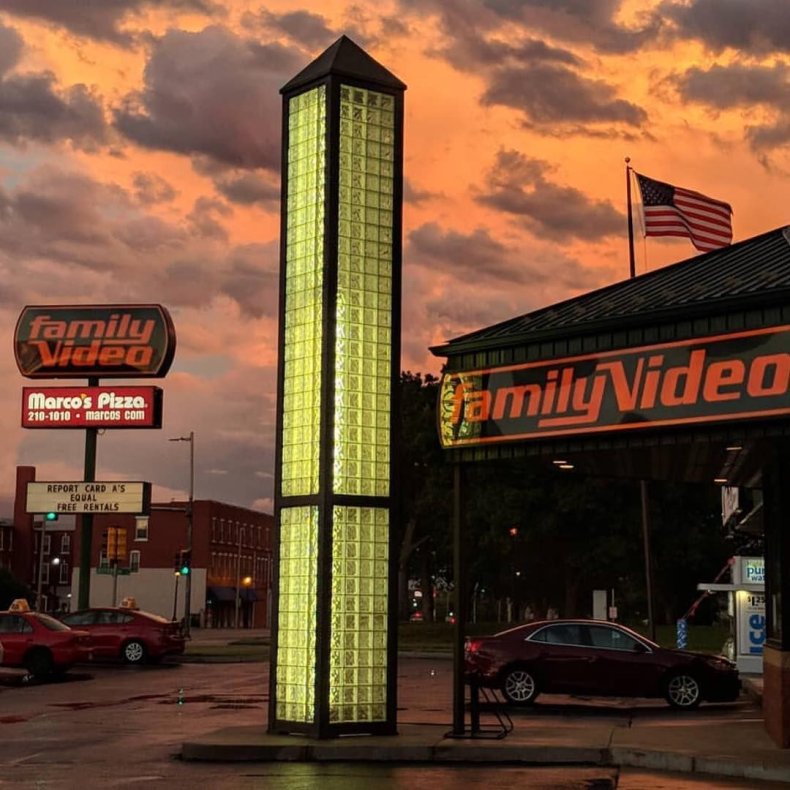 By putting pizza places next to their video rental stores, customers are able to have one-stop shopping for the classic dinner and a movie night. But, with the temptation of not having to leave your house to watch the latest release pulling more people toward streaming services, Family Video took their idea one step farther—dinner and a movie delivered to you.
Customers who order delivery from Marco's Pizza can also request a DVD from Family Video by either calling the store or going online. When the pizza is ready, the movie is passed through a window connecting the two stores and off the driver goes, with both the pizza and DVD in tow. Want to have your movie picked up to be brought back to the store? No problem, just order another pizza and you can give it back to the driver.
The year 2010 may have spelled doom for Blockbuster and Hollywood Video, but the years following the fallout, 2013, 2014, and 2015, were Family Video's most profitable, a success Hoogland credits to the "family" part of Family Video.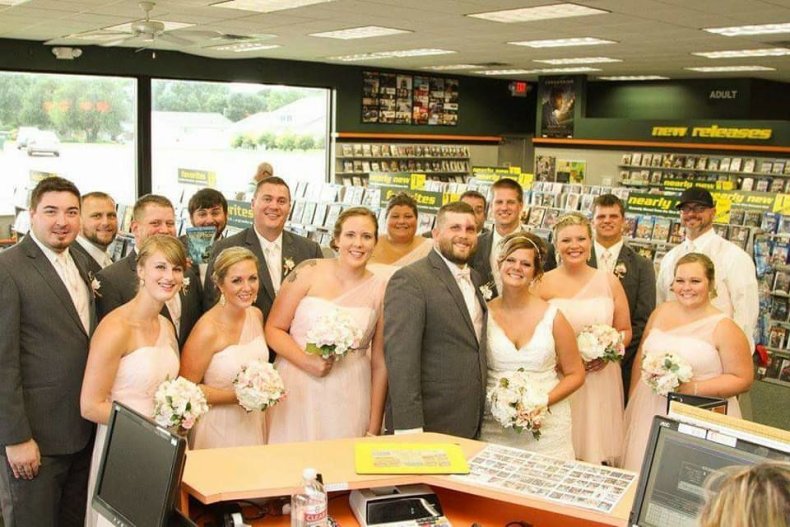 While the entrepreneur cautioned Newsweek about giving him too much time to talk about the differences between public and private businesses, he explained that he doesn't run the family company based on quarterly profits. Instead Hoogland focuses on building something that will "last," looking out 20 to 30 years and even generations.
"The feel of the business is different," he said, adding that both employees and customers can tell that they're working at and frequenting a family business, respectively.
Along with negotiating late charges, Family Video also gives customers the option to rent kids movies for free. Patrons can walk in, pick out a movie or two, take it to the counter, and walk out without ever reaching inside of their wallets.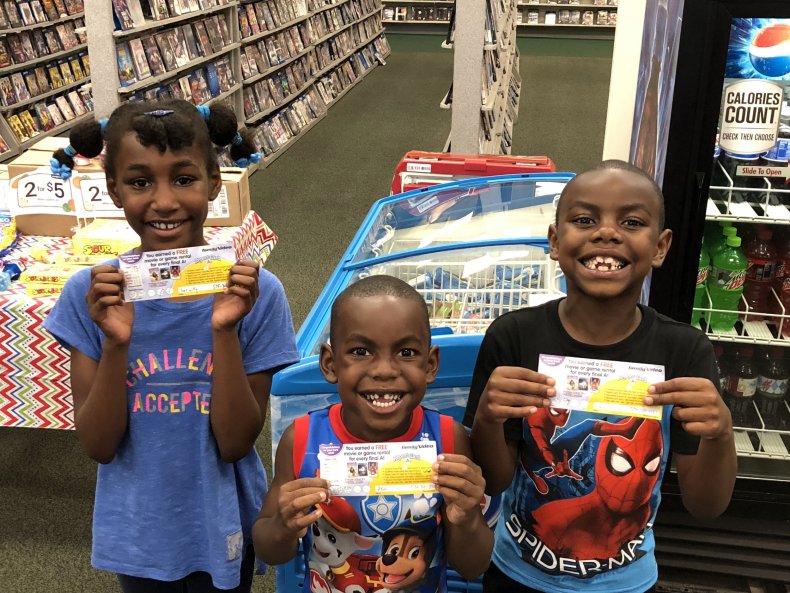 "Those types of little things, those nuances, are really important over years and decades," Hoogland explained.
Giving back to the community isn't confined to in-store promotions. Deanna Flynn, senior director of marketing, purchasing & analytics, said when she first started at the company about five years ago, one of the first things that stood out about the business was its commitment to helping others.
Raising over seven million dollars and 1,000 tissue samples for lymphoma research and giving out about 28,000 turkeys and hams to local families during the holidays each year are just some of the ways Family Video gives back.
Hoogland said he didn't realize in his 20s how important supporting the stores' local communities would be, but he's since realized how "incredibly powerful" both customers and employees find that aspect of the business.
"We're in some small towns, so you give 40 or 80 turkeys and that solves a big chunk of the problem for some of the people in that town for Thanksgiving or Christmas," he told Newsweek. "I was taught growing up to take care of the people in need in the community, that's how it was done. Government didn't have to do it, people in the communities did it."
While Polaroid cameras, choker necklaces, and record players are making a comeback, Hoogland isn't certain it's the "retro" feel that keeps customers venturing into the store.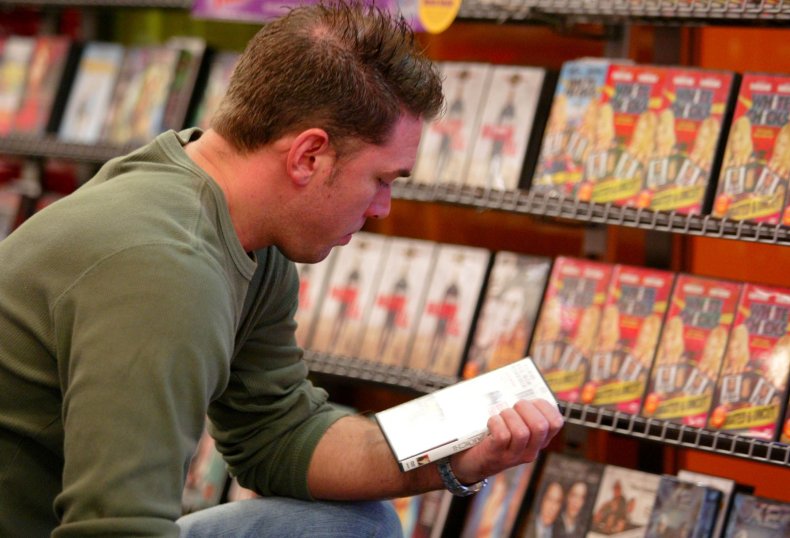 Sure, the person who moved from the Midwest to California and is back visiting their parents in Wisconsin feels nostalgic, but for other people, who've had stores open in their towns for 15 years, it's just another trip to pick out a movie.
While he rejected being labeled "retro" himself, Hoogland didn't rule out the possibility of the label for the store in the future. "If we can hang in and last long enough, yeah, maybe we'll get the hike in a few more years where we are retro," he said.
Customer Michael Foust, who frequents the Clinton, Iowa, store to pick up a film for his family's weekly Friday night movie, told Newsweek that there are four main reasons he keeps coming back: the price, the store's cleanliness, the ability to take a trip back in time, and the opportunity to find new movies.
"I grew up in the '80s, and I remember the boom of the VHS rental stores," Foust shared. "The first one I knew of wasn't a Blockbuster, it was a gas station that was renting video cassette tapes."
Although Netflix is cutting into Family Video's profits, Foust credited the store for giving him something streaming services aren't able to: the ability to "discover stuff you never even knew existed."
"Family Video gives you something that you don't get with a streaming service and that is a walk back in time," he said. "And if you do it right, a fun family night exploring movies you didn't know about."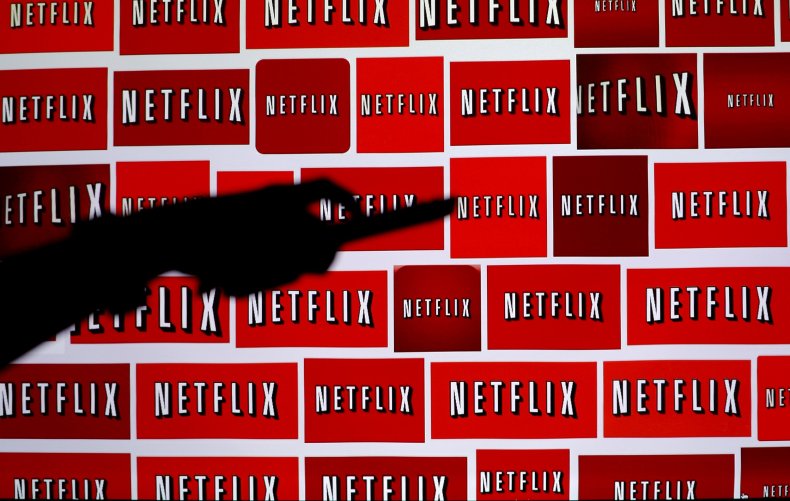 Eventually, the sun will set on Family Video and the doors will close forever. For his mom, who's 86 years old, just thinking about that moment brings tears.
As an entrepreneur, that day will come with mixed emotions for Hoogland, including sadness over closing a chapter that first started being written when he was 18-years-old. But it's also an exciting time, because what Hoogland really loves doing is starting and building businesses. The closing of one chapter marks the beginning of new ventures.
The question as to where the video business is headed is one that Hoogland has been asked for the last eight years, and one the company is grappling with themselves. Admittedly, he isn't sure what the future looks like, but eventually, new technology is going to slowly make the video business fade out, although it's not something Hoogland sees happening in the next five years.
"We're going to transition the video business to where we're kind of doing phones and then hopefully we'll find something else like virtual reality or something that we'll put in instead of video," he said.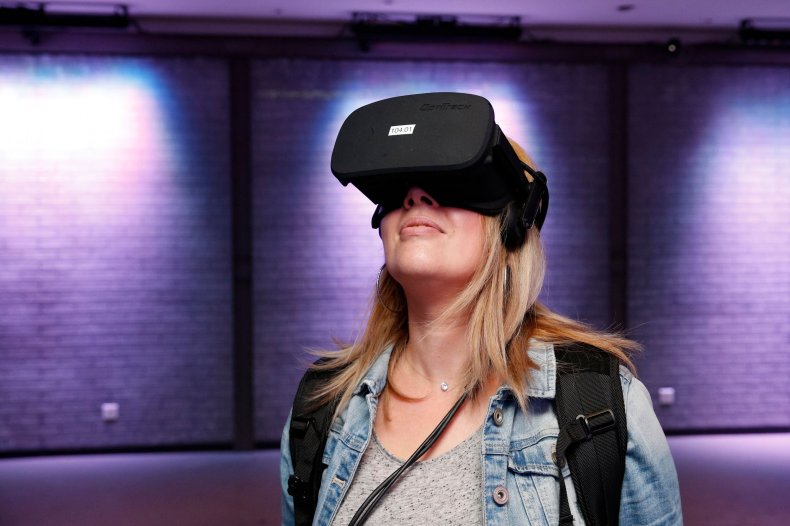 Until then, the once-mentee of his own father is now showing his son, a Marine Corps veteran who served a tour in Afghanistan, the ropes of the family business. Among the lessons he hopes his son will learn is that a business should always be run with employees in mind because they're the ones who build a company.
"One of the proudest things I am about our company is how many people have worked for us for 15 and 20 years and have made their whole careers with our company," Hoogland told Newsweek. "That's a testament to my dad, myself, our family, the company and our culture of fostering a great place to work."
It's a lesson Hoogland's own father tried to coach him on, but one he told Newsweek he never "really got" until his early 30s when he began to feel comfortable financially. He credited the moment he started focusing on his employees' success with being when he "really became successful."
Despite being around new releases for 40 years, Hoogland's favorite film is a true classic. A poster of the "rags to riches" story of Rocky hangs on the wall next to the staircase in the office. The film, written by Rocky star Sylvester Stallone, who Hoogland pointed out was a down-and-out guy in real life just like his on-screen character, is about "overcoming an incredible obstacle."
"Most people don't even remember that he lost but he lost the damn fight," he said. "But he overcame what he was trying to do and winning wasn't the end. It was the effort."
It's not a story unlike Family Video's own. While they may ultimately lose the fight against a modern technology takeover, they overcame an obstacle that no one else in the industry could, and they did it all without ever turning their backs on their communities.