Blogger Who Filmed Kenosha Protests Claims Rittenhouse Tried to 'De-Escalate' Situation
Blogger Frank "Drew" Hernandez took the stand Thursday during the trial of Kyle Rittenhouse and claimed the defendant tried to "de-escalate the situation" during the unrest in Kenosha, Wisconsin.
Rittenhouse has been charged with homicide in the deaths of two men he shot during protests in Kenosha in August 2020: Joseph Rosenbaum and Anthony Huber. He also shot and wounded a third man, Gaige Grosskreutz.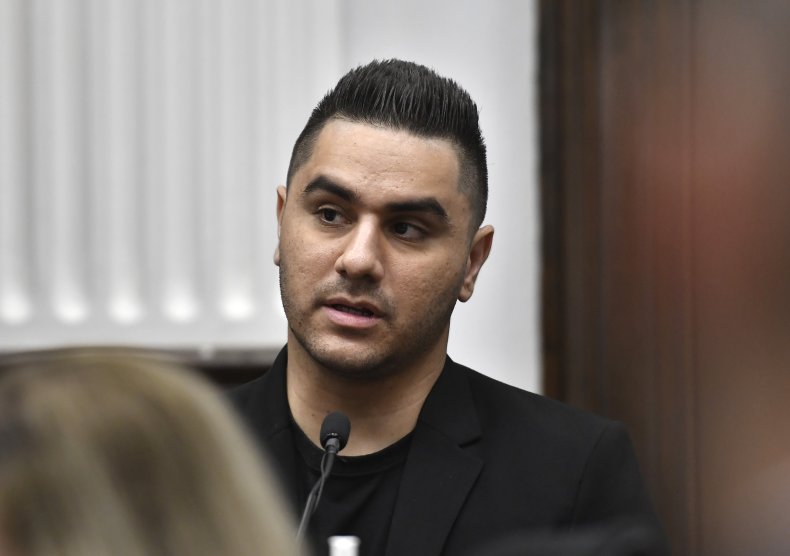 Hernandez claimed that "rioters initiated that conflict" in Kenosha on the night of August 25, 2020, and had agitated "individuals with long-arm rifles" on top of a building. He said they were screaming at the rifle-holders, "You ain't the police, you ain't the police."
He then said that Rittenhouse "attempted to de-escalate the situation" and was "successful because the rioters then dispersed."
Rittenhouse's defense attorney, Corey Chirafisi, asked Hernandez: "Did you see Mr. Rosenbaum do anything that kind of drew your attention?"
"Absolutely. He led the charge into the gas station. He was getting physically aggressive," Hernandez replied. "He appeared to be attempting to start a physical altercation with people in the gas station to the point where he was telling one of the individuals with a rifle, 'Shoot me, n-word, shoot me'...clearly attempting to start a physical altercation."
A self-described "professional commentator" who works for Real America's Voice, Hernandez—a witness for the defense—repeatedly called protesters "rioters" and referred to them as being members of "Antifa" or Black Lives Matter.
Some social media users called such language politically charged, especially considering Judge Bruce Schroeder banned the use of the word "victims" in describing those who had been shot by Rittenhouse.
"This witness is saying 'riot' constantly and 'antifa,'" tweeted MSNBC commentator and former New York City mayoral candidate Maya Wiley. "This is ideology that the judge has enabled to be used in the #Rittenhouse trial."
During cross-examination, Assistant District Attorney Thomas Binger tried to paint Hernandez as a biased witness. He noted the blogger shared legal representation with the defense before calling his objectivity into question.
Binger said Hernandez had posted video and made comments online that supported Rittenhouse, and Hernandez agreed that he had done so. A Twitter message that Binger singled out regarded Rosenbaum. Hernandez posted not long after the Rosenbaum's shooting that an armed citizen shot a "rioter who was attempting to vandalize or burn the dealership down."
Binger also asked why Hernandez had consistently referred to Joseph Rosenbaum by his last name while referring to Rittenhouse as "Kyle" during his testimony.
Update 11/11/21, 4:30 p.m. ET: This story has been updated to include more information about Hernandez's testimony.