Blood Centers Say Unvaccinated People Are Refusing Transfusions From 'Tainted' Donations
Kaiser Health News wrote on Tuesday that health care professionals have been encountering a problematic situation: Some patients who have resisted COVID-19 vaccines are demanding blood transfusions only from unvaccinated donors.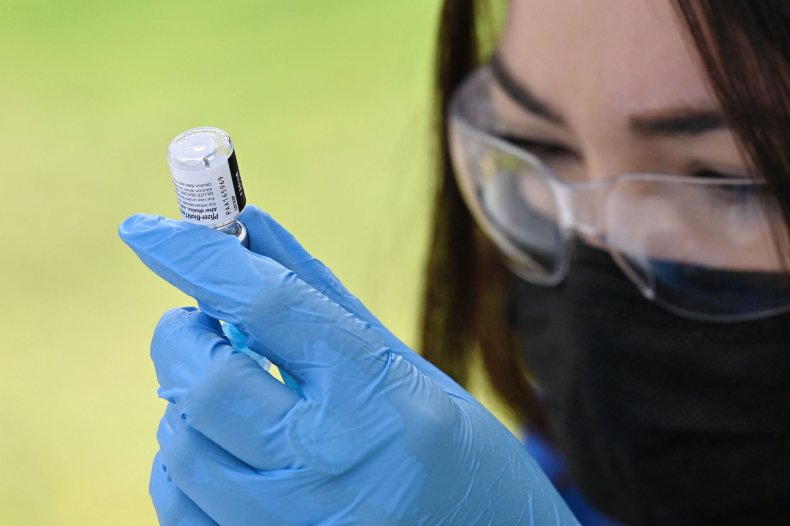 Almost 60 percent of the U.S. population is now fully vaccinated, which means a large portion of the country's blood supply comes from donors who have gotten the shots. Kaiser Health News—the newsroom for the healthcare-focused non-profit Kaiser Family Foundation—reported that there have been instances of COVID skeptics (or of people who don't trust the science behind vaccines) demanding blood transfusions using blood from vaccinated people.
American Red Cross spokesperson Emily Osment told Kaiser her organization has heard from unvaccinated clients who said they feared vaccinated blood would be "tainted." She added they worried vaccinated blood could then transmit COVID vaccines into their bodies.
"We are definitely aware of patients who have refused blood products from vaccinated donors," Dr. Julie Katz Karp, Transfusion Medicine Program Director at Philadelphia's Thomas Jefferson University Hospitals in Philadelphia, also told Kaiser.
Unfortunately, anyone not wanting blood from vaccinated donors may not have a choice. Blood centers don't keep data regarding donors' vaccination status, or even if they've been previously infected with COVID, Kaiser wrote.
The Food and Drug Administration also does not require blood products to be identified in any manner related to COVID infections or vaccinations since respiratory viruses—such as SARS-CoV-2—aren't believed to be transmitted through blood.
Dr. Michael Busch of the Vitalant Research Institute told Kaiser Health News that estimates from samples show a large proportion of blood from donors come from vaccinated donors—as much as 60 percent to 70 percent of the blood donated.
When you factor in people who have also been infected with COVID at some point, Busch said that brings the number up to 90 percent of current donors have COVID antibodies in their blood.
"Less than 10 percent of the blood we collect does not have antibodies," Busch told Kaiser.
Blood with COVID antibodies has been proven to be healthy and as suitable for transfusions as blood without antibodies. Jessa Merrill, the Red Cross director of biomedical communications, told the outlet that even with antibodies present in much of the collected blood for transfusions, any concerns about other agents possibly present in vaccines are unfounded.
"While the antibodies that are produced by the stimulated immune system in response to vaccination are found throughout the bloodstream, the actual vaccine components are not," Merrill is quoted as telling Kaiser in an email.
Dr. Geeta Paranjape, medical director at Carter BloodCare, cited examples to Kaiser of people refusing blood from vaccinated donors. She said a Texas father asked his son receive blood exclusively from unvaccinated donors for his surgery. In another instance, she said a mother worried about her newborn receiving transfusions using blood from vaccinated donors.
"A lot of people think there's some kind of microchip or they're going to be cloned," Paranjape said.
Donated blood is tested for transmissible diseases before it is distributed to hospitals. Donors are also questioned regarding their health prior to giving blood.