'Blood on the Floor': Tenant Blasts Landlord for $1,500 Rent Hike
One female tenant isn't happy about her rent being increased, turning to TikTok to provide an alleged visual representation of where her dollars are going.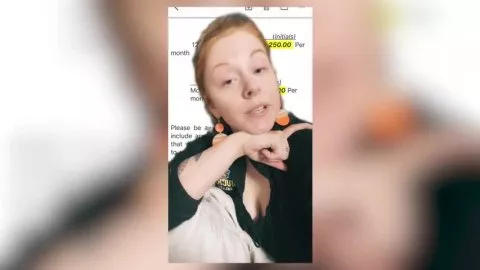 The TikTok user is named Hanna Gracie, 24, and lives at an apartment complex in Miami, Florida. The video, titled "What $3,600/month gets you in Miami," has been viewed over 91,000 times.
"I split rent with a roommate," Gracie explained. "When I moved in, rent was around $2,100-$2,200. They raised upon renewal. We signed here because it was close to our jobs."
Her video showed numerous still images and short videos of what she is exactly paying for, such as out-of-service elevators and broken touch screens meant to sign for packages.
Things got worse at the unspecified apartment complex. Aside from random broken chairs, pumpkins, dog urine and graffiti found in the elevator, she taped a cockroach darting around on her electric stove.
One image was captured in the complex's gym, where it looked like at least half the dumbbells were missing. She said that was because "someone stole them."
It was also noisy, including multiple videos containing loud noises due to police and fire personnel outside the building. In other instances, she was woken up, once at 2:37 in the morning, by loud noises that resembled smoke detectors.
Maybe the most alarming footage contained blood splatter allegedly found in different areas of the complex. Two separate photos showed "blood on the floor," in addition to "hallway hairballs" of an unknown origin.
The video concluded with what the tenant believed to be dog feces sitting on the floor.
"They do a wonderful job of hiding all of this during the tours," the TikToker sarcastically stated.
Rent costs in Miami vary based on different websites.
Rent Cafe said that an average Miami rental costs about $2,132 per month for approximately 887 square feet.
Rent.com said the city is above the national average by about 17.1 percent in terms of cost of living, including an average rent price that is a "whopping" 39.4 percent above the national average. One-bedroom apartments can easily cost $3,000 per month, the website stated, and studio apartments can go for even more.
PayScale reported that Miami's housing expenses are 44 percent higher than the national average, and transportation expenses are about 12 percent higher than average. A median home price is about $499,000.
Some of the comments weren't too fond of the city as a whole.
"When are people going to realize Miami is the hood?" one TikToker commented.
"This is why people visit Miami and don't live there," another said.
A New Yorker also commented, saying "I don't even see roaches like that" in their $1,700-per-month rental.
Newsweek reached out to Hanna Gracie for comment.
{{#isDisplay}} {{/isDisplay}}