Depending on your location, the night of July 27 and morning of July 28 will see the longest total lunar eclipse of the 21st century, lasting 1 hour 43 minutes, EarthSky reported.
Mars will also appear especially large and bright in the sky that night as it moves toward its closest approach to Earth for 15 years. Weather permitting, this will give sky watchers a great view of the red planet alongside a glowing red moon.
The eclipse will be visible from the eastern hemisphere: Asia, Australia, New Zealand and much of Europe and Africa. Some western hemisphere locations, including part of South America, will also catch a glimpse.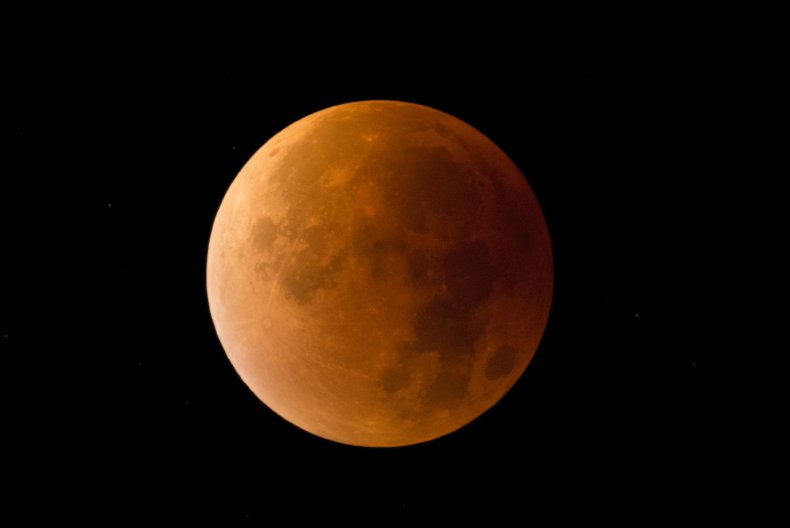 A lunar eclipse takes place when the Moon passes through the Earth's shadow. When the Moon travels through the darkest region of Earth's shadow—the umbra—it glows a reddish-orange color, hence the name "blood moon."
A partial eclipse occurs when the Moon passes through the Earth's outer shadow, or penumbra. You can see whether your region will get a total eclipse, a partial eclipse or no eclipse at all on this map from timeanddate.com.
The eclipse will take place from 6:24 p.m. UTC (2:24 p.m. ET) and 10:19 p.m. UTC (6:19 p.m. ET). The event will begin with a partial eclipse until around 7:30 p.m. UTC before the skies are graced with the especially long total eclipse.
The total eclipse will take place from 7:30 p.m. UTC (3:30 p.m. ET) until 9:13 p.m. UTC (5:13 p.m. ET). The Moon will be partially eclipsed for roughly an hour before and after the main event. The greatest eclipse will occur at 8:22 p.m. UTC (4:22 p.m. ET), EarthSky reported.
Astronomers in Australia and New Zealand will have to wait until the morning of July 28 to see our rocky satellite eclipsed at moonset.
Moon gazers in North America and most of the Arctic will not be treated to the eclipse this time around. But budding astronomers can catch the spectacle online via live streams from the Virtual Telescope Project (VTP) and timeanddate.com. The VTP stream will start at 6:30 p.m. UTC (2:30 p.m. ET), and timeanddate.com's will start at 6:00 p.m. UTC (2:00 p.m. ET).
You can also see when to look to the sky—or to your screen, if you're in the U.S.—in your region at timeanddate.com.