Blood Type Could Determine Chances of Contracting COVID—Here's How to Check Yours
People with blood type O could have the lowest risk of getting the coronavirus (COVID-19), according to two studies published this week.
Two separate pieces of research published in the peer-reviewed journal Blood Advances have found that someone's blood type could determine whether they're less or more likely to contract COVID-19. The studies also showed blood groups could lead to a reduced likelihood of severe outcomes, including organ complications, if you do get sick.
The American Red Cross says that blood types are "determined by the presence or absence of certain antigens". These substances can trigger an immune response if they are foreign to the body.
In a news release, the American Society of Hematology (ASH), the world's largest professional society concerned with the causes and treatment of blood disorders, said: "As the pandemic continues, the global biomedical research community is working urgently to identify coronavirus risk factors and potential therapeutic targets.
"The potential role of blood type in predicting risk and complications of COVID-19 infection has emerged as an important scientific question," the organization continues. "These new studies add evidence that there may be an association between blood type and vulnerability to COVID-19; however, additional research is needed to better understand why and what it means for patients."
The study "Reduced prevalence of SARS-CoV-2 infection in ABO blood group O," published in Blood Advances, compared Danish health registry data from over 473,000 people tested for COVID-19 to data from a group of over 2.2 million people from the general Danish population. The comparison showed that fewer people with blood type O and more people with A, B, and AB blood types were COVID-19 positive. Results showed that there was no significant difference in the rate of infection between A, B, and AB types.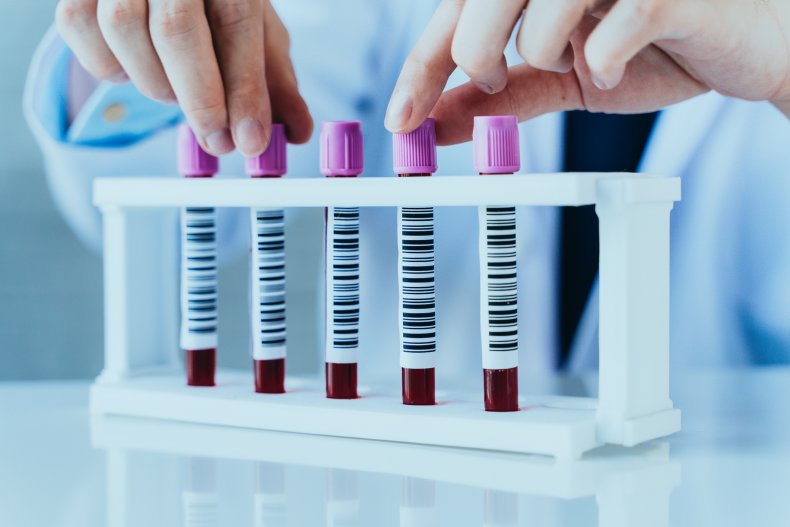 The researchers also controlled for ethnicity as blood group distributions vary among ethnic subgroups. "It is very important to consider the proper control group because blood type prevalence may vary considerably in different ethnic groups and different countries," says study author Torben Barington of Odense University Hospital and the University of Southern Denmark. "We have the advantage of a strong control group—Denmark is a small, ethnically homogenous country with a public health system and a central registry for lab data—so our control is population-based, giving our findings a strong foundation."
Another study, "The association of ABO blood group with indices of disease severity and multiorgan dysfunction in COVID-19," found that A and AB appear to have greater COVID-19 severity outcomes than other blood groups.
Researchers from the University of British Columbia examined data from 95 critically ill COVID-19 patients, who were hospitalized in Vancouver, Canada. They found that patients with blood groups A or AB were more likely to require mechanical ventilation, which the researchers suggest means they had greater rates of lung injury from COVID-19. Further, patients with blood group A or AB were more likely to require dialysis for kidney failure.
"The unique part of our study is our focus on the severity effect of blood type on COVID-19," says study author Mypinder S. Sekhon, University of British Columbia. "We observed this lung and kidney damage, and in future studies, we will want to tease out the effect of blood group and COVID-19 on other vital organs.
"Of particular importance as we continue to traverse the pandemic, we now have a wide range of survivors who are exiting the acute part of COVID-19, but we need to explore mechanisms by which to risk stratify those with longer-term effects."
How Do I Find Out My Blood Type?
If you're unsure of your blood type, there are several ways you can confirm whether you're an A, B, AB or O.
There is also a protein called the Rh factor, which can be either present (+) or not (–). This means that there are a further four blood types (A+, A-, B+, B-, O+, O-, AB+, AB-).
To confirm your blood type, you can request your medical records, or, if you're in the military, your military records. Under the Health Insurance Portability and Accountability Act 1996 (HIPAA), Americans have the right to "inspect, review and receive a copy" of their medical records that are held by health plans and health care providers.
The HIPAA website confirms that only you or your "personal representative" has the right to access medical records. When you request your records, your provider might charge "reasonable costs" for copying and mailing the records. However, they cannot charge you a fee for searching for or retrieving your records.
To request military records, you can mail or fax a "Request Pertaining to Military Records" (Standard Form SF 180) to the National Personnel Records Center (NPRC), according to the Department of Veteran Affairs. You can also visit the NPRC in person or your state or county Veterans agency.
You can also sign into milConnect to request a DD214 or other military service records.
Walmart also sells a Blood Type Test Kit for $12.99 if you want the ease of finding out your type at home.
Newsweek has affiliate partnerships. If you make a purchase using our links, we may earn a share of the sale.