'Blood & Water' Ending Explained: What Happened at the End of the Netflix Show and What It Means For Season 2
Blood & Water on Netflix sees Puleng Khumalo (played by Ama Qamata) trying to find out whether classmate Fikile Bhele (Khosi Ngema) is her long-missing sister, and by the ending of the show she has her answer. That answer, however, may not be the one she wanted, as it also implicates her father in a child trafficking ring.
Episode 6 of the Netflix show begins with Puleng at a dinner party at her boyfriend KB's (Thabang Molaba) house where, unbeknownst to her, Fikile and her mother are also present. Here, Puleng learns some uncomfortable truths about her father Julius (Getmore Sithole). First, she hears a voice note from Wade Daniels (Dillon Windvogel) that suggests her father may have something to do with the abduction, and then she learns he is on trial for human trafficking.
While Puleng goes home to confront her father about this trial, Fikile and KB end up kissing, setting up a love triangle that is likely to be part of Season 2 if Netflix decides to renew the show. For now though, the indiscretion is forgotten—later in the episode, KB tells Puleng he loves her and the pair have sex for the first time.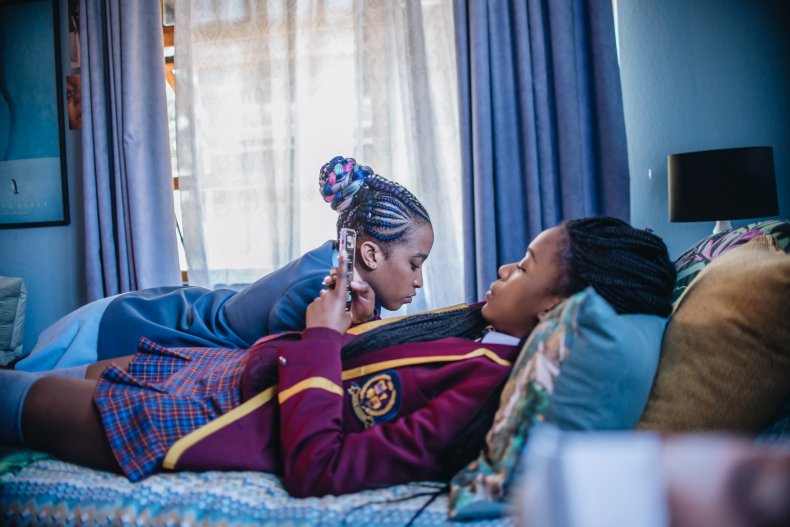 Puleng speaks to Wade to find out what more he knows about her father. He tells her that KB's father's law firm has links to an adoption agency that was likely part of the trafficking operation. She also learns that the SUV she keeps seeing has the emblem of this law firm on it.
While Puleng finds out more of her dad's secrets, the ending of Blood & Water explores the WhatsApp group that has been set up to bully Fikile. In Episode 6, her mother leans on the principal to find who is responsible, reminding him just how much money she pays to the school. This suggests that the family has even more power and influence than we thought, which will likely cause trouble for Puleng if the show gets another season.
However, she has more pressing troubles. After she finds there has been a break-in at her house, Puleng puts together all the clues she has found. Her sister was abducted by the adoption agency, who faked her birth certificate. and then given to Mrs. Bhele when she could not have children. This means one thing—Fikile is Puleng's sister, and the show ends with Puleng telling Fikele exactly what she has learned.
But this is not the last big revelation at the end of Blood & Water. She also learns at the court that her father registered Fikile with this adoption agency, meaning this whole time he has known exactly what happened with his daughter.
Now that all of the secrets are out in the open, it should make for a pretty dramatic Season 2. It remains to be seen exactly how Fikile will react to the news, but it is possible that fans are heading for another season that sees the pair team up to try and take down the trafficking ring.
Blood & Water is streaming now on Netflix.