'Blood & Water' Release Date, Cast, Trailer, Plot: What to Expect From the New Netflix Show
Netflix is set to release another series from South Africa after the streamer found success with Queen Sono. Blood & Water, which has a May release date, sees a teenage girl trying to find out what happened to her abducted-at-birth sister. Ama Qamata leads the cast as Puleng Khumalo, who we see in the trailer getting transferred to an elite school so she can investigate the crime.
When is Blood and Water out on Netflix?
The Netflix release date for the series is Wednesday, May 20, when all six episodes of the show will become available on the streaming service. These installments are expected to be released at 00:01 a.m. PDT, and when it comes to your country will depend on your time difference from America's west coast. In Blood & Water's native South Africa, for example, the show will release in full at 9:01 a.m.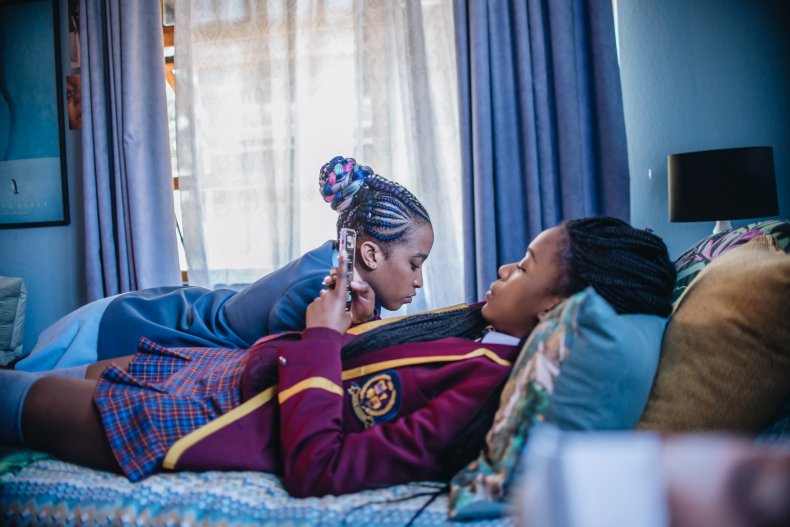 Who is in the cast of Blood & Water?
Leading the cast of characters in the Netflix show is 16-year-old detective Puleng Khumalo, called "intelligent, proactive and impulsive" by Netflix South Africa. She is played by Ama Qamata, who makes her mainstream debut in Blood & Water.
She is not the only newcomer in the Netflix show. Of the 10 main cast members listed on IMDB, only half of them have previous TV credits. Among the other actors making their debuts in the show are Khosi Ngema (playing Fikile Bhele), Thabang Molaba (KB) and Ryle De Morny (Chad Morgan).
South African TV viewers, however, may recognize a few of the faces in the series. Gail Mabalane of the two Imposter TV shows appears, as does soap opera star Arno Greef.
What can fans expect from Blood & Water?
The official Netflix synopsis for Blood and Water reads: "Set in the surroundings of Parkhurst College, the prestigious inner-city school for elite scholars and academic overachievers. Blood & Water follows the exploits of 16-year-old Puleng Khumalo, as she engineers her transfer to the school to investigate the 17-year-old cold case of the abducted-at-birth older sister she's never met."
According to its trailer, the shows seems to have many of the elements that are a staple of Netflix's other high school dramas like Elite and Riverdale, both of which began life as murder mysteries. In the promo, we see Puleng navigating sex, devious classmates and the kind of parties that only exist in teen TV shows.
Blood & Water, which is set in Cape Town, is the second Netflix original from South Africa following Queen Sono, which reached the streamer's top 10 charts across the world in March. Soon to join the two shows is Jiva!, a drama focusing on a street dancer.
Blood & Water starts on Wednesday, May 20 on Netflix.