A clip of Mike Bloomberg's 2015 talk at the Aspen Institute in which he defended stop and frisk and putting "all the cops" in minority neighborhoods has resurfaced on social media.
The former New York City mayor and billionaire businessman spoke candidly about his self-described "controversial" views and policy to bring down the murder rate.
He also claimed that the way to stop young people from bringing guns out onto the street is to "throw them up against a wall and frisk 'em."
And Bloomberg said you could take a description of murderers and their victims "Xerox it and pass it out to all the cops" because they all "fit one M.O."
According to The Aspen Times, which reported on Bloomberg's comments at the time, the now 2020 Democratic candidate had blocked the release of video from the event.
Benjamin Dixon, a podcaster and progressive activist, highlighted the comments on Twitter on Monday. Dixon's clip of Bloomberg's remarks has been viewed more than 1.8 million times.
In a new statement, Bloomberg said he inherited the stop and frisk policy but said it was "overused" in efforts to stop gun violence and that he should have cut its use down "faster and sooner."
Karl Herchenroeder, a journalist formerly of The Aspen Times, had uploaded the audio of Bloomberg's whole talk to YouTube five years ago.
In the YouTube clip below, Bloomberg's comments about stop and frisk start around the 41:00 minute mark.
Bloomberg apologized for stop and frisk as he entered the Democratic race last year, admitting in a speech: "I was wrong and I am sorry."
The Aspen talk, however, shows the strength of Bloomberg's conviction on stop and frisk just a few years earlier.
"Controversial, but, first thing is…95 percent of your murders and murderers and murder victims fit one M.O.," Bloomberg said in the talk.
"You can just take the description and Xerox it and pass it out to all the cops. They are male minorities 15 to 25.
"That's true in New York, that's true in virtually every city in America. And that's where the real crime is. You've got to get the guns out of the hands of the people that are getting killed."
Bloomberg said the "first thing you can do to help that group is keep people alive," adding that psychologists say "the kids think they're going to get killed anyway because all their friends are getting killed."
"So they just don't have any long-term focus or anything. It's a joke to have a gun, it's a joke to pull the trigger in New York," Bloomberg said, adding "it's all the same group."
Civil rights groups challenged Bloomberg's stop and frisk policy, which disproportionately targeted young black and Hispanic men, and in 2013 a federal judge ruled that it was unconstitutional, paving the way for lawsuits.
The New York branch of the American Civil Liberties Union said in a report that since 2002 New Yorkers have been subjected to police stops and street interrogations more than 5 million times.
"Black and Latinx communities continue to be the overwhelming target of these tactics," said the NYCLU. "At the height of stop-and-frisk in 2011 under the Bloomberg administration, over 685,000 people were stopped. Nearly nine out of 10 stopped-and-frisked New Yorkers have been completely innocent."
Bloomberg claimed in the 2015 talk that stop and frisk reduced gun murders in New York City: "Other people don't like the fact that that's what we do. But that's what stops this."
The media and financial data entrepreneur said it is important to spend more money on police and incarcerate fewer people because the prison system makes problem individuals worse.
"So you want to spend the money, put a lot of cops on the street, put those cops where the crime is, which means minority neighborhoods," Bloomberg said.
"One of the unintended consequences is people say, 'Oh my god, you are arresting kids for marijuana, they're all minorities.' Yes, that's true, why? Because we put all the cops in the minority neighborhoods. Yes, that's true. Why did we do it? Because that's where all the crime is. And the first thing you can do for people is to stop them getting killed.
"We did the calculation on how many people who would've been dead if we hadn't got the guns, hadn't brought down the murder rate and got the guns off the street. And the ways you got the guns out of the kids' hands is to throw them up against a wall and frisk 'em. They start, they say I don't want to get caught so they don't bring the gun. They still have a gun but they leave it at home," Bloomberg said.
Professor John MacDonald of University of Pennsylvania's criminology department said in a fact-checking blog that the evidence shows stop and frisk "made almost no difference" to crime rates.
"NYPD's deployment of extra police to high crime neighborhoods contributed far more to the crime reduction than the use of stop, question, and frisk," MacDonald wrote on the Penn website.
"Research on the NYPD's program of Operation Impact found that extra police deployed to high crime areas in New York was a major factor in the crime decline: a 12 percent to 15 percent reduction.
"The additional use of stop, question, and frisk made almost no difference. The stops only had a detectable impact on crime when the stops were based on probable cause, and these kinds of stops were very rare."
MacDonald concluded: "Saturating high crime neighborhoods with extra police helped reduce crime in New York, but the bulk of investigative stops did not play a meaningful role in the crime reduction."
Bloomberg said during his Aspen talk that he was invited to speak at a black church in Harlem about his stop and frisk policy shortly before leaving office.
He said the pastor told the congregation if they stopped and frisked their children before they went out at night then the mayor would not need the policy.
"So I knew I was going to be OK in that audience," Bloomberg said. "If there is a constitutional issue, we've always thought we were on the right side of it… But we have to do something."
In a statement after the resurfacing of his past comments, Bloomberg said: "I inherited the police practice of stop-and-frisk, and as part of our effort to stop gun violence it was overused.
"By the time I left office, I cut it back by 95 percent, but I should've done it faster and sooner. I regret that and I have apologized—and I have taken responsibility for taking too long to understand the impact it had on Black and Latino communities.
"But this issue and my comments about it do not reflect my commitment to criminal justice reform and racial equity. I believe we need to end mass incarceration and during my tenure we reduced incarceration by 40 percent and juvenile confinement by more than 60 percent.
"We created the Young Men's Initiative to help young men of color stay on track for success, which President Obama built on to create My Brother's Keeper. And we overhauled a school system that had been neglecting and underfunding schools in Black and Latino communities for too long."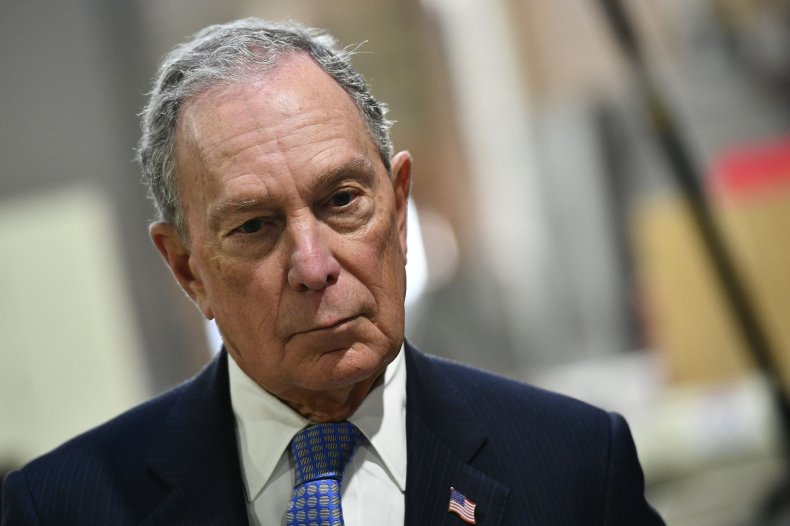 This article was updated with a statement by Bloomberg.